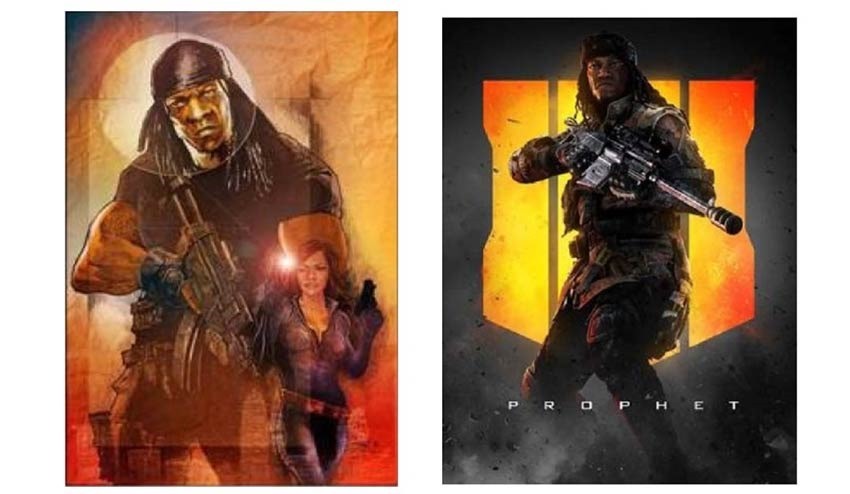 Wrestler Booker T – that's Robert Huffman to his mum – is suing Activision, saying they put the likeness of his alter ego, comic book character G.I Bro in Black Ops 4, without his consent or the appropriate licencing. Huffman and his lawyers contend that Black Ops 4 specialist David "Prophet" Wilkes is a carbon copy of G.I Bro. "They could have drawn him any way they wanted. But they chose to steal Booker T's 'G. I. Bro,'" says the copyright complaint.
"When seen side-by-side there can be no question that this character was copied from GI Bro. From the hair, body type and clothing, right down to facial expressions, the similarities are too profound to be an accident," says Micah Dortch of Potts Law firm, the sharks representing Huffman.

"Booker T. has devoted a significant amount of time and money creating and organically growing his GI Bro character. That entrepreneurial investment should not be erased by such a blatant act of copyright infringement by a gaming juggernaut."
Prophet actually appeared in Black Ops 3, but as a mostly augmented cyber soldier. In black Ops4 we see him as his pre-augmented self, and that's here the problem comes in. In Black Ops 4, he more than superficially resembles G.I Bro.
"Booker T. has never authorized Defendants to reproduce his GI Bro works, including the depictions of the characters 'Book' or 'GI Bro,' in any form. Booker T. has never entered into any agreements of any kind with Defendants; in fact, to his knowledge, Booker T. has never personally had any contact with Defendants," it says. "These infringing activities have resulted in hundreds of millions of dollars in sales of infringing copies of Booker T.'s GI Bro works."
I hate to admit it, because I despise frivolous law suits, but Huffman may actually have a case. When shown together, Prophet, as he appears in Black Ops 4 does actually look quite a bit like Booker's G.I Bro, something Redditors pointed out before the game's release. Either way, somebody stands to make a prophet.
Last Updated: February 15, 2019