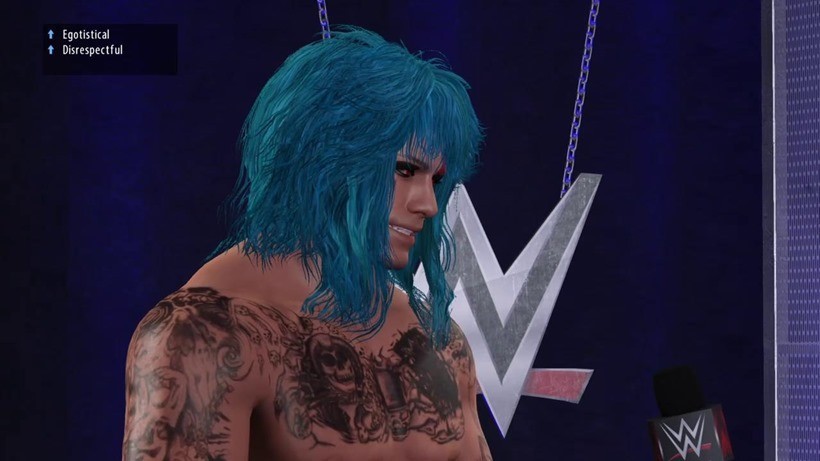 The latest WWE game isn't just decent this year, it actually feels like a massive improvement on previous iterations of a formula that was in danger of becoming tired and stale. Some of you may enjoy the Stone Cold Steve Austin road trip down memory lane. Some of you will most likely stick to dream matches in the single-player mode, like Batista vs Doink the Clown in an Extreme Rules bout.
But MyCareer is where it's at in my opinion. Nothing captures the spectacle of sports entertainment better than that mode, especially when you've spent a couple of hours fine-tuning your wrassler. And that mode also captures the most important aspect of working in the WWE: Putting on a show.
It's not enough to just simply win a match. You need to entertain, thrill and excite your audience, whether it be a house show at NXT or on the grandest stage of them all at Wrestlemania. To do so, you need to nail the art of a five-star match and unleash your inner Dolph Ziggler/Cesaro. Here's a few tips on how to get recognized:
Avoid repetition. Spamming the same attack is boring, so mix up strikes, grapples and slams. Try to avoid using the same move twice in a row
Move variety also means that you need to focus on attacking different limbs as well, so that you can avoid monotonous attacks.
Don't just grapple from the front, try sending your opponent to Suplex City with a rear attack as well.
Work the audience up into a frenzy, and earn your signature move attack. Nailing that attack not only inflicts big damage, but it also earns you a Finisher and major points with the crowd.
Or, go for the OMG moment. Save up a finisher, and use it to send your opponent crashing through the Spanish announce table instead. MADRE DE DIOS!
Standing attacks can earn you plenty of points. But high-risk moves off the top rope will have the crowds cheering you on towards that five-star rating.
Don't be afraid to absorb some damage. Try to avoid your fight being a squash match, and give the people in the stands a match where the tussle feels even-sided.
Use those reversals, to build up points by changing the flow of the fight.
Heighten the drama Sure, you can easily kick out at the count of one, but escape a pin at before the count of three instead, right at the last second. It's risky, but the reward is high.
That's just a few pointers. Remember, you need to make matches exciting. It's easy to pull a John Cena and win any match with just seven moves of doom. Or you can become a true legend, and mix things up to put on a show that'll leave the crowd breathless.
Last Updated: November 3, 2015