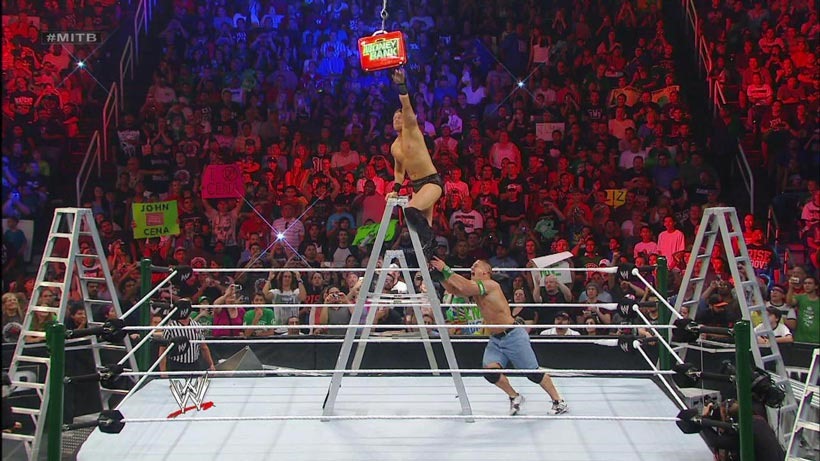 Look, if I'm going to watch a flesh collision between two muscle mountains in tights, there better be a damn table, chair or ladder involved. OH MY. Last year's WWE game wasn't exactly packing a lot of match modes into the package, which is depressingly similar to the state of WWE TV programming today outside of the NXT roster.
This year however, WWE 2K16 has plenty of modes within which to test the warranty of your new table. Iron Man matches (Which aren't fights featuring wrestlers trying to fit into Hulkbuster armour suits), Hell in a Cell and some TLC are making a return.
YouTuber CMPuls3 managed to list all of the upcoming match types arriving in WWE 2K16. Here's that list:
One-on-One:
Normal
Falls Counts Anywhere
Iron Man
Submission
Extreme Rules
Table
No Holds Barred
Last Man Standing
Ladder
TLC
Steel Cage
Hell in a Cell
Two-on-Two
Normal
Extreme Rules
Steel Cage
Elimination Tag
Elimination Tornado Tag
Hell in a Cell
Handicap
One-on-Two tag
One-on-Three tag
Triple Threat
Normal
Extreme Rules
Steel Cage
Hell in a Cell
Ladder
Table
TLC
Fatal-4-Way
Fatal-4-Way
Fatal-4-Way Extreme Rules
Falls Count Anywhere
Hell in a Cell
Ladder, Table
Steel Cage
6-Man
Tag-Team
Elimination Tag
Battle Royal
Elimination Chamber
Hell in a Cell
Ladder
Tournaments:
Gold Rush
King of the Ring
Tag-Team
Royal Rumble
Now granted, certain match-types here are pretty much similar to each other. Like Mortal Kombat 2 palette swaps, No Holds Barred and Extreme Rules matches are the exact same thing, barring (heh) a slight difference or two. The thing is, there's still one thing that I want to see in a proper WWE game: Ludicrous build-ups.
Sure, any rivalry can easily be started with just one errant swing of a flaming steel chair, but I want to trip the stupid fantastic and relive the completely bonkers days of WWE. I want to start a feud, that goes too far when I steal the freshly deceased corpse of the man who happens to be the father of my opponent. While he hangs on for dear life as I tear rubber through a graveyard.
Yes, more of that please. And Slim Jims. I have a need to snap into a Slim Jim lately. OH YEAH!
Last Updated: October 26, 2015