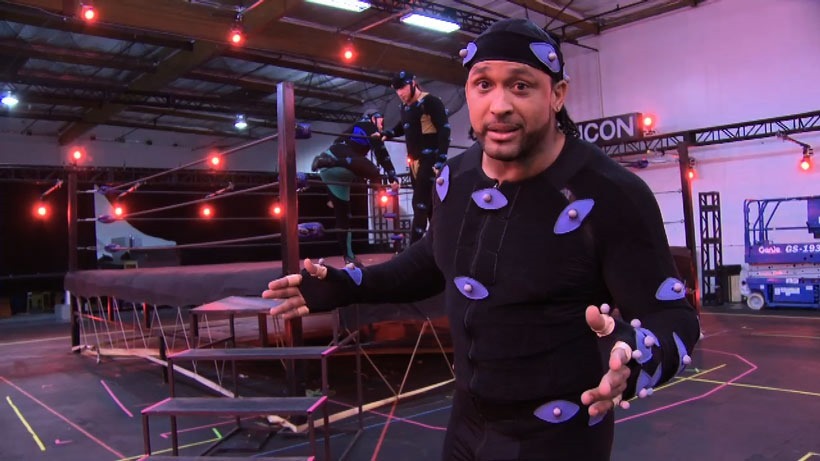 A lot goes into making a video game these days. Art, 3D assets, sound and coding all play a massive role in the development of Ace McStab YoFace 7 and more. And then you've got the kind of production schedule which involves having several tons of man-muscle colliding with itself. Say what you like about WWE games, but having a wrassler perform like a WWE-branded superstar isn't easy. You've got to nail the look, the attitude and the movement of a sports entertainer.
And that's where motion capture always comes in handy.
Right now, the tools of the trade are being performed by several former TNA wrestlers over at 2K Games. Headlocks, Stone Cold Stunners and RKOs outta nowhere this year, brought to you by the likes of Kenny King, TJ Perkins and Low Ki according to Attack Of The Fanboy. King posted a photo to Twitter, decked out in the motion capture scuba suit that has various ping pong balls stuck to it:
A King, a big daddy and a little sister walk into a @2Kgames #mocap studio pic.twitter.com/VivzGDD9Fl

— Kenny King (@KennyKingPb2) January 14, 2016
If one of the names listed above sounds familiar, that's because Low Ki once performed for the WWE under the ring-name of Kaval during 2010. He's been on hand for several years now to provide motion capture for WWE games. If you've ever tinkered around in the creation studio of a WWE game, you'll know that there's possibly too many moves to make use of in one lifetime.
From a dozen clothesline variations through to striking attacks that have more combo variety than a McDonalds menu, there's a lot on offer. My own personal character from last year, a lushly blue-haired showstopper who goes by the name of Bad News Bonthuys, made good use of these attacks. I had the moves to put on one hell of a show, and an attitude to match.
Which did diddly-squat when I instantly KO'ed my wrassler when I attempted to do a scoop power-slam on the Big Show, a brawler who might have outweighed me by several metric cars. You'll get yours this year Big Show, as soon as I find a ladder.
Last Updated: February 1, 2016