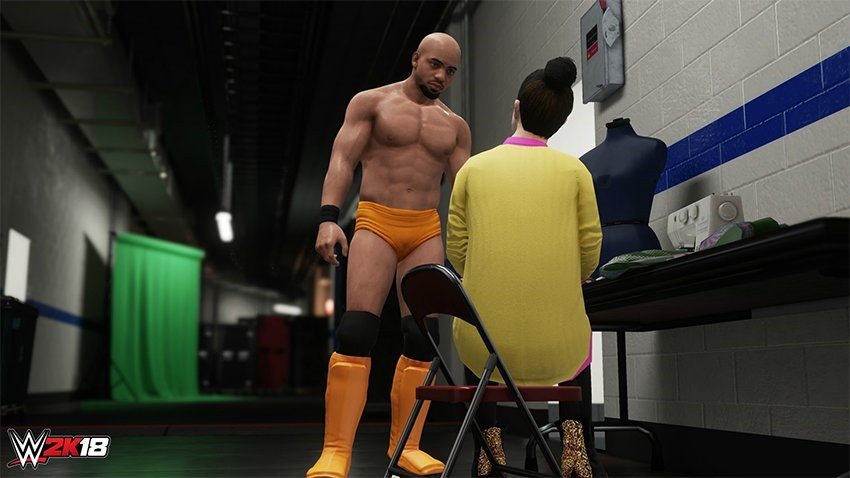 The career modes of any sports games are becoming increasingly important. This is something 2K has always understood, especially when it comes to their premier sports game, NBA 2K. Other companies have realised the importance of a proper, story-driven campaign by putting one in to FIFA 17. It obviously worked well enough that they're bringing the story back to FIFA 18. This year's Madden has been praised for having some of the best sports storytelling ever.
2K's still trying to get the formula just right for its other big sports game (and yes, I use the term loosely here) though. Though WWE games have had some sort of story progression for what seems like decades now, they've never really managed to nail down career modes that feel especially meaningful. 2K has been trying to get its WWE games to have the same level of career mode polish as NBA since they took over the licence. Is this the year they finally manage? Maybe.
They have detailed exactly how MyCareer is going to work in WWE 2K18, and it sounds intriguing enough. For starters, it'll have free-roaming backstage stuff again, letting your created wrestler roam the stadiums and presumably cause mayhem and havoc. It'll also feature full story modes that are separate from the MyUniverse story modes, to deliver a fresh and unique narrative. To do that. There are two career paths that lead to Wrestlemania and beyond!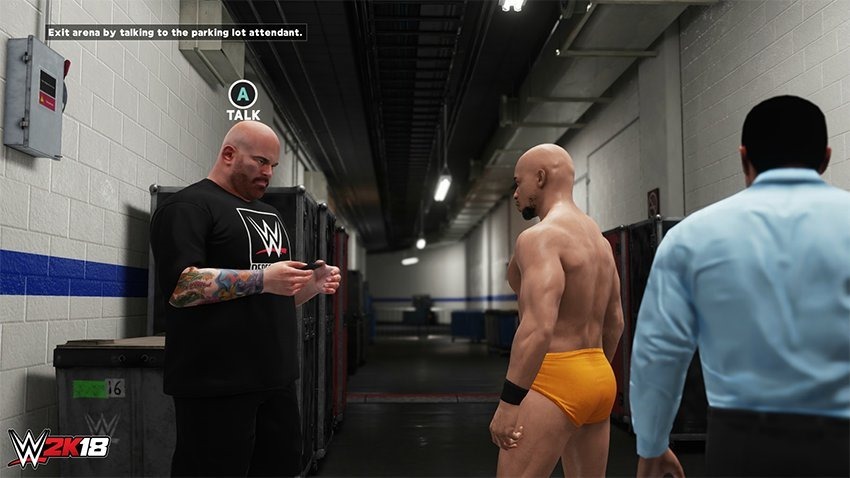 Company Man – Going down the Company Man path means you're all about helping the general managers (GMs) get what they want out of the roster on any given show. This involves conspiring with the GMs backstage, ambushing other WWE Superstars in the locker room or during their interviews and basically doing whatever it takes to maintain that GM's power, both in the ring and backstage. The rewards are hefty, though! Continue helping the GM succeed, and you'll gain access to awesome upgrades, such as the ability to orchestrate a run-in to help you win a match. You can also access Vince McMahon's office to lobby for match card changes and title rematches.
Fan Favorite – Being a Fan Favorite means you don't play the whole company game and you're all about putting on the best matches and promos. You have a locker room full of WWE Superstars and Legends backstage. This route involves earning their respect by taking on different match types – night-in and night-out. You'll also have WWE Superstars test your in-ring aptitude and skills on the microphone, but if you succeed at this, you will earn the whole locker room's respect – and with that comes some perks. WWE Legends are always backstage during events. If you earn their respect, they'll start to give you in-ring bonuses for your matches and promos. If you become the complete package – the guy who can walk the walk and talk the talk like Stone Cold Steve Austin or John Cena – you'll be able to have your own customized WWE Championship or Universal Championship. This honor is only given to the best of the best.
The whole thing's about the experience, says 2K.
"We wanted players to spend more time interacting with WWE Superstars and supporting personnel to better experience all their unique personalities. Rather than looking at menus to determine who you should align with or who you want to make your rival, you can simply go talk to them or ambush them backstage. Want an interview with Renee Young? Simply go up to her and ask for an interview. Don't like the WWE Superstar she's interviewing? Go up to him during live TV and interrupt that interview."
And that sounds like fun, if you like the idea of burly men in tights rubbing up against each other. WWE2K 18 is out on PlayStation 4, Nintendo Switch and Xbox One on October 17.
Last Updated: September 14, 2017