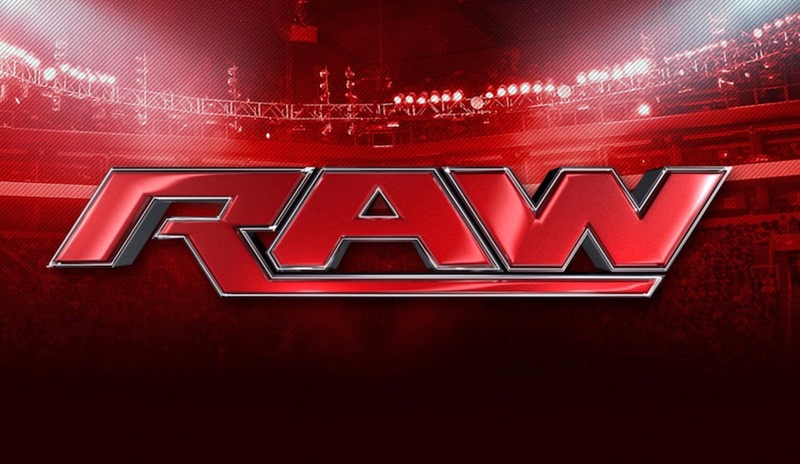 RAW was held at the Toyota Center in Houston Texas this week, with its biggest title on the line. Here's all the action that went down.
Opening segment
Roman Reigns, Seth Rollins, Kevin Owens and Big Cass are all in the ring, gathered around the WWE Universal Championship belt while Corey Graves stood by to interview them. Everyone cut a quick promo, until Reigns decided to drop Owens with a right hand, kicking off a brawl on RAW as fists were flying everywhere.
Meanwhile, Chris Jericho was wondering backstage, getting ready for a match against Neville and claiming that Kevin Owens would be victorious in the Fatal Fourway for the Universal Championship. Cue a catchphrase about "stupid idiots" and drinking in the gift of Jericho, and it was time for the first match on RAW!
Chris Jericho defeated Neville via submission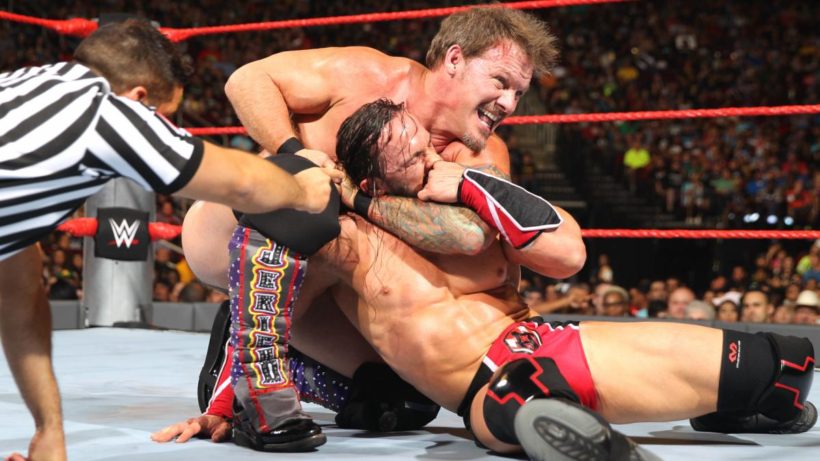 Neville may have attacked with some impressive top-rope moves, but even all the the Springboard Missile Dropkicks, flying elbows and cross body splashes weren't a match for the wily veteran as he reversed a Frankensteiner into a Liontamer and made Neville tap out.
Backstage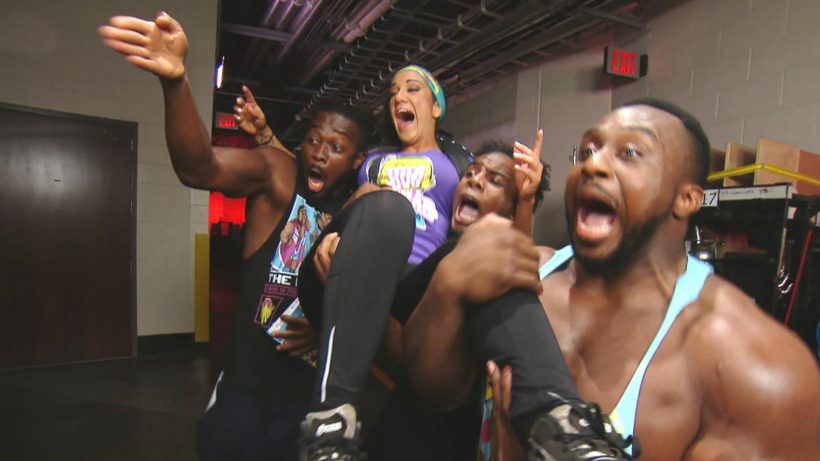 Bayley was having a chat with The New Day backstage when Dana Brooke decided to interrupt and wax lyrical. At which point The New Day made fun of her to the point where she threatened to call in for some assistance from Gallows and Anderson. Well alright then.
Nia Jax defeated Hyan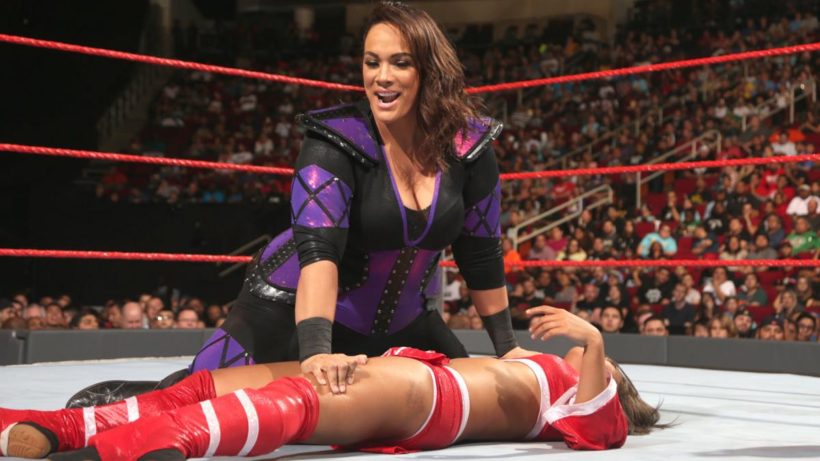 In another RAW squash match, Nia Jax flattened Hyan with a massive powerslam to secure another win.
Backstage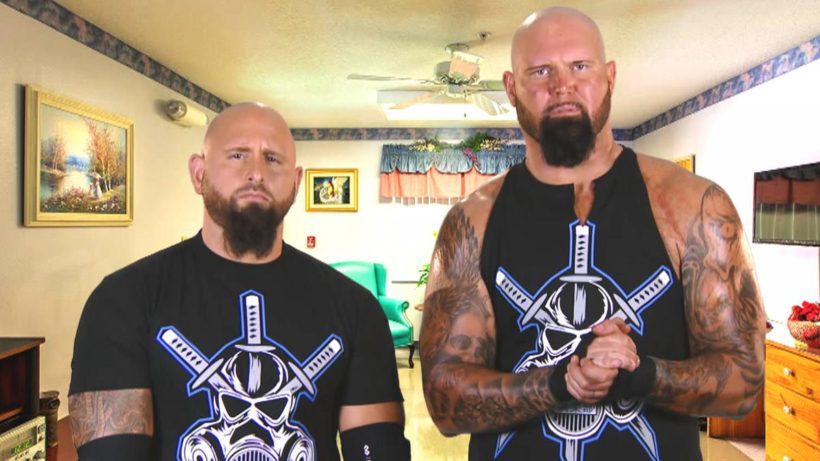 Gallows and Anderson talked about how they've switched careers from being doctors to being in the business of retiring WWE performers, saying that they'll soon retire The New Day much like they did the Dudleys. Dana Brooke then joined them, snapped a rubber glove on and made me flash back to that Blink 182 album cover.
Sami Zayn defeated Jinder Mahal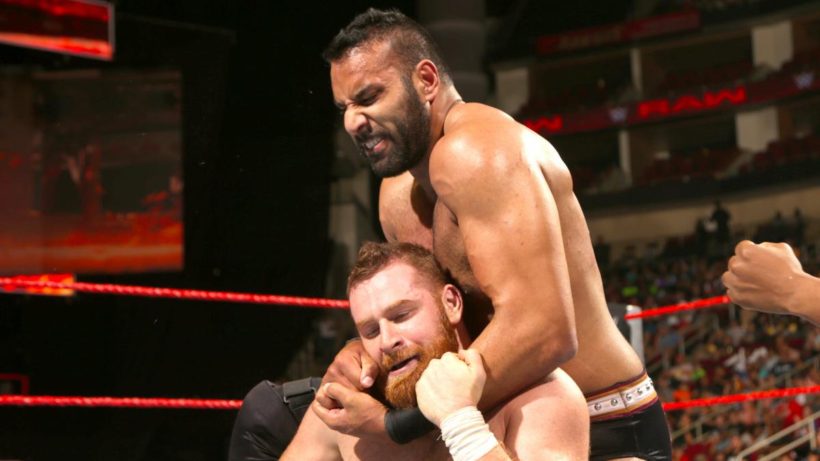 Momentum shifted either way in this match during the opening moments, but victory would belong to Zayn as he followed up a T-Bone suplex from the turnbuckle with a big boot to the head to get a RAW win.
Big E, Kofi Kingston and Bayley defeated Luke Gallows, Karl Anderson and Dana Brooke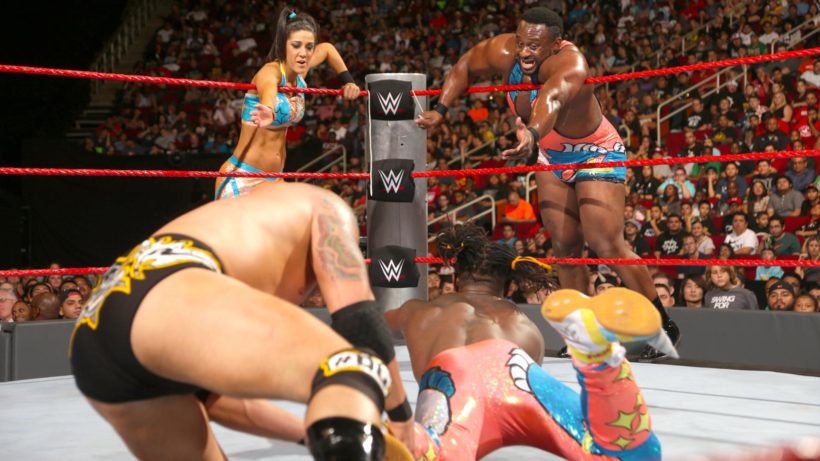 With Charlotte on commentary! A great match here, as Dana squared off against Bayley and dominated her in the opening minutes with chops and right hands. Bayley bounced back long enough to see Anderson ad Big E tag in, with the match then kicking things up a further notch with big slams, hot tags and near-falls.
The New Day and Bayley would emerge victorious however, as RAW's latest acquisition hit a belly to belly suplex on Dana Brook as her partners made certain that the ring was clear for the pin.
Sheamus defeated Cesaro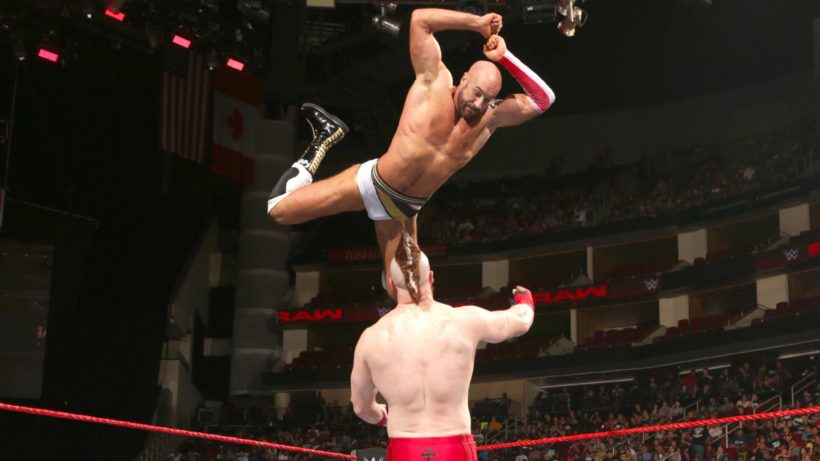 After some backstage trash-talking, it was time for Cesaro and Sheamus to lock horns yet again. Another solid match from the two as European uppercuts and big clotheslines were thrown everywhere. At one point, Cesaro even managed to land a full set of ten European uppercuts on Sheamus, but the Irishman wasn't going down tonight and proceeded to annihilate the Swiss Superman with a back body drop into the ring post and a Texas Cloverleaf lock to earn a RAW win.
Braun Strowman defeated Americo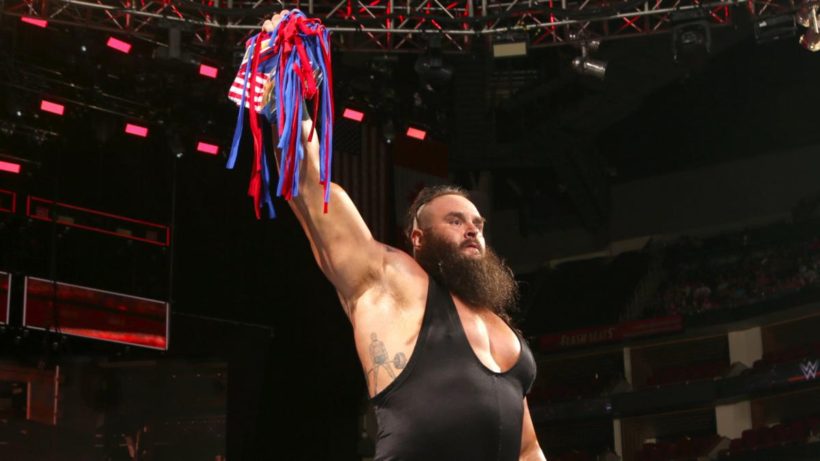 Strowman wasn't wasting any time on RAW last night, utterly demolishing Americo with a series of knees, powerslams and a big back body drop to pin the man. And to add insult to injury, he took his mask as well. Ouch.
Stephanie McMahon was in the ring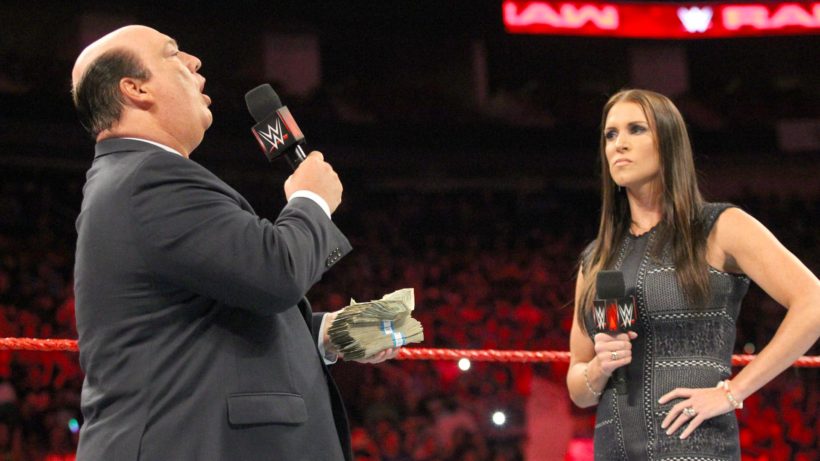 And she was there to address that Summerslam match between Randy Orton and Brock Lesnar that resulted in the beast incarnate allowing several of Orton's head-voices to escape via a gigantic gash on skull. Paul Heyman interrupted Stephanie, explaining how Lesnar's victory was a RAW victory and that Stephanie should in fact be pleased. Heyman said that he would pay Lesnar's $500 fine for almost murdering Orton, and pulled out a huge wad of cash while I cried after glancing at my bank account.
Stephanie however, had other plans and slapped the Benjamins out of Heyman's hands, saying that Brock's advocate provided no value to her or RAW. After some more tense words, Heyman apologised and that was the end of that segment.
Darren Young defeated Titus O'Neil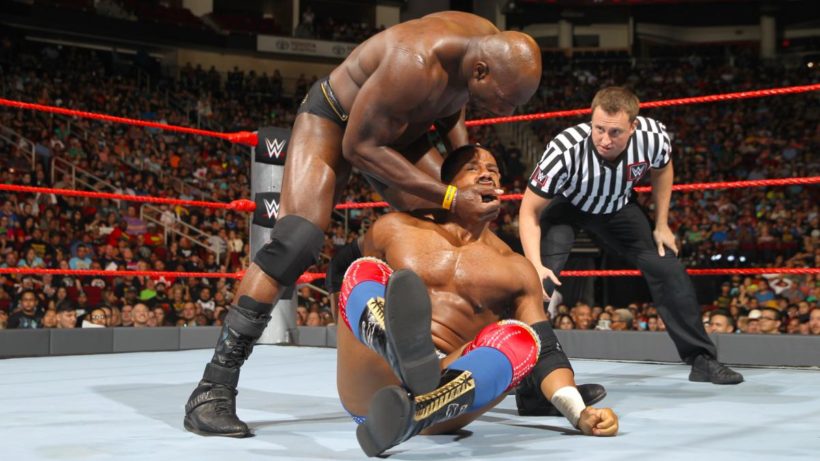 Wanting some revenge for last week's shenanigans, Young and O'Neil tangled again. Both men went into a heavy and physical encounter on RAW, but a sneaky roll-up from outta nowhere saw Young walk away a winner. Long enough for O'Neil to go berserk, attack both Young and his coach Bob Backlund and leave his rival broken with a Clash of the Titans finisher.
Kevin Owens defeated Seth Rollins, Kevin Owens, Roman Reigns and Big Cass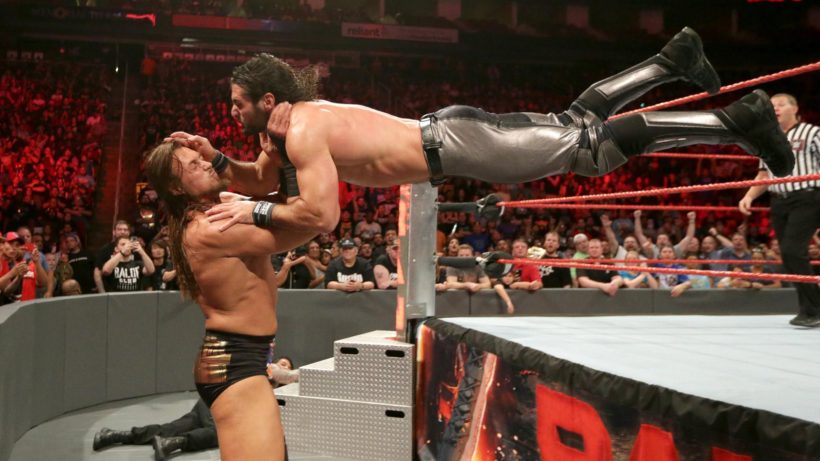 And it was time for the main event! After some promos were cut, the Fatal Fourway to determine the new WWE Universal Champion kicked off. A truly titanic match that stretched on and on as every superstar gave it their all on RAW to go for the gold.  Slams, right hands and top-rope moves went into overdrive as every superstar had several moments to shine in a true main event material bout.
But the finish was one that nobody saw coming. With Roman Reigns throwing superman punches everywhere, it looked very likely that the big Samoan was in the title run picture again, but Triple H had other ideas. The WWE COO appeared to Pedigree Reigns on the floor, throwing both Reigns and Rollins into the ring. Then, Triple H threw Owens into the mix as well, and pedigreed Rollins, giving Owens the match as he pinned Rollins.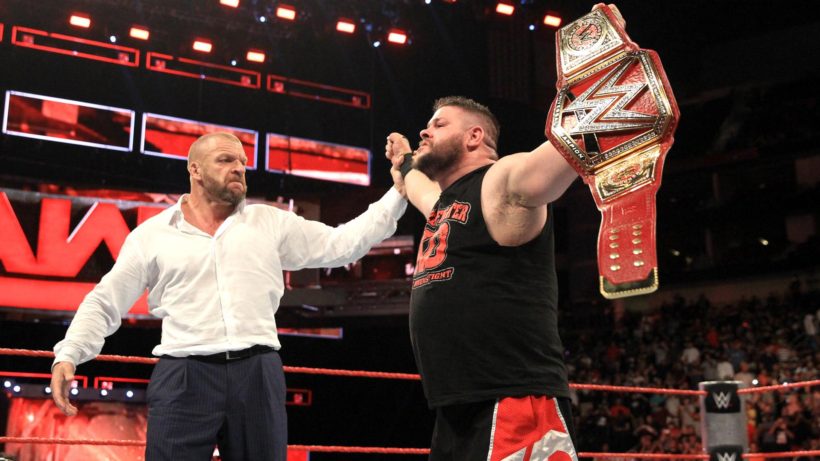 Your RAW main event winner and NEW WWE Universal Champion, Kevin Owens! And that was RAW for the night, as the king of kings celebrated with Owens in the ring.
Last Updated: August 30, 2016