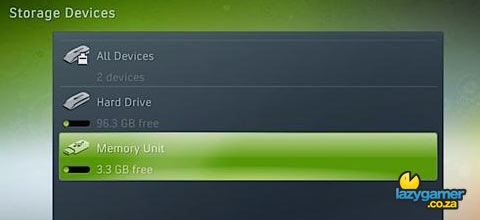 Joystiq have managed to get their hands on some really interesting documentation that confirms that a 2010 update to the Xbox 360 is going to allow it to use USB devices as memory units.
According to the report, Xbox 360 owners will now be able to use any USB device that they have lying around as a new way to store demos, game installations, DLC – you name it. This is quite a move from Microsoft and one that I really didn't expect.
It's not all milk and honey though, it seems like Microsoft have made a decision that may just prove to be a buzz kill for your excitement.
Here's the problem, while you will be able to use any USB device. Microsoft is only going to allow 16GB's of the device to be used for the Xbox 360. It will also partition the space on the drive, meaning that the space will not be usable for anything else on the drive. Microsoft have also opted to only allow two devices to function on the console, which means that you are only looking at a solid 32GB's of space for use.
This is a tough one. While I applaud Microsoft for doing this, considering that they really just could have not, it still leaves a bitter taste in your mouth when you see the restrictions attached to it.
What say you? Happy, or are the restrictions just too much of a bummer for this to truly be a good thing?
Let us know in the comments, and hit the source for more information.
Source: Joystiq
Last Updated: March 19, 2010