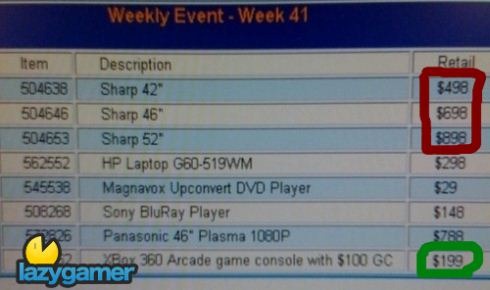 The above image is apparently a screengrab from a Walmart system detailing what is going to be on sale this coming week.
Now obviously since we are a gaming site the $199 Xbox 360 Arcade with a $100 gift card is the most important item on the list, it basically means you can pick up a Xbox in America and 2 games for $199. That's a helluva deal.
However I am way more interested in the fact that you can get a 42" Sharp TV of some sort for a mere $498 or bump up to the 52" for $898… seriously, that's dirt cheap.
The Laptop for $298 and BluRay player for $148 is nothing to sniff at either..
If this special is true I would expect a huge amount of Xbox 360's to fly our of Walmart this coming week.
Source: Kotaku
Last Updated: November 4, 2009