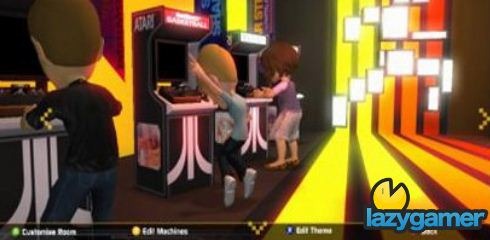 Remember way back when we heard about the upcoming Xbox Game Room? Well it has finally been confirmed by Microsoft and here are the details.
Over the next 3 years Game Room will grow to include over 1000 retro arcade titles for you to enjoy just the way they were. It's somewhere your avatars can call Home and you will be able to customise it (at a cost) and truly make it something that shows off your personality.
There are two payments structures. You can either buy the game for between 240-400 points or just pay 40 points for a once off game.
Check out the video after the break of this awesome ground breaking application.
Okay I have to admit I just lied to you, not about the video that's right above this paragraph but more about it being awesome.
Which idiot is going to knowingly throw 40 points at a game when you can buy the entire thing for maximum 10 times that amount and why on earth would I want to customise my own arcade in some virtual world using real money, if I wanted to blow my money I could just buy avatar pets or beer… tough choice but these are the cards I have been dealt.
PlayStation Home has been trying to do this for ages now and it's a terrible idea, someone up near the pinnacle of Microsoft needs a slap.
If I didn't make myself clear I think the idea stinks but if you really want to give it a try and don't have a Xbox 360 then don't panic as it will be available on PC as well… which may make days at the office easier to handle.
PS: How on earth did they never end up calling it Tower of Rom?
Last Updated: January 7, 2010