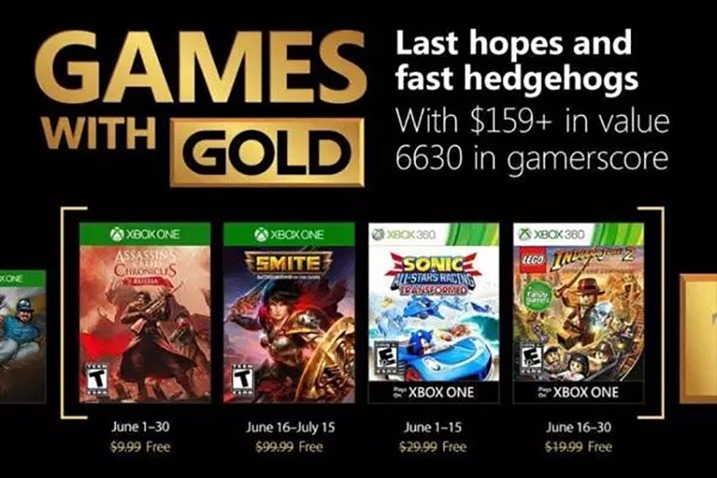 Ahh…it's that time of the month were both Microsoft and Sony reveal the games that'll be coming along to subscribers of their online services. As usual, Microsoft is first out of the gate, giving us a look at the selection of pseudo-freebies to come to Games with Gold. Well, at least they've revealed the games for Germany, which shouldn't be too different from the one we'll be getting.
And they're…really just ok. On the Xbox One side of things, we have yet another Assassin's Creed Chronicles game, this time the one that's set in Russia. Decent enough, the Chronicles series of games are about the closest things you'll get to a modern day take on classic Prince of Persia. It'll be available from June 1-30. Next up on Xbox One is a value bundle for a free MOBA game. That game is Smite, and the bundle is the Gold one, which gives you twenty more deities to battle with and a collection of new skins. I could take it or leave it, to be honest.
The best game in June, in my opinion of course, is the Xbox 360's Sonic & All-Stars Racing Transformed. Though it looks like a kart racer that stole its entire core from Mario Kart, it's an incredibly fun arcade racer – think Outrun – that has a few kart sensibilities packed into it. Filled with nostalgic takes on classic Sega games, it's a joy to play. Don't tell anyone, but I think it's better than many recent Mario Kart games.
Last on the list is Lego Indiana Jones 2: The New Adventures, and if I never have to play another LEGO game as long as I live, it'd be too soon. That's because I'm a joyless husk of a human being though, and your own mileage may vary.
Last Updated: May 29, 2018