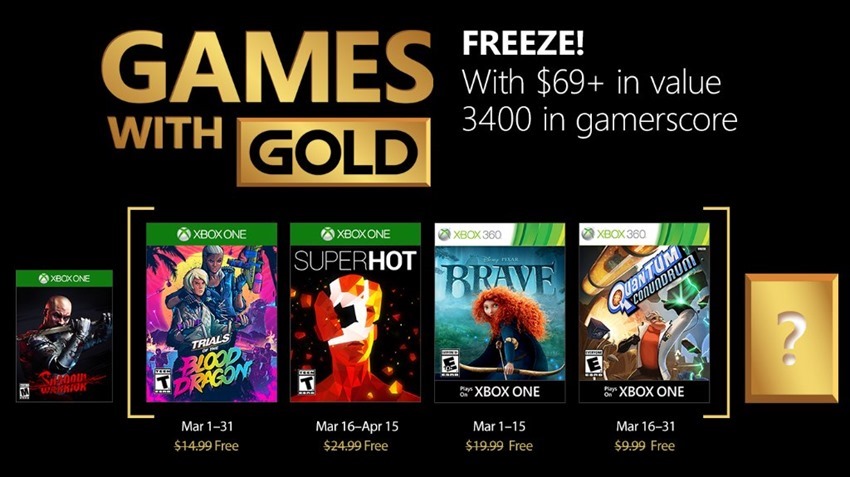 New month, who dis? Well, not exactly but February has always benefitted from being the Anti-January of year-opening months. Shorter, nastier and smellier. Hell, it's basically me in 28 days of briefness only without the obligatory attempts at cashing in on luuuurrrrve. With a week left to go before we enter the final stretch of the first quarter of the year (GREGORIAN MATHS IS FUN), it's time to look towards the future.
Specifically, the future of which free games will be available via the ol' Xbox Live Games With Gold service. As usual, there'll be a quartet of titles available, which include:
Trials of the Blood Dragon – March 1-31
Superhot – March 16 – April 15
Brave: The Video Game – March1-15
Quantum Conundrum – March 16-31
Not bad! Trials of the Blood Dragon is a gem right there, a fluid fusion of Ubisoft's Trials games and the spin-off Far Cry: Blood Dragon. It's neon-soaked goodness, a blast from the past that is equal parts infuriating and addictive in your attempts to master the perfect run through enemy territory. Typically mad French stuff, here's what a certain dashing reporter had to say about it a while back:
I liked Trials of the Blood Dragon for what it was: An accessible take on the Trials franchise that developer RedLynx is having fun with, proving that the engine that powers this franchise is somewhat adaptive to new ideas and themes. It also makes me yearn more than ever for a Blood Dragon sequel, even if the whole product feels flawed thanks to a handful of missions that derail the otherwise superb fast-paced experience.
As for Superhot? Sandy still won't shut up about it. Gorilla Grodd help us all:
SuperHot uses its time-altering core idea to great effect, creating a puzzle game that forces you to balance slow, thoughtful moves with quick, precise shooting. It's a puzzle shooter that is easy to digest in small does but hard to put down, making the entire mind-bending journey one that will get your adrenaline pumping and brain thinking in equal measure.
So hot right now. So hot. As for Quantum Conundrum, Geoff reckons that that game is still a clever mix of Portal mechanics with its own spin on the formula of ripping the fabric of time and space open to do…stuff:
Quantum Conundrum is a light, frothy and wholly enjoyable puzzler – and fans of Portal or clever puzzles need not hesitate.
That's actually a fun month ahead then. Not bad Microsoft, not bad.
Last Updated: February 21, 2018