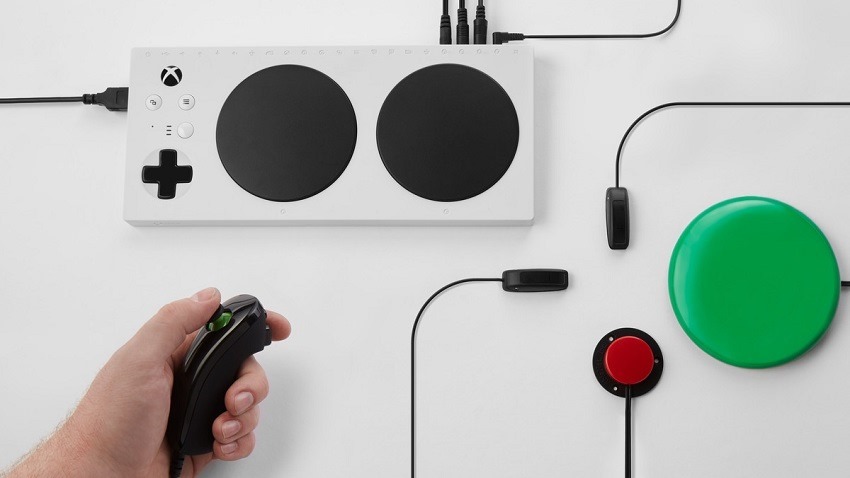 Chances are high that you don't really need Microsoft's new Xbox One and PC controller. It's a large big piece of white plastic with two huge programmable pads on the front, alongside an oversized D-Pad. On the back, it's flanked with up to 19 auxiliary ports for all sorts of controller combinations and configurations. Sounds like a pain as opposed to just a regular controller, right? Well that might be true, but it's also a truly progressive piece of hardware that is aiming to simplify and unify a lot of control schemes for players that have had to make due with sub-par solutions up until now. Microsoft's Adaptive Controller is aiming to get far more players into games they physically can't play, and it's out today.
The Adaptive Controller was built in conjunction with several charities and societies that help support and advise developers on methods of making their games more accessible. That might range from something as small as an option to change rapid button taps to extended holds, or something a little more complex like comprehensive colour blindness support. But for a lot of players, games start and end at the controller…or the lack of a feasible alternative. Games have struggled to natively support some truly inventive workarounds, which use combinations of flight sticks, pedal activated buttons, enlarged number pads and more.
The Adaptive Controller acts as a hub for all of this to combine into, and easily translate into something both an Xbox and Windows 10 can easily read. The 19 auxiliary ports at the back and additional 2 USB ports allow for a staggeringly large combination of controllers to work in tandem, and gives users full control over what they want to map where. Microsoft advises the use of flight sticks and large single buttons for players who lack finer motor function to use thin thumbsticks or press small face buttons respectively. But the beauty of the Adaptive Controller is that it isn't a solution to just one specific problem – it's a platform for players to shape into whatever solution suits their particular needs.
It's a feat for a company to spend this much time and money researching and developing a product like this, and it's great to see Microsoft take the initiative. The Adaptive Controller could also see some use on Steam if its XInput roots shine through enough on Windows 10, which just amplifies its usability across almost all platforms for games. It's out right now too and will set you back $100 for the full base and some additional accessories.
Last Updated: September 5, 2018