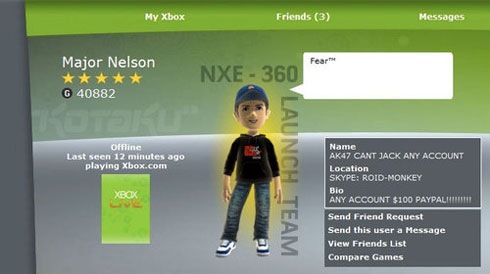 Microsoft have regularly insisted that Xbox Live account hacks were the result of social engineering and not any sort of exploits in the service's security. Looks like one of Microsoft's own empolyees should be a little more careful,then.  a high profile account has been hacked – and it's one belonging to none other than Xbox Live Director Larry Hyrb, better known as Major Nelson.
Website lightzz.com – laughably calling itself the house of fear – claims responsibility, but from the looks of it this is no professional hacking. Why do I reckon this isn't the work of professionals?
In a released video the "genius hacker" has revealed all of his online identities including Skype name, Youtube account et al – making tracing him ridiculously difficult for even the most novice of internet Matlocks. Way to cover your tracks, jackass.
Still, he's offering to hack other players' accounts for US$60. Major Nelson has confirmed that he has regained control of the account.
Stephen Toulouse Director of Policy and Enforcement for Xbox LIVE has said that the attack was "very specific" and "very targeted" to Major Nelson's account – but there's still no word of whether the hack is a result of compromised information, or a genuine exploit in Xbox live.
Last Updated: March 29, 2010