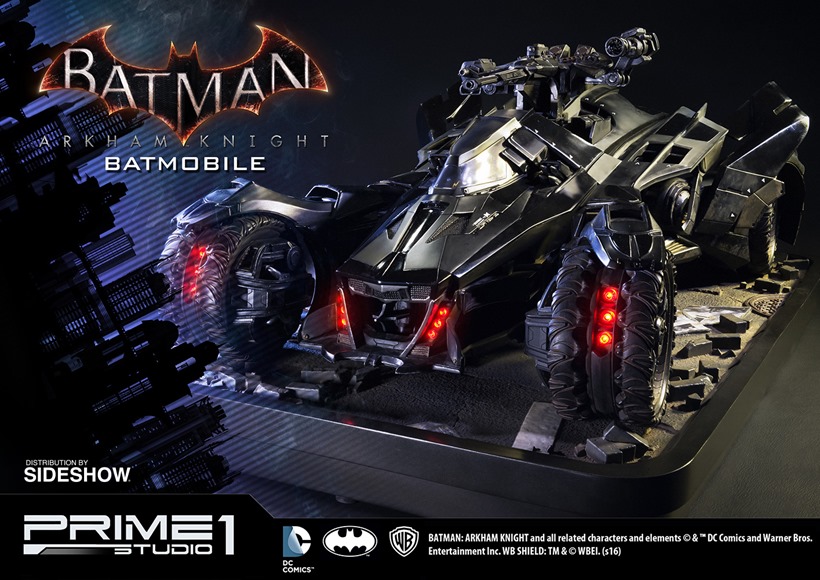 At one tenth of the scale of course. Batman: Arkham Knight was bitterly disappointing…because the collector's edition never made it to retail. Mere weeks before it was meant to launch, Warner Bros. announced that the super awesome collector's edition was cancelled. A collector's edition that included a replica of the new Batmobile, from Triforce.
That never happened, due to Warner Bros. Interactive citing concerns over quality in a circle of irony that comes all the way back to the initial PC release of the game. Anyway, whatever your thoughts were on the game, it's hard to deny that the Rocksteady incarnation of the Batmobile was anything but sexy. A combination of bleeding edge technology, firepower and wheels that doubled as handy interrogation devices, this was a Batmobile for the ages.
And now Prime 1 Studios have made it a very real collectible once again:
Prime 1 Studio are proud to present the Batmobile from Batman: Arkham Knight. Designed by Batman, the Batmobile is a highly detailed vehicle that exceeds capabilities of any other on the road. Armored and outfitted with enhanced recon capabilities and weapons, this tank-like custom car is Batman's main mode of transportation around Gotham City. This 1:10 scale polystone diorama features an remote control LED light-up function.
Series: Museum Master Line
Code: MMDC-03
Product Name: Batman: Arkham Knight Batmobile Polystone Diorama
1/10 scale
Size :34.9cm [27.8cm(H), 65.8cm(L), Base:7.1cm(H), 68.5cm(W), 48cm(D)]
Limited Edition 500 pcs
Material Polystone
There'll only be 500 of these Batmobiles that roll off the assembly line. Which is probably why they cost $1599 each. Yikes. Time to dip into the Wayne Family savings trust then. Provided that the rest of it hasn't been spent on tight full-body leather and armour which i used for my never-ending crusade against the forces of crime and groups of people who take up all the space when walking through a shopping center in large groups. Bastards.
Last Updated: May 12, 2016