When he's not saving Manchester United in a Cup Final, Zlatan Ibrahimovic is looking for smart ways to invest his money. The Football icon has always been an outspoken individual – who can forget his tattoo advert a few years back? – and being from the Esports Captial, Sweden, it was only a matter of time before he made the move.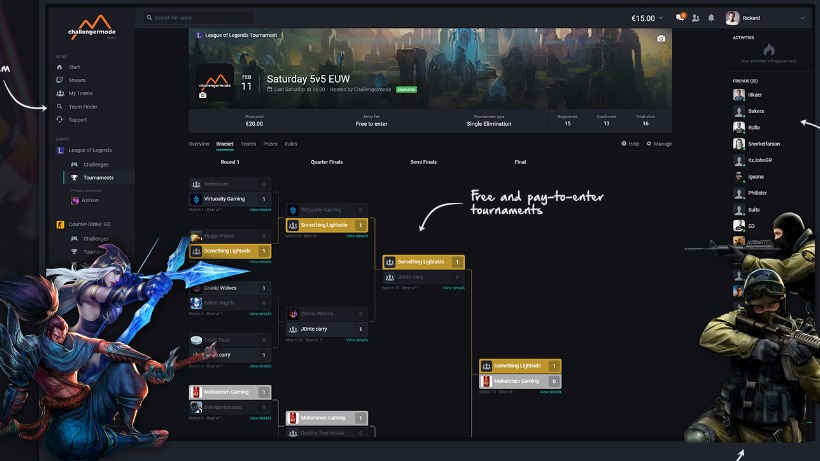 According to a report by Swedish website Breakit, the Manchester player joined a group of investors in Challenger Mode, and esports startup which was founded in 2014. Challenger Mode is a website which allows you to compete in various tournaments, for money. It's basically like any esports tournament host, but it now has a big investor. I've tried my best to translate the post in order to offer some more information. Robel Efrem, CEO of Challenger Mode, said in a statement:
"We now see that the next wave of e-sports are becoming mainstream around the world. We are very excited about the investors who have chosen to join us to create tools that allow players and brands thrive in this rapidly growing field."
According to the article, Challenger Mode received roughly $1.3 million from the group of investors. When asked what it means to have Zlatan as an investor, Robel responded
"We have many good investors. But it's obviously funny with his understanding of what we do."
Challenger Mode will use the money to "execute on their roadmap" with the increase of tournaments and competitions through the website. Zlatan now joins a long list of sporting stars who have invested in esports, being one of the first in Europe and in the Football industry to invest.
Like esports?
Check out esports central
Last Updated: February 28, 2017