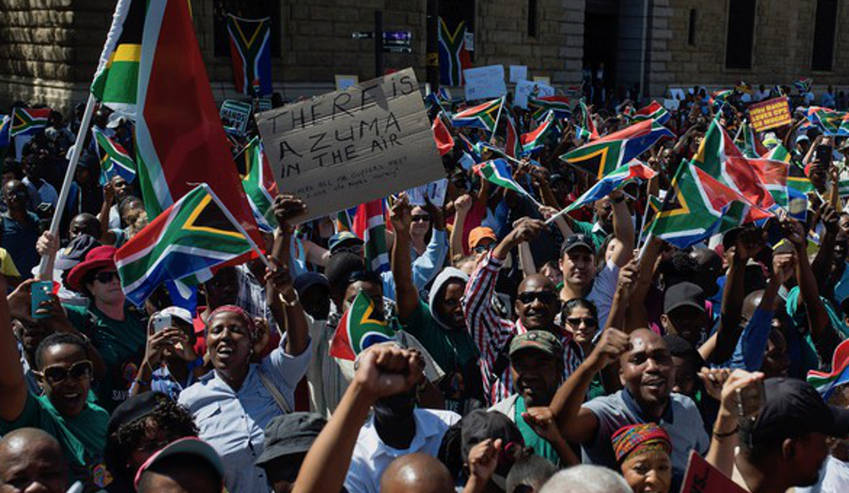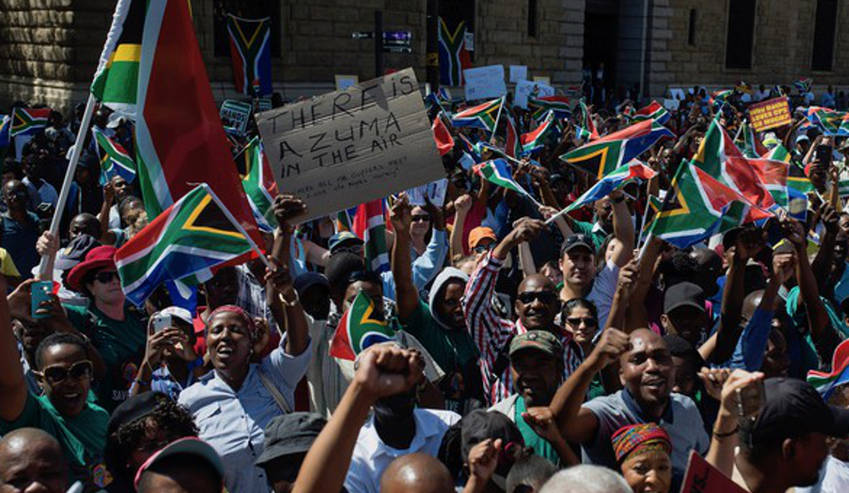 (Image credit: Ihsaan Haffejee)
The political situation in South Africa has come to a head for many citizens. Friday is called a day of action, and there will be a range of protests and marches across the nation. Here's everything you need to know if you're looking to get involved.
Why are people protesting?
This is a bit of a tricky situation at the moment and leading to some fracturing of causes. When there were protests about service delivery or #FeesMustFall, many affluent South Africans made comments such as "I agree with the cause but not their methods". Now, the problems are seen are more "white". President Zuma sacked the respected Pravin Gordhan and the new Finance Minister seemingly approved the nuclear deal; soon thereafter South Africa was downgraded to junk status the Rand has depreciated. While these are serious economic issues that will impact the whole country, there are some concerns and frustrations from various groups about the call for unity against Zuma's actions. Where was outrage and calls for unity for protests about lack of toilets, or exorbitant university fees, or forced hair treatments for black girls at a Pretoria school? These are worthwhile critcisms – and it makes sense for many to want to distance themselves from these planned marches.
7 April is a call to action for many South Africans, and protests are important for raising awareness and making a group's voice heard. By assembling en masse, citizens can show just how many people are affected by government decisions and force policy makers to listen and change. However, if you plan to march for this cause, you may want to consider your expectations for other marchers, and let this be a first step towards political activism across a spectrum of causes.
How to prepare for a protest/march
For some of you, this won't be your first protest march. Perhaps you are old enough to have marched against the Apartheid regime, or you might have taken part in protests such as #FeesMustFall. If this is your first time going out and protesting, here is some practical advice:
Wear sunscreen. No, this isn't a joke. You will be outside in the sun during the hottest parts of the day. According to the Weather Underground, the weather in Gauteng will be cloudy and sometimes stormy, but that doesn't mean you might not be exposed to more sun during the protest than your skin has seen in a while. So put on sunscreen in the morning so that you don't have to worry about it. This is particularly important for those of you in Cape Town, where weather is expected to be sunny and windy, a combination that is notorious for causing sunburns.
Wear comfortable shoes. This should be obvious, but this isn't a fashion event. Wear functional clothing that you can conceivably march in for long distances and time periods. Your flip flops might be comfy for a trip around the shops, but you'll probably be happier in socks and shoes during an event like this.
Bring water, some portable snacks and anything else you might need to consume for the day. With the city pretty much shutting down for the day, who knows where you'll be able to buy lunch, let alone a drink.
Stay in touch with your friends and keep people updated about your location throughout the day. it can also be useful to save Right2Know contact details on your phone in the event that you need community or legal support.
Follow all instructions from police and march officials. While legal marches are allowed, certain community events are relying on your right to congregate in groups of 15, 100 meters apart. If your group surges beyond those numbers, you may be requested to dissipate or could face arrest for illegal demonstration.
Where can I march to protest?
There have been so many Whatsapp messages going around with various march proposals, it can be hard to keep track. Thanks to a particularly useful reddit board from NAG hardware wizard Wesley Fick, we have this information on protests in every major city. Please be aware of the type of demonstration you're participating in as many community protests will have limitations regarding crowd size and actions.
Marches in Bloemfontein
[DA organized] 11:30 – Meet at Charlotte Maxeke Street for Gathering at Hoffman Square
Marches in Cape Town
[Community organized] 7:30-10 – Line Racecourse Road and Otto Du Pleases Drive. Dress in black.
[DA organized] 11:30 – Meet at Darling Street CBD Cape Town for gathering at City Hall
[OUTA organized] 12 – Gather outside Parliament
Marches in Durban
[Community organized] 12-2 – Durban Road and Wille van Schoor Ave to make a human chain in a peaceful show of unity against Zuma. Wear black, bring your SA flag.
[DA organized] 10 – Circus Site, Cnr Argyle and M4 for march to Amphitheatre in front of Elangeni Hotel
Marches in the Eastern Cape
[DA organized] There are 21 at last count, so please just check here to find one in your relevant city/town.
Marches in Johannesburg
[Community organized] 6:30 for 7 – Cnr Beyers Naude and Preller Streets, Roosevelt Park for a peaceful picket protest
[Community organized 6:30 – 7:45 and 4pm onwards – Stand in protest on the bridge over Klipriver Drive (by Mall of the South). Non-political, non-racial protest.
[DA organized] 10 – meet at Westgate Transport Hub (Corner of Anderson Street and Pat Math Busway) for march to Mary Fitzgerald Square
Marches in Kimberley
[DA organized] 9:30 – Perseverance College, Barkley Road, Homestead for gathering at Perseverance College
Marches in Matlosana
[DA organized] 10 – Meet at Matlosana Recreational Centre, Goue Weg, Pienaarsdorp for gathering at Matlosana Stadium
Marches in Nelspruit
[DA organized] 11 – Car R40 and Samora Machel Rd (Nex to Pick 'n Pay) for march to Nelspruit Rugby Club
Marches in Pretoria
[OUTA organized] 10 – Meet at Church Square, march to Union Buildings at 12
[Save SA organized] 12 – Meet at Church Square, march to Union Buildings along Paul Kruger, Madiba and then straight to South Lawns.
Marches in Welkom
[DA organized] 10 – Meet at 319 Stateway for gathering at municipal offices
Whatever your thoughts on the current political climate locally, be aware of the marches taking place in your area and plan your day accordingly. Even if you aren't interested in going out to protest, you could face difficulties getting to work or going about your normal daily routine, so please be aware and stay safe. If you have details of any other protest actions planned for the day, please feel free to leave the information in the comments below and we will update this article accordingly.
Last Updated: April 6, 2017