Valentine's Day is coming, and in the month of luuurve the latest two book bundles from Humble Bundle combine rather well for you to first work your way into someone's heart, and then from there dot dot dot suggestive wink. You know what I mean.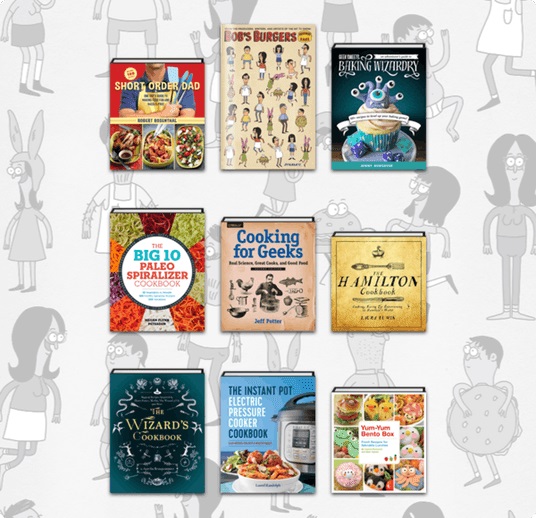 First up is the Sous Geek Cookbooks Bundle which features an interesting mix of geek-related cookery and mixology along with some food-related comic book goodness. Unique recipes, back-to-backs cooking, and tasty treats both edible and drinkable await.
The first tier in the bundle is a measly $1 and will earn you the following:
Eat Like a Rock Star: More Than 100 Recipes from Rock & Roll's Greatest
Do You Know the Muffin Pan?: 100 Fun Easy-to-Make Muffin Pan Meals
Make: Like The Pioneers
Short Order Dad: One Guy's Guide to Making Food Fun and Hassle-Free
Chew Vol.1: Taster's Choice
The World's Best Drinks
The second tier will set you back $8 and includes the following in addition to the above:
Mixed Up: Cocktail Recipes (and Flash Fiction) for the Discerning Drinker
Bob's Burgers: Medium Rare
Cooking for Geeks: Real Science, Great Cooks, and Good Food
A Thyme and Place: Medieval Feasts and Recipes for the Modern Table
The Astronaut's Cookbook: Tales, Recipes, and More
The Big 10 Paleo Spiralizer Cookbook
Ponying up $15 will unlock all the following from the third tier for your taste buds:
Hamilton Cookbook: Cooking, Eating, and Entertaining in Hamilton's World
Geek Sweets: An Adventurer's Guide to the World of Baking Wizardry
Yum-Yum Bento Box
The Instant Pot Electric Pressure Cooker Cookbook
Principle and Practices of Winemaking
The Effortless Sous Vide Cookbook
The Wizard's Cookbook: Magical Recipes Inspired by Harry Potter, Merlin, The Wizard of Oz, and More
The Complete Air Fryer Cookbook
Make: Edible Inventions
That's a pretty wide-ranging collection that's sure to contain something that whets your appetite. There are a couple of things in there that would never have occurred to me to consider making, and that's the point of bundles like these after all – to give you ideas.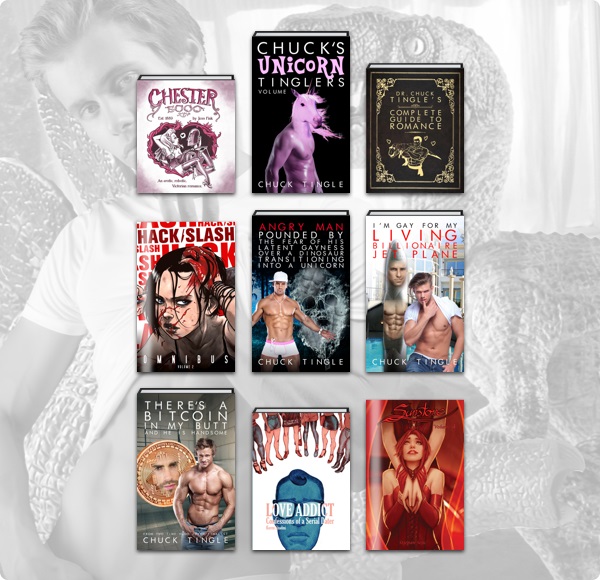 The second bundle is the Crazy Sexy Love Bundle – and it definitely contains all three of those things in varying degrees in this eclectic mix of novels both graphic and graphic which is highlighted by five volumes of Sunstone (which comes highly recommended by Noelle as you can read here) and some of the bizarrely-titled gay erotica of the self-published author Dr. Chuck Tingle. I don't think he's a real medical doctor.
As above, the first tier will set you back $1 and offers the following:
Chuck's Unicorn Tinglers Vol.1 – Dr. Chuck Tingle (that doesn't seem so bad, what's everyone talking about)
Barb Wire Book 1 – Chris Warner, Patrick Olliffe, Tom Nguyen, Gabe Eltaeb, Adam Hughes
Chester 5000 – Jess Fink
Sunstone Vol.1 – Stjepan Sejic
Dawn/Vampirella Collection Vol.1 – Joseph Michael Lisner
Swing & Sugar Excerpt – Writer: Matt Hawkins, Jenni Cheung Artist: Linda Sejic
The $8 second tier includes the following in addition to those above:
Love Addict: Confessions of a Serial Dater – Koren Shadmi
Vampirella Master Series Vol.2: Warren Ellis – Warren Ellis, Amanda Conner, Jimmy Palmiotti
Lonely Author Pounded By Dinosaur Social Media Followers – Dr. Chuck Tingle (what?)
I'm Gay For My Living Billionaire Jetplane – Dr. Chuck Tingle (…what?)
Empowered Vol.1 – Adam Warren
Chester 5000: Isabelle & George – Jess Fink
Hack Slash Omnibus 1 – Tim Seeley, Katie DeSousa, Skottie Young, Frederica Manfredi
Sunstone Vol.2 – Stjepan Sejic
Sunstone Vol.3 – Stjepan Sejic
The third and final tier is, once again, $15 and includes the following:
Angry Man Pounded by the Fear of His Latent Gayness Over a Dinosaur Transitioning Into a Unicorn – Dr. Chuck Tingle – (what the f**k?!)
Hack Slash Omnibus 2 – Tim Seeley, Emily Stone, Rebekah Isaacs
Sunstone Vol.4 – Stjepan Sejic
Chuck Tingle's Complete Guide to Romance – Dr. Chuck Tingle
Sunstone Vol.5 – Stjepan Sejic
Stuff About Sex – David Mellon
There's A Bitcoin In my Butt and He is Handsome – Dr. Chuck Tingle (I'm starting to think these book titles are generated by some kind of dodgy headline-mining Google AI)
I'm never going to hear the words "my Spidey sense is tingling" quite the same way again. While your mileage may vary with some of the titles contained in this bundle – I still can't get over those titles – it's a pretty solid one overall and well-worth picking up for Sunstone and Hack Slash alone.
Last Updated: February 1, 2018