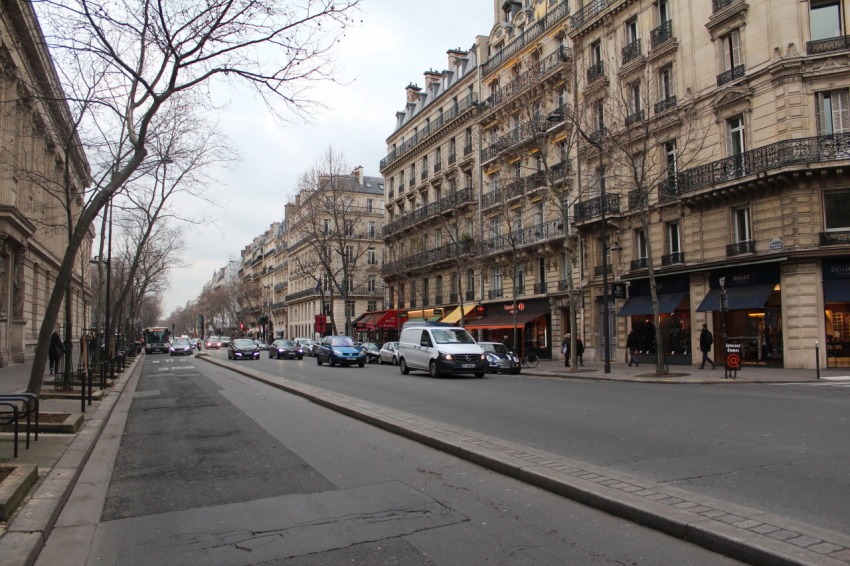 Listen, I'm in Paris at the moment, but for reasons I can't divulge until later this month I'm afraid. What I can do in the meantime at the very least, is invite you to join me for a walkabout through the city of love. Here's a journal of what I got up to on my first day, before my mystery event kicked off:
05:50 – The pilot lands the Air France flight with a crash. If any passengers were still asleep, well, they're up now.
06:21 – The queue through border control was long! I made it through with ease once I reached the front though. Thank you, EU Passport.
06:38 – I had started to panic. The traffic around the baggage carousel thinned out substantially before my ratty bag with its Hearthstone name tag arrived.
07:00 – After walking past at least three taxi drivers, I pull out my phone and sneakily call an Uber. I choose the Pool option because why not? A cheaper trip is never a bad thing.
07:02 – The Uber driver arrives in a fancy BMW 3 series – a far cry from the usual Toyota Corolla variants I'm so used to in Johannesburg, South Africa.
07:03 – We load up my bags. All we have to do now is wait for my Pool partner.
07:05 – She finally arrives, albeit with a whack of bags, and another passenger. Three of us with all this luggage in one car just ain't going to work I'm afraid.
07:06 – The driver draws the new passenger's attention to this dilemma. He says she should call another Uber. She looks pissed.
07:07 – We're off at last – Paris, I am all yours!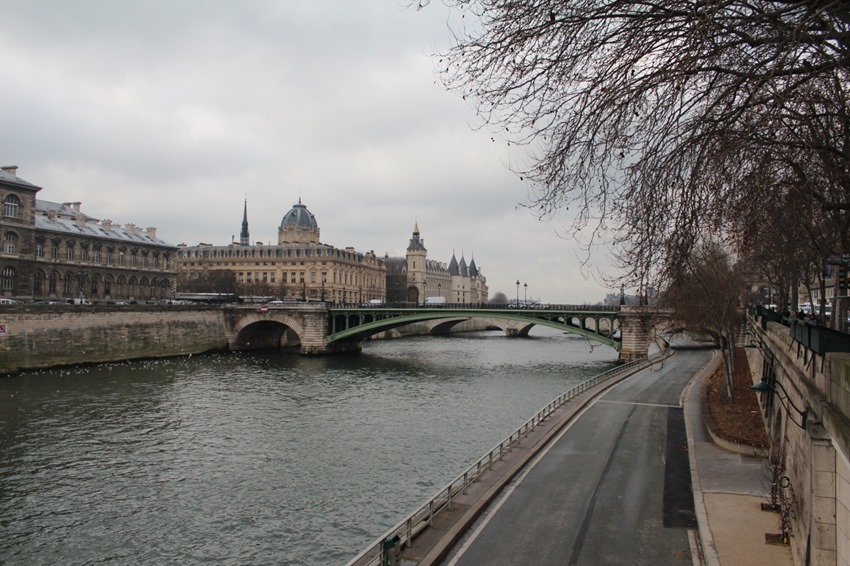 Note: it wasn't this light yet. I didn't take pictures until much later in the day
07:12 – After making it out of airport traffic, the driver informs me that we have to turn back for another passenger. We're going to make use of the pool feature after all. It's cool, I don't have to be anywhere today until this evening.
07:16 – We collect a brand new passenger. I'm relieved to see that he doesn't have a million bags.
07:18 – I realize that I have a huge unshaven spot on my neck. Awkward. I wonder if my neighbour on the flight noticed?
07:25 – The passenger and driver are having a fat conversation in French. They keep laughing.
07:26 – Are they laughing at me?
07:27 – Are they discussing my inability to shave properly?
07:30 – Paris is so dark. Will the sun ever come up?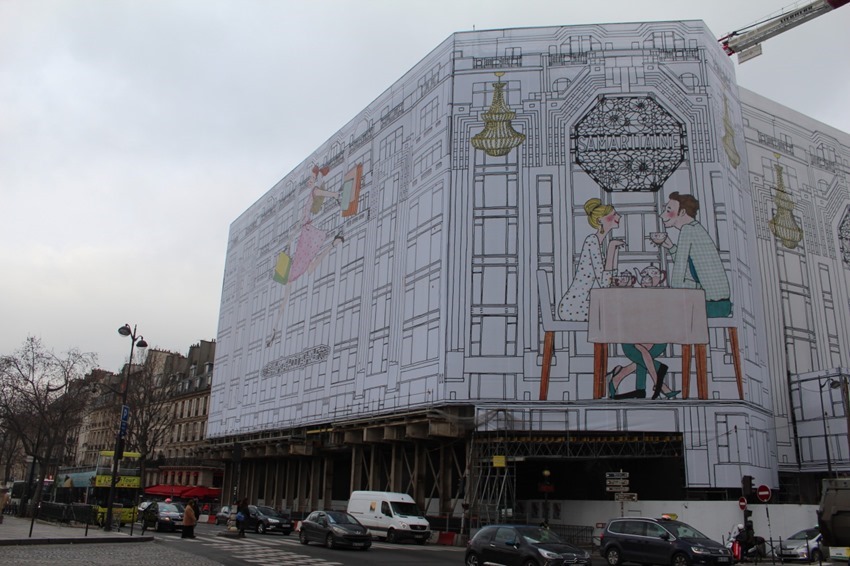 08:00 – I dosed off. I hope I wasn't swaying about or anything. Those two are still talking.
08:02 – Paris is slowly lighting up. Parents are walking their kids to school. The streets are bustling.
08:04 – The driver has seen that I'm awake. He asks me if I speak French. I politely say no, unfortunately not.
08:05 – The driver tells me that whenever he travels, he tries to learn a little of the language they speak there. Hint taken.
08:07 – The passenger rattles something off. I pick up the words "English" and "America". I comment that I'm from South Africa.
08:12 – We are driving through an area that has lots of fairy lights and Christmas trees. A bit early to be preparing for the festive season, isn't it Paris?
08:25 – I arrive at my hotel. I fear I may be way too early to check-in. It's not even 9am! Hotels usually only let you in after 11 or so, don't they?
08:33 – I'm in my room. Thank goodness!
10:30 – I take the time chill, unpack, and shower. It feels really good be clean again.
10:31 – I head out toward the Eiffel Tower. I'm in Paris, so it makes sense that that's where I should head first.
10:45 – It's bloody cold. Good thing I have a built-in mop atop my head.
10:48 – I just narrowly avoided stepping in doggy doo. Come on, which fool didn't pick up after their pet?
11:00 – I spot a bakery with macaroons. I would order but I don't speak French, and I'm scared that I'll be indirectly lectured again.
11:10 – Screw it, I walked into a café and ordered a cappuccino because my hands are frozen. €3.10 for the ability to feel again seems a fair price.
11:17 – I stopped in a square. There's a carousel here because REASONS, and there's actually somebody riding it at this ungodly hour.
11:18 – This square is home to over 9000 pigeons. Please don't mess on me. Please don't mess on me!
11:19 – I can feel my hands again. Thank you, delicious French coffee.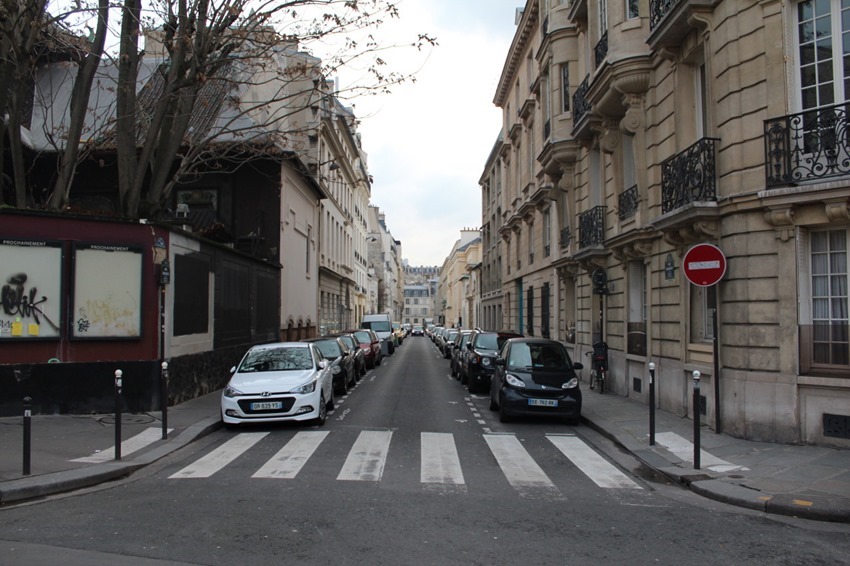 11:30 – I can't feel my hands again. I knew I should've packed gloves! At least I have a beanie and a scarf.
11:45 – I'm seeing loads of runners out and about. I'm totally going to do my own route later this week.
12:08 – I'm still walking. I can see the Eiffel Tower on the horizon at least.
12:13 – I just looked at Google Maps (I pre-downloaded them, so no need for Wi-Fi) and realized I completely overshot the Notre-Dame Cathedra. It's too late to turn back now I guess.
12:19 – I somehow stumbled onto the Louvre though. It's like the Da Vinci Code, except IRL!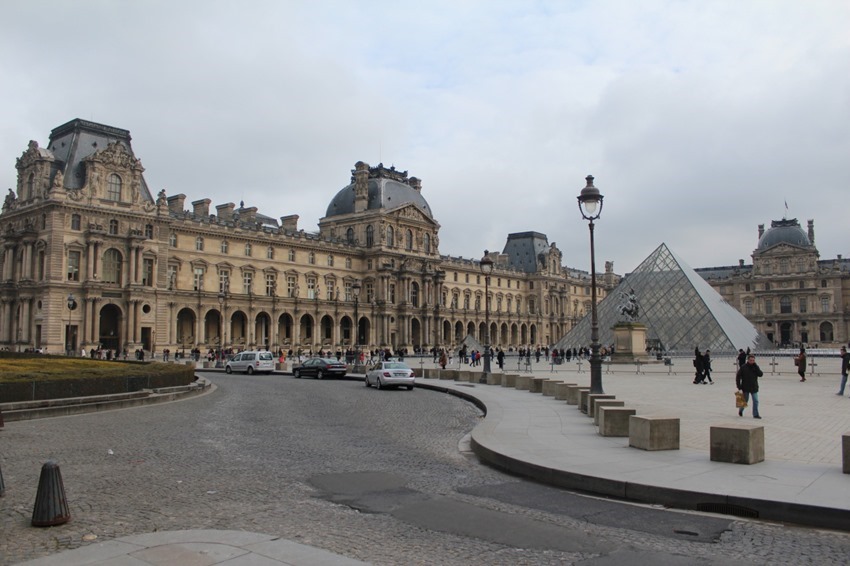 12:23 – I got swindled for €5. A stranger asked me to sign a petition, and next thing I know, I'm filling in a form until I see that the last column reads "donation amount". I can't bring myself to walk away, so I cough up.
12:24 – Hey, at least I he was kind enough to give me a bangle with the French colours, right?
12:25 – Oh who am I kidding? The regret is so real!
12:34 – The Louvre is actually so quiet today. I'm eager to enter, but on second thought, I'm not keen to pay €15 to get in – even less so after having just lost €5.
12:36 – I just walked past a tree full of black crows. Ominous much?
12:38 – And with good reason. I was approached again to donate. Fool me once, shame on me.
12:47 – I'm at a park of some kind, heading toward a large Ferris Wheel.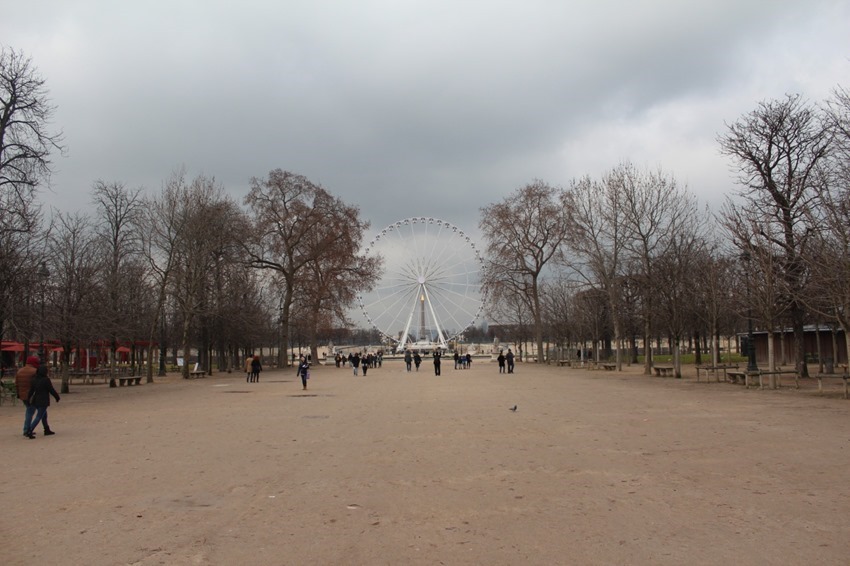 12:54 – I walked past it to get back on track. The Eiffel Tower looks a lot bigger from here.
13:03 – So I just avoided being pickpocketed. I was walking along the river, near the main road even, when I was approached and asked to donate again by two teenagers, who had broken off from a group of about eight. I shook my head and walked past, only to have one cut in front of me, trying to hold my attention. The other meanwhile, unzipped the top pocked of my bag, which I felt immediately. I realised what was happening, pulled away, and stormed off.
13:05 – After I had covered some distance, I stopped and checked that nothing was taken. Thankfully, I had put my wallet in another pocket, and my phone, in my pant's pocket, safely zipped up. The only thing they could've swiped if they were quick enough was my power bank and a generic charger cable.
13:06 – I look around and realize that despite being on a main road, I was completely isolated. Nobody would've been able to help me if that situation turned south.
13:12 – It dawns on me that walking around with my camera out is the same as me holding a sign that reads "TOURIST. EASY PICKINGS." I put it away, only taking it out to snap photographs when needed. It's damn inconvenient, but much, much safer.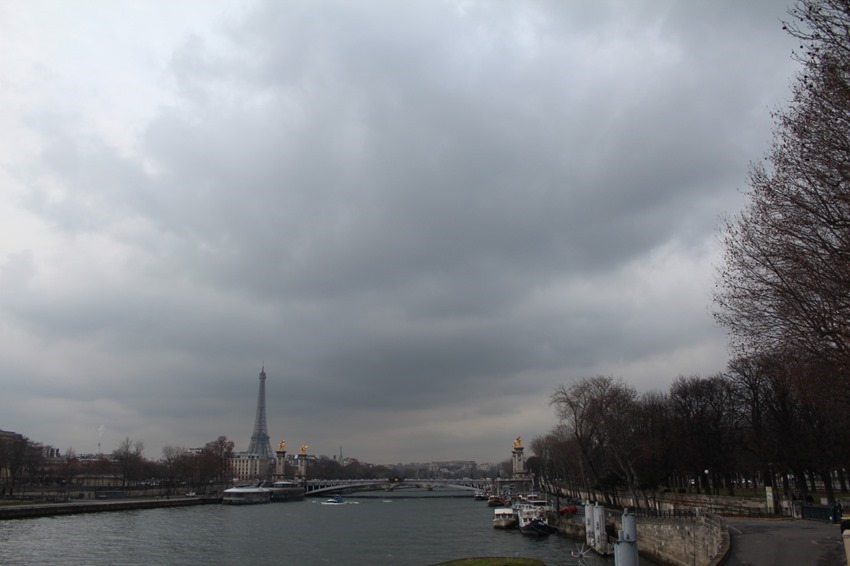 13:25 – I'm surrounded by tall buildings again. Where the hell is the Eiffel Tower? I swear I saw it just a second ago.
13:27 – Hallelujah! I spot it through a gap. I'm close for sure.
13:34 – The problem with the Eiffel Tower is that it's so big that it looks a lot closer than it actually is. My poor legs are so mad at me right now.
13:39 – I'm so close…
13:41 – OMG I MADE IT FAM!
13:43 – Viva France and all that jazz.
14:00 – In order to get a proper picture, I have to now walk away from the tower. Oh man!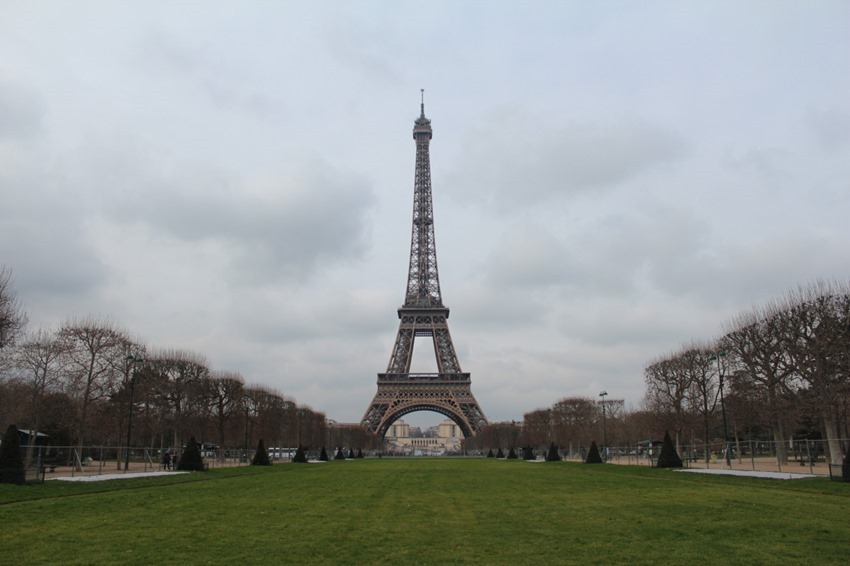 14:08 – Got it! Time to head back and find food along the way.
15:00 – I found a pizza place. Of course I stopped.
15:11 – A margarita and coke please, kind sir.
15:12 – I'm so hungry that I pay little attention to the fact that all that costs €11.50 and €4.50 respectively.
15:20 – Oh boy oh boy oh boy!
15:36 – Cool, now that I'm stuffed, it's time to hit the streets again.
15:55 – I just spotted my first McDonald's. I was wondering when that would happen! It only took me… all day to find one.
16:08 – Hot damn… I just found me the Notre-Dame Cathedral Where did that come from even?
16:14 –  Despite it being so late, there are still long queues to get into the place. It's cool, I'll take a look from the outside, thanks.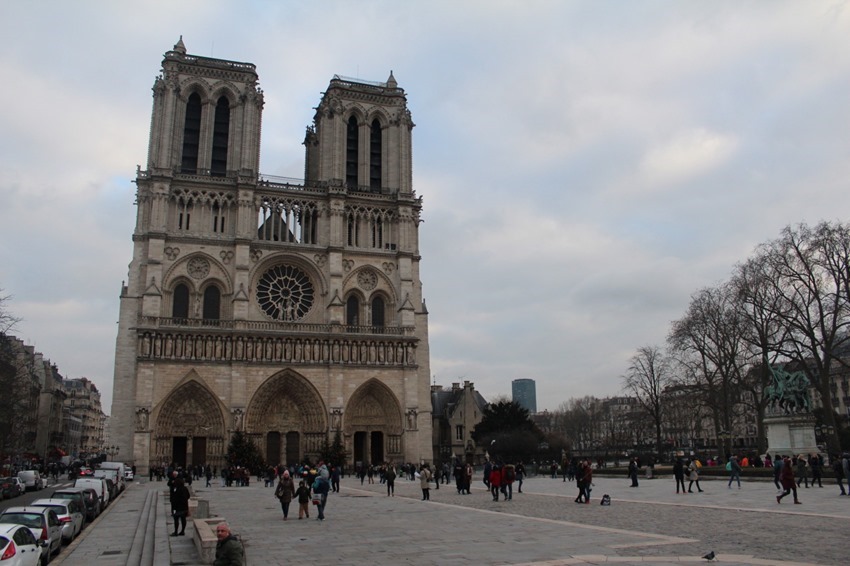 16:28 – I bought some gloves for €6. My hands love me again. NO REGRETS!
16:40 – People watching really is a thing here. Every little café I've walked past has coffee drinkers facing the streets, surveying everything that goes by.
16:51 – I'm feeling damn tired. At least I'm nearly back at the hotel. I don't remember these streets being so narrow when I left hours ago though.
16:53 – I just walked past an estate agency. A one room apartment costs around €850 000. Wow, that's pocket change. I'll take five please!
16:55 – Some dude is walking behind me with an old trolley that rattles. I fear he may kidnap me.
16:56 – He's even humming now.
16:57 – This is how I die!
16:58 – Phew! I've made it onto a main road.
17:00 – I head straight into my hotel, which is in an adjacent street. Good timing – just look at that clock!
17:04 – I plonk down on my bed for some much needed rest. I'm off again later tonight to eat dinner with some other chaps. I'll need my energy levels at full again for maximum roaming!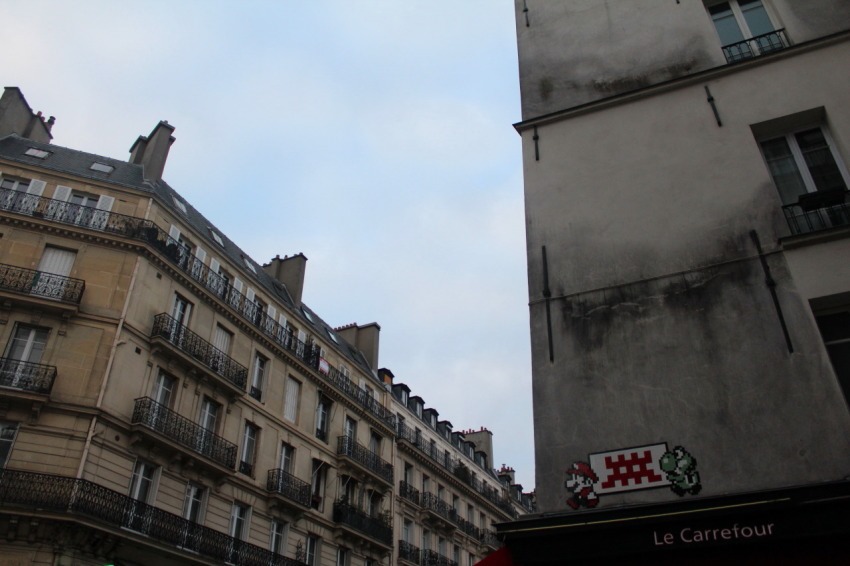 And there you have it – a day filled with walking, rambles, danger, more walking (17KM in total!), picture snapping, and a whole lot of other random stuff.
Last Updated: January 17, 2017