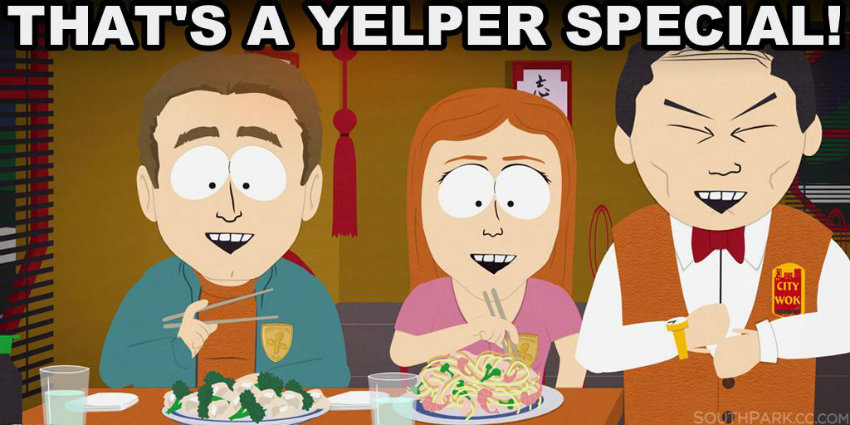 The guys often tease me about my Zomato fascination. Why would I review restaurants, take pictures of food or whatever else? Mostly, it's because I use Zomato a lot to find new restaurants, especially if I'm somewhere unfamiliar or I'm tired of the usual fare. I like to contribute to that community and maybe help other people find a new favorite restaurant, or avoid a bad one. South Park made fun of this with their Yelp reviewer episode, and many people shrug online review sites off as irrelevant to all except the self-important reviewers. Well, research proves that those thoughts couldn't be more wrong.
According to the sexy infographic you'll find at the end of this post, reviews produce an average 18% uplift in sales. And places/products don't need a lot of reviews – 90% of consumers read fewer than 10 reviews before forming an opinion about a business. The most impacted businesses? Restaurants and hotels. Hah – I am making a difference with my restaurant reviews.
In fact, 61% of consumers have read online reviews about restaurants, which is more than any other business. 34% of diners will choose a restaurant based on the information on a peer review site (which means my recommending specific dishes might actually have enticed people) while about half of those polled reported that online reviews factor into their dining decisions. Yelp is still the top restaurant review site, but Zomato is second on the list, with dine.TO, Foursquare and OpenTable rounding out the list. If you're looking at hotels, tripadvisor is the top rated site for reviews, followed by Booking.com, TripExpert, Expedia and travelocity. They even rated sites for movie reviews and found that metacritic actually ranks more highly than Rotten Tomatoes. Who would have thought?
But it's not just designated review sites that can help consumers make decisions. Facebook has options for reviews, and when companies replied to negative reviews on social media or online ratings sites, a third of customers either deleted their original negative review or replaced it with a positive review. Plus, nearly a fifth of those complainers went on to become loyal customers. I guess it just goes to show how important community management really is these days.
Whether we use dedicated sites for our restaurant reviews, or just look at ratings on Facebook for a local business, the truth is that word of mouth is different in a social space. Even if we don't actually know the reviewers, their comments can feel more reliable than other sources. Obviously, there are issues of fake reviews, something Amazon has been cracking down on lately, but it's still intriguing that reviews really are important, particularly in the restaurant space.
There is a ton more info in the full infographic, which you can check out below. Really rather intriguing.

Last Updated: June 21, 2017