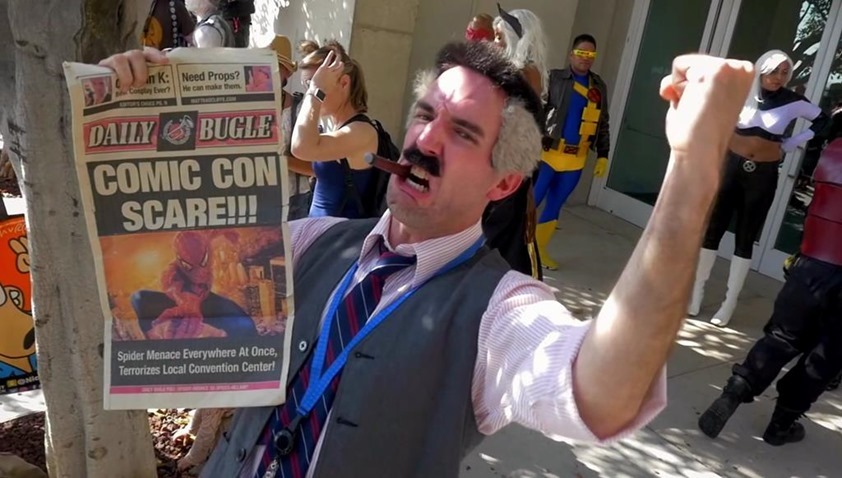 If you ever find yourself at the San Diego Comic Con and you're not dressed as your favourite character in all of pop culture, then buddy I've got news for you: You're the odd one out. You walk through those halls and you'll spot everyone from every corner of comic books, movies and TV. Maybe you'll see a squad of Disney princesses. Maybe you'll se a few of the icons from the slasher era of horror movies. Hell if you're lucky you might even see a rare Deadpool because nobody cosplays as the merc with a mouth, right?
Here's the challenge though: Getting to San Diego ain't easy. Air tickets are most likely sold out, accommodation is fully booked months in advance and nobody wants to sleep next to Sticky Joe (HOWDY!) outside of a McDonalds. The solution? Living your San Diego Comic Con dreams vicariously, through the lens of the latest Sneaky Zebra video:
Bonus video time! One of my favourite segments from SDCC every year is Adam Incognito. The former Mythbuster usually grabs a costume or two, hides his identity and hits the floor. It's amazing to watch just how much effort essentially goes into being not noticed, but not too noticed as Savage pulls out all the stops to craft a costume which is as screen accurate as possible.
The Tested frontman had two costumes this year: Proper medieval armour straight out of the 1981 Excalibur movie based on King Arthur's costume. I'm actually amazed at how limber Savage was in that armour:
Next up: RAAARRRRGGHHHHHAAARRGGGHHHH! Yup,that's a Wookie cosplay where Savage teamed up with author John Hodgman to spread some Star Wars love. And furr:
One day, I'll hit that Comic Con. I'll probably also get kicked out for rubbing my leathery Batman-attired self all over the convention merchandise but dammit that's a risk that I'm willing to take. I should start begging crowdfunding this hare-brained scheme.
Last Updated: July 28, 2017