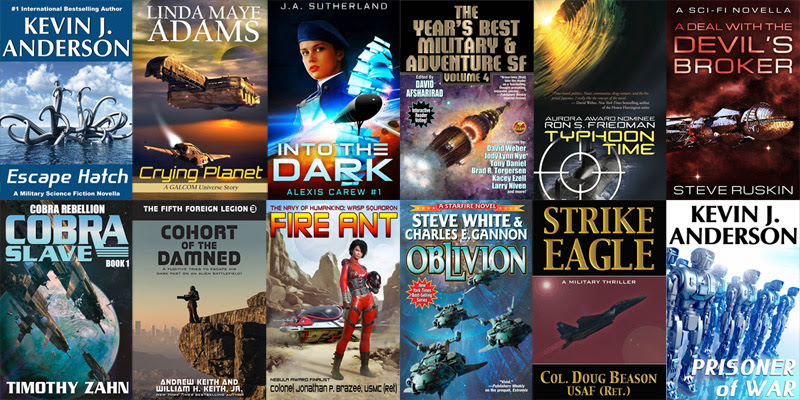 The 2018 Military SF Bundle from StoryBundle is modestly packed with a variety of novels, novellas, and short stories for those of you who enjoy action-packed space adventures – all selected by author Kevin J. Anderson (The Saga of the Seven Suns, Dune prequels, and more). Travel through time, stay on Earth, journey to new worlds or get lost in the vastness of space. Encounter threats from humans, aliens, and even alien ghosts. All with a solid dollop of action along the way.
As per normal, the books are all DRM-free and provided in .epub and .mobi formats for your e-reader of choice. The first tier of this two-tier bundle will set you back $5, and includes the following four titles:
Chip in a further $10, making it $15 in total, and you'll receive the following eight titles in addition to those above:
As a regular military sci-fi reader the two that stand out the most for me are Oblivion, the latest entry into the long-running Starfire series, and Timothy Zahn's Cobra Slave, the first installment in the third trilogy based on his cybernetics-enhanced super-soldiers.
A few of the others sound like they have some potential, but you won't know until you try. I'd say for fans of the genre spending $15, or around R210, is worth it because you only have to enjoy a couple of the titles to get your monies worth. Try walking into a book store and buying one or two books for that. And who knows, maybe you'll introduce yourself to a new author along the way.
Last Updated: July 2, 2018