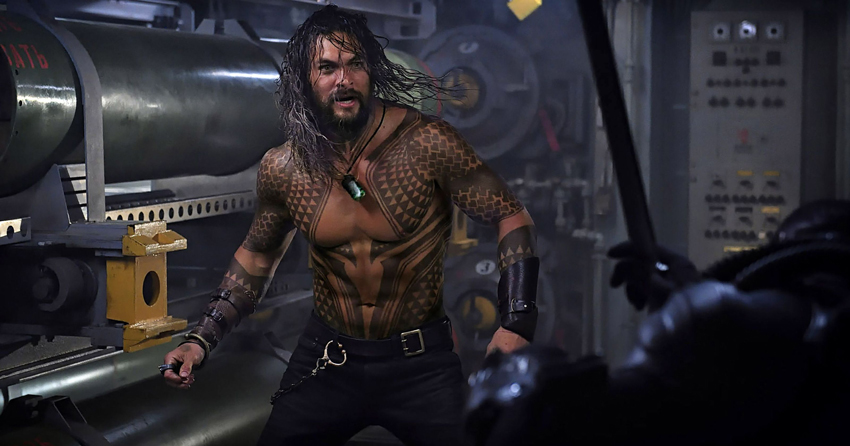 Being the life-long hardcore comic book geek that I am, I spent many years trying to dissuade non-comic book reading folks of the notion that Aquaman was a silly cartoon who talks to fish (all thanks to the goofy 1970s SuperFriends animated show). Aquaman was actually a mega-powerful badass, I educated. Turns out I was wrong… Both summaries are actually true, as director James Wan's undersea comic book action-adventure attests in bombastic fashion.
Driven by a singular creative vision hitting with the subtlety of a tsunami, Wan has created a film in Aquaman that stands as the outright antithesis of what some parts of the DC Comics film franchise infamously became known for. Whereas films like Suicide Squad and Justice League – the latter being where we first got to meet Jason Momoa's gruff aquatic hero properly – were grimy with the fingerprints of outsider interference, Wan appears to have been given complete carte blanche to make the movie he wants to make. Even if that movie features Willem Dafoe, decked out in a top-knot and skintight bodysuit, sitting astride a giant armoured and saddled hammerhead shark while discussing war tactics with complete seriousness in deep-sea underwater ruins.
And that's just the tip of the iceberg when it comes to how bonkers Wan gets, as no concept of the Aquaman comic book mythology appears off-limits or too weird. Dolph Lundgren, bedecked in resplendent gold armour, riding a giant sea-horse? Sure why not.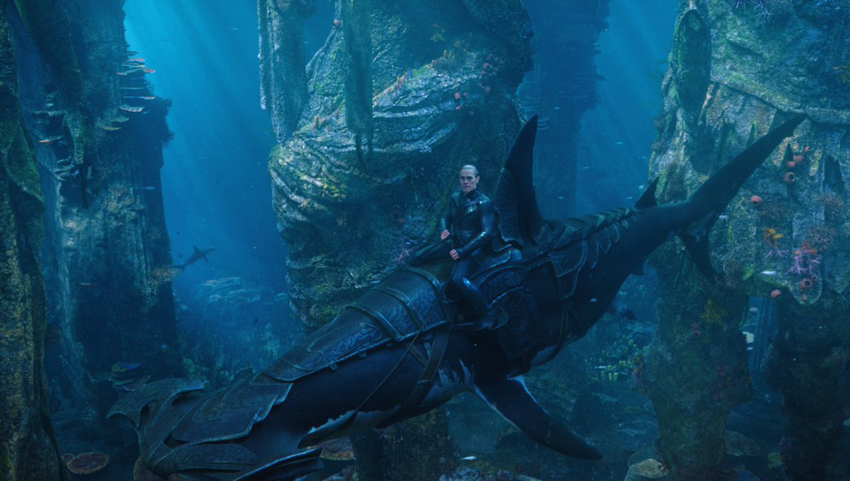 A lot of what helps to sell this bonkers ambition is that Wan makes it all look jaw-droppingly gorgeous, flooding our senses with popping neon colours, phantasmagoric architecture and technology bordering on magic as we explore the fantastical underwater ecosphere of Atlantis. This is a film that deserves to be seen on the biggest, brightest screen you can muster. And of course, there's Momoa, the other almost-inhumanly good looking element – as my wife will happily point out – who carries the film and its wild ambitions on his celestially proportioned shoulders with consummate leading man ease.
The product of two worlds, Momoa's Arthur was born when Queen Atlanna (Nicole Kidman) washed up on the shores of Maine lighthouse keeper Thomas Curry (Temeura Morrison), trying to escape an arranged marriage and instead finding true love and a family. Though a king by lineage, the young Arthur would spend his life relatively landlocked, not caring for his imperial destiny under the ocean, as he was trained by Atlantean tutor Vulko (Dafoe) in the superhuman abilities he inherited from his mother. However, when Mera (Amber Heard), the princess of a neighbouring underwater kingdom to Atlantis, turns to the errant Arthur for help, he gets dragged into a globe-trotting adventure that will see him become the hero we know him to be.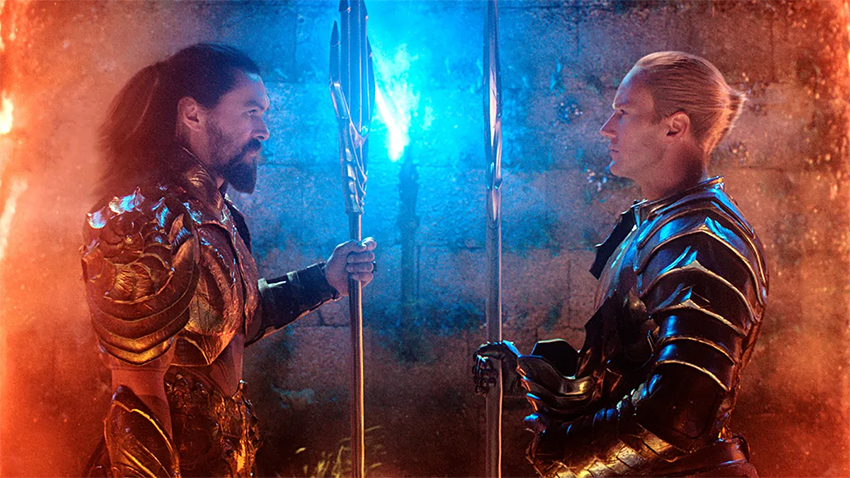 Like the mythical monarch he's named after, the hot-headed Arthur embarks on a quest to find a powerful artefact that will grant him the legitimacy to challenge his younger half-brother Orm (Patrick Wilson) for the Atlantean throne he's occupied in Arthur's absence. Since King Orm is prone to tight man buns and wide-eyed rants about surface-dweller genocide and his idea of trade negotiations consists of a sharp blade and a brazen propensity to use it, a little usurping might be for the best. Also dragged into all of this is David Kane aka Black Manta (Yahya Abdul-Mateen II), a ruthless high-tech pirate with a bug-eyed helmet and a personal vendetta against Aquaman that aligns with Orm's interests.
Naturally, I've summarized the story, but playing out across the film's 2h20 running time Will Beall and David Leslie Johnson-McGoldrick's script swims this way and that. Occasionally into some very odd and unnecessary places though, getting tangled up in forehead-slapping leaps of logic. Not that you'll have that much time to think about some script sillies as Wan keeps events moving at a thunderous pace. Too thunderous some would say. Proving that his masterful transition from intimate horrors like The Conjuring to big-budget kitchen sink blockbusters like Furious 7 was no fluke, Wan dreams up some wowing action beats here. Borrowing from pop culture touchstones like Indiana Jones, Star Wars, Uncharted, Journey to the Centre of the Earth and more, Aquaman hops around the world from one fantastically realized exotic location to another, often leaving it a cratered pile of slag.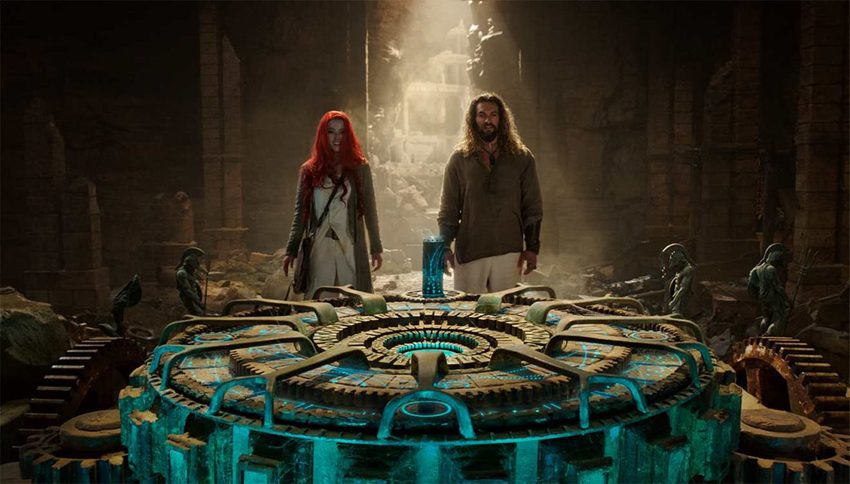 Wan appears to have an acute aversion to slowing down though as seemingly no two characters can ever converse about anything meaningful for longer than a few minutes before being interrupted in explosive fashion by somebody to punch in the face. Combined with a staggering undersea battle to cap off the action, the likes of which we've never really seen before in these spandex-wearing jaunts, and action fatigue could become a real thing.
Wan's towering ambitions also get the better of him in other places, strangely not because of anything seen on-screen – no there, all the craziness is welcomed – but rather what's heard. Composer Rupert Gregson-Williams delivers a punchy score with some fantastic retro synthwave beats, but Wan also breaks up his action with some ludicrous pop music needle-drops. Pitbull's massacring of Toto's Africa stands out especially as a painful oddity. Momoa's scream as he launches himself out of a plane towards the sandy wastes of the Sahara desert in the scene after which the song plays may be one of unadulterated adrenalin-seeking joy, but my answering inner scream in response to the music was very much Munch-ian horror.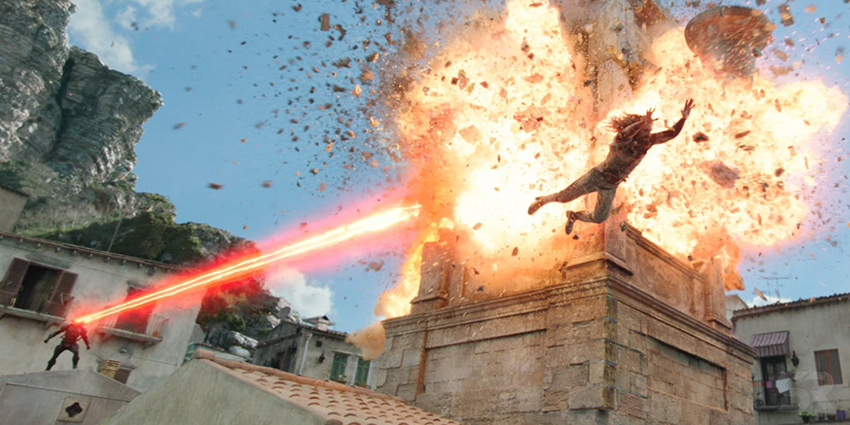 Even with these fumbles and the aforementioned saturation of spectacle, it's hard to deny just how much gonzo fun Aquaman is. While the rest of the cast is required to play things very straight and subsequently turn in fine performances (well, fine and shouty for Wilson) the mega-charismatic Momoa completely owns the screen as he is clearly having the time of his life, dropping wry one-liners with a twinkle in his eye as easily as he dispatches foes with a bone-crunching physicality. It's often cheesy and bit dumb, but Momoa embrace it all wholeheartedly, making him and everything in his orbit of coolness immensely likeable.
That joviality, Wan's unchained creative imagination, and his willingness to make a DC Comics movie that is not afraid of its comic book source material – including that glorious gold and green costume – infects every aspect of the film. The result is a brightly colourful, unironically fun, popcorn-munching blockbuster that left me grinning. It's far from perfect and definitely doesn't knock Wonder Woman – which unsurprisingly shares many of the same core values – from its perch as the best modern DC Comics film, but Aquaman is, as its lead so often exclaims in joy, awesome!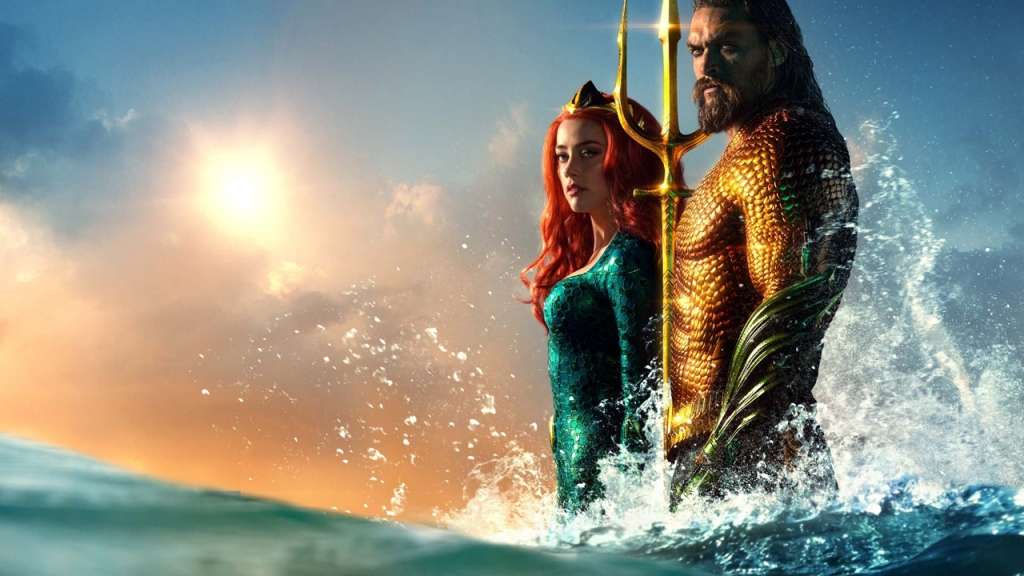 Last Updated: December 19, 2018
Aquaman

Boasting its fair share of barnacles, this undersea comic book adventure about a prodigal king returned is definitely not going to snatch the crown from Wonder Woman for being the gold standard of DCEU movies. However, led by a charismatic, ebullient turn from star Jason Momoa and director James Wan's apparent free reign to try for any and all crazy ideas, Aquaman still ends up being a big, kinda-cheesy, ball of fun that is sure to make a splash.