The ASUS Strix Flare mechanical keyboard is built to be a premium product. That's immediately obvious from its full size, sleek gunmetal grey finish, dedicated media keys – and other little touches that help elevate it above many of its competitors. Announced earlier this year, the Strix Flare is Asus' gamer-focused top-end keyboard.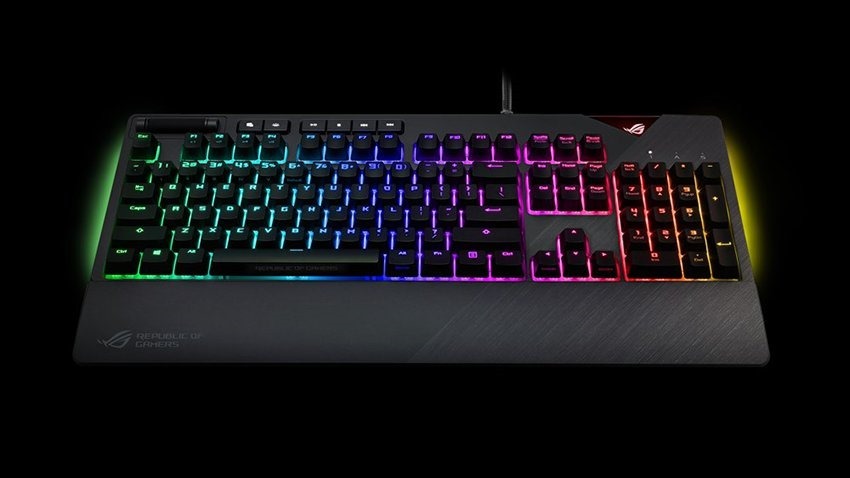 It's an impressively understated keyboard. Well, as understated as a full RGB keyboard is capable of being, anyway. It's full sized, made of a matte, solid plastic in a gunmetal grey. Along the top of the keyboard, you'll find a row of dedicated media keys, along with the windows key lock, and a brightness control for the RGB lighting.
The standout feature on the keyboard itself is the large volume roller that lets you increase or decrease volume without having to take your hand off the mouse. With a click, the roller will mute the sound. It's a pure gimmick (and one we've seen before on Corsair's keyboards and even on the Asus Strix Tactic Pro keyboard, but on those, it was inconveniently placed on the right above the number pad), but one that I found myself using more than I thought I would.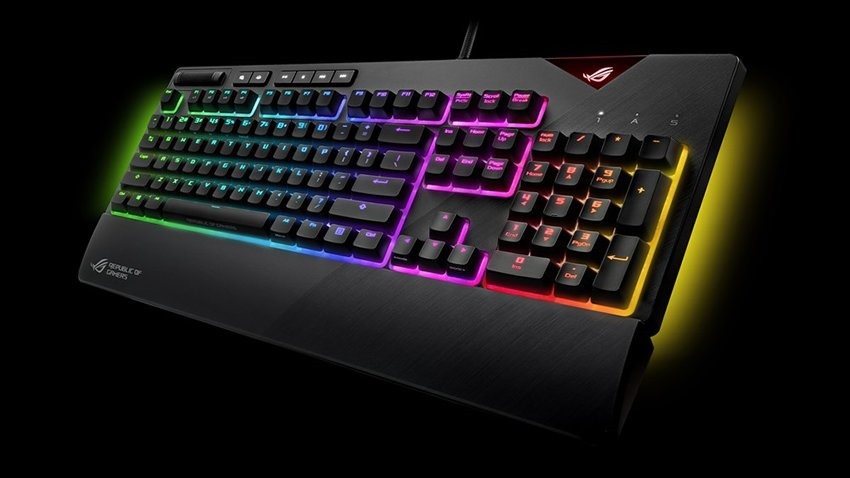 It has a thick braided USB cable that terminates into two USB ports, but that's because one of them is for USB pass-through, as there's a conveniently located port on the back of the keyboard. It also has a nice set of sturdy, locking feet to elevate the board if that's your wont. It also comes with an included wrist pad that the keyboard (flimsily) rests upon. It doesn't click in, instead holing into grooves – but it's more than sturdy enough for that to not matter.
Of course, as a full RGB keyboard it has shiny lights everywhere. Every single key apart from the perpetually white media keys can be independently lit and coloured to your choosing, along with the usual gamut of lighting options, like rainbow runs, pulsing keys, and everything else you'd imagine. You can also set up a number of effects to chain together – if you, for example, want your WASD keys to glow a bright red, but the rest of the keys to cycle through the colours of the rainbow. To make the Flare stand out a little it also has RGB lighting along the sides of the keyboard, which project onto your desk for a bit of underglow, and there's also lighting on the top right that illuminates an acrylic plate that's emblazoned with the ASUS ROG logo. There's a blank plate included in the box, so if your engraving skills are sufficient, you can carve your own logo into the template. With a 3D printer and some transparent filament, you could even make your own inserts.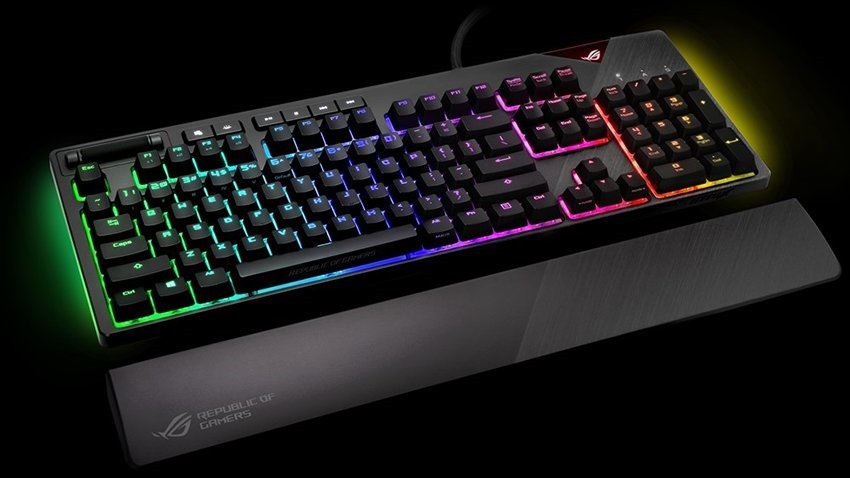 Though most of it is controlled by ASUS Armoury software, you can also switch through any of the default and five custom profiles on the fly, as well as record and use macros. Of course, the most important aspect of any mechanical keyboard is the set of switches that sit under the keycaps.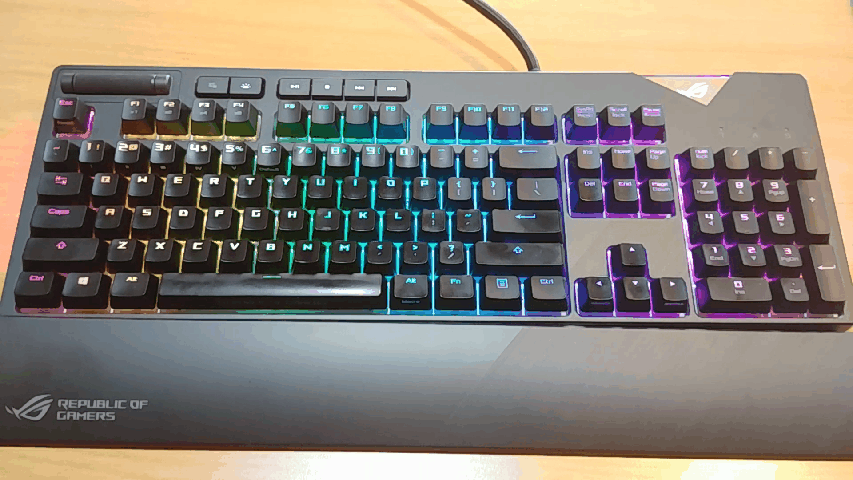 Instead of building their own switches as many other mechanical manufactures have done lately, ASUS has stuck with the tried and tested Cherry Mx. The Flare is available in Cherry MX Red, Brown, Blue and Black RGB variants, though the review sample I received had Reds. They're a softer switch that's great for gaming and have very little resistance, and lack a real audible click. With a travel of 4mm to bottom and an actuation of 2mm, they possibly a little too "squishy" for ardent typists who may prefer the tactile force of Blues or Blacks. For gaming though, they're an absolute delight. The frame is solid and sturdy and there's no frame flex, the keys are nicely nested and responsive, and the font on the keycaps is clear and crisp. Of course, it has full n-key rollover and anti-ghosting, as every mechanical keyboard does.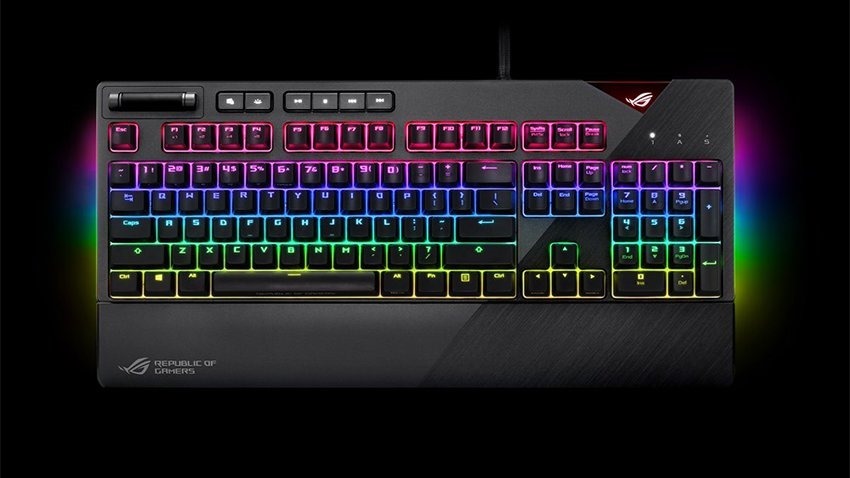 The quality of life additions like the USB pass-through, the volume roller and the included wrist pad are just gravy on what is one of the very best keyboards I've used. In fact, I have very little bad to say about it at all. Sure, the ASUS software could do with a little refinement as it's nowhere near as user-friendly as SteelSeries Engine, but it gets the job done. It's also a little on the pricey side, even for a keyboard of this quality and with its included extras. At a recommended retail price of R3299 locally, it's definitely more expensive than it should be. In that sort of price range, there's a lot of worthwhile competition – and a reduction in the fabled ASUS tax would make the keyboard a little more appealing.
Key switches Cherry MX RGB (Red, Blue, Brown, Black)
Connection USB 2.0
Lighting Per-key RGB LEDs and underglow powered by Aura Sync
Anti-ghosting N-key rollover
Polling rate 1000Hz
Macro keys All keys programmable
Macro recording On-the-fly recording support
Onboard memory Yes
Media keys Dedicated media keys with a volume wheel
USB passthrough 1 x USB 2.0 port
Wrist rest Detachable with a soft-touch finish
Cable type Braided fibre
Software ROG Armoury II enabled
Dimensions

454 x 155 x 31mm
Weight 1256g (with cable)
Last Updated: April 6, 2018
Asus Rog Strix Flare

The quality of life additions like the USB pass-through, the volume roller and the included wrist pad are just gravy on what is one of the very best keyboards I've used. In fact, I have very little bad to say about it at all - other than its price, that is.