There was a time when everything Pixar did was guaranteed to be great. Several years ago when they decided to focus on a higher number of sequels rather than original stories though, a lot of the sheen of their work went away, leaving us with the unfortunate situation where we now sometimes approach their movies with a sense of trepidation than expectations of awe. Sadly, one of those poor sequels from the studio was Cars 2, which ranks as one of their worst movies ever. In truth though the first Cars was nothing special, which makes it rather surprising that this is now the second Pixar franchise, after Toy Story, to reach a third iteration. Unfortunately, though this film is definitely better than the second film, it's not a case of third time lucky for Pixar and their Cars franchise.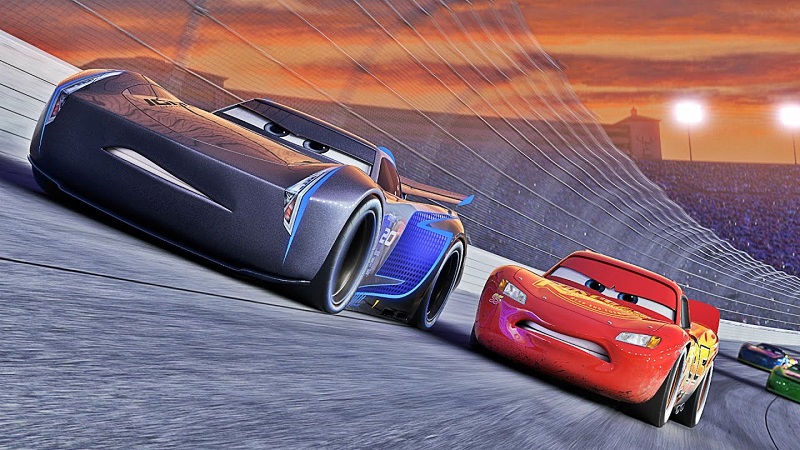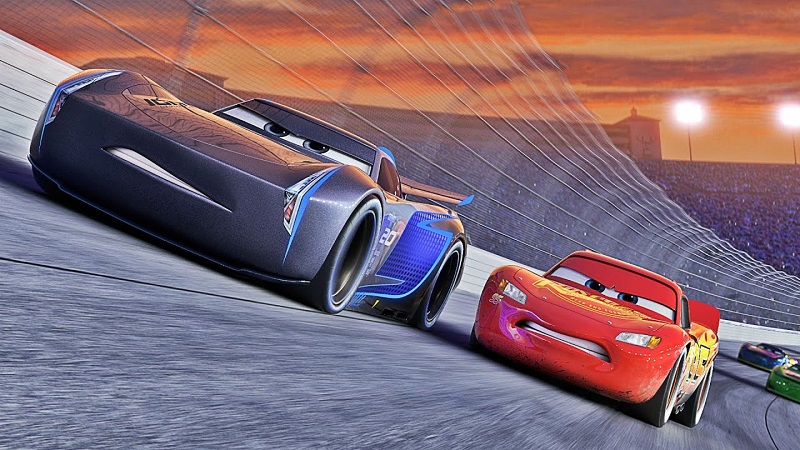 However, one thing this particular franchise has certainly done is mature. Like all Pixar movies, Cars 3 remains perfectly entertaining and accessible to younger audiences, but this time with a story that focuses on its characters getting older and having to come to terms with their fading abilities (something I'm sure Geoff can relate too) it touches on themes that are certainly more likely to relate to older viewers than kids. The writers double down on this approach to the film, with fewer moments of humour thrown in as it carries a lot of emotional weight through its running time. It's an approach though that is never too heavy and despite its mature themes, the film remains a light-hearted tale at its core.
We once again have Lightning McQueen (voiced by Owen Wilson) taking centre stage with his trusty friends Mater (Larry the Cable Guy) – who's the film's main source of comic relief – and Sally (Bonnie Hunt) there to give him support. This time though we are also introduced to a few new characters, including Cruz Ramirez (Cristela Alonzo), who becomes Lightning's coach. After a devastating crash nearly ruins Lightning's racing career for good, Cruz tries to introduce him to more modern methods of preparation and training to find that extra speed he needs to remain competitive against his modern and faster rival Jackson Storm (Armie Hammer).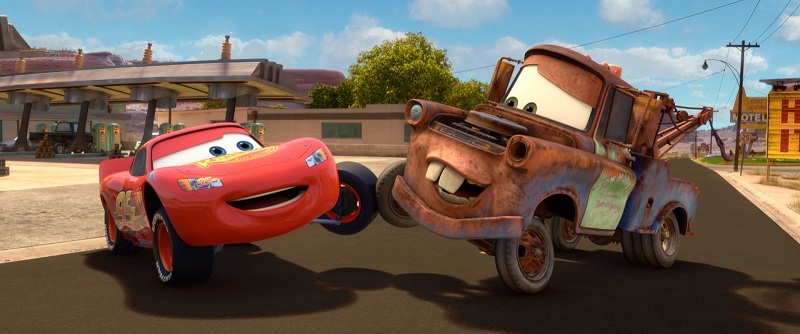 Cars 3 is a story well told and entertaining, rather than captivating. It's a solid film but perhaps falls victim to Pixar's past successes by simply not being what we used to expect from the studio. This continuation of the Cars story does allow the writers to expand on the existing characters though while introducing new ones and giving them the opportunity to shine just as well. Indeed, where the story turns out to be derivative, the characters have their moments to shine.
One thing Pixar remains the industry leaders in though is the quality of their production and animation and this film is no different. The animation is simply stunning with several locations shining with incredible detail and colours and action bursting forth all over the place. It will definitely keep the younger ones glued to their seats. Especially during the high octane and bustling racing scenes, which are exceptionally directed by Brain Fee, who has shown commitment to the franchise in working as a storyboard artist for the first Cars film. It's a story that has racing at its heart more than any previous Cars film and the many racing related scenes are a joy to watch. These remain the highlights of the film, especially one scene in particular which takes place in a demolition derby. It's crazy, exaggerated fun, which is perfect for a film like this.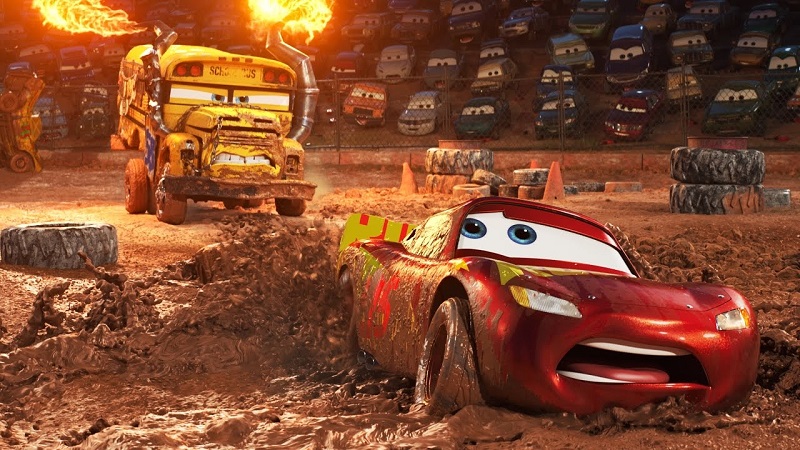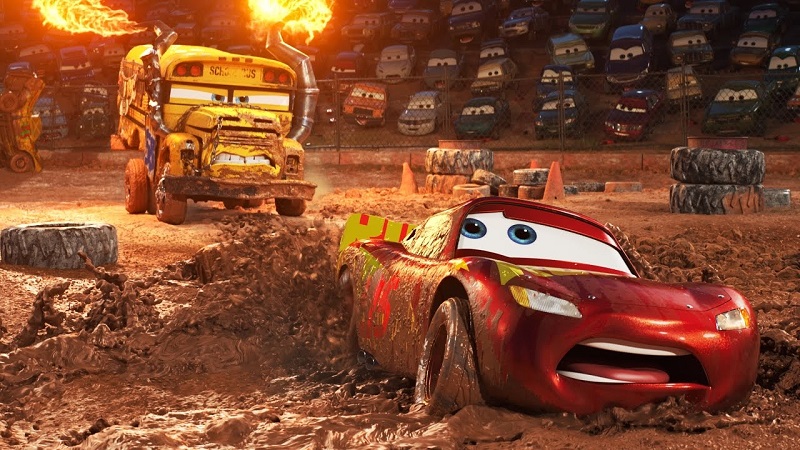 When the film is not about racing though, its cracks begin to show and it dawns that Pixar didn't really have too many original ideas to work with here. While one never expects a sequel to be very original, Cars 3 makes the mistake of using too many clichés and tropes that are familiar with the sports and racing genre. When you watch the film you will realise you've seen it all before, only this time it's painted as Cars instead of humans in the story. Even the ending feels very underwhelming, as the film tries too hard to be sentimental without hitting new territory.
All of this though is unlikely to bother the kids who are probably going to thoroughly enjoy the movie. As said, it's unfortunately not as funny as previous Pixar films, but the eye candy and light story should keep them suitably entertained. If you can put up with its many predictable moments, you may find yourself entertained as well.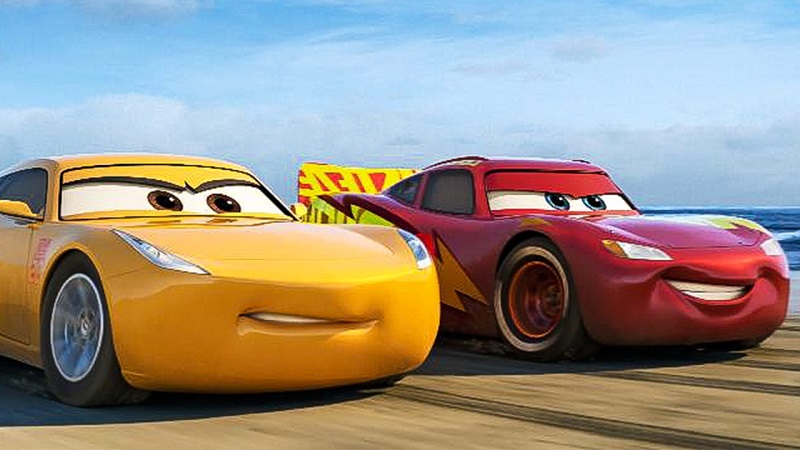 In the end, Cars 3 disappoints  but still entertains. It's not one of the best Pixar films but is probably still better than many of the mediocre animated films we have been getting lately. Pixar knows how to make a solid movie and they certainly keep that trend here. The film might give Lightning McQeen a new coat of paint and offer up a more mature storyline without isolating the younger audience members, but it fails to bring that true classic magic to a franchise which never quite had it in the first place.
Last Updated: June 14, 2017
Cars 3

Cars 3 might give Lightning McQeen a new coat of paint and offer up a more mature storyline without isolating the younger audience members, but it fails to bring that true classic magic to a franchise which never quite had it in the first place.