It is remarkable how Pixar can get you more invested in a character within 10 minutes of a movie than most films are able to accomplish through entire franchises. It's that strong characterization that has led to them creating such memorable movies over the years and becoming one of the highest quality film studios in history. While their fortunes have slightly dipped recently with Disney getting them to make a few too many sequels, they have not lost any knack in building charming, lovable and unique characters into their films.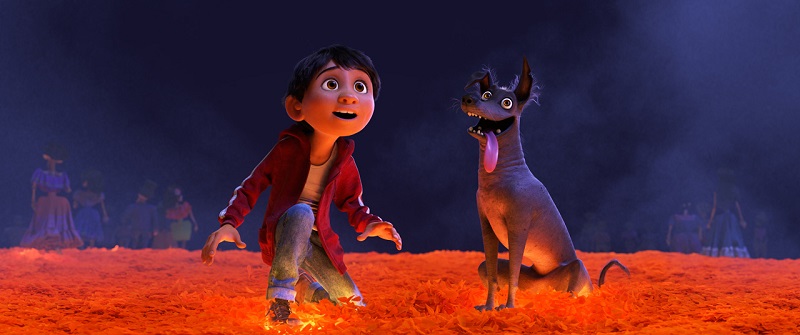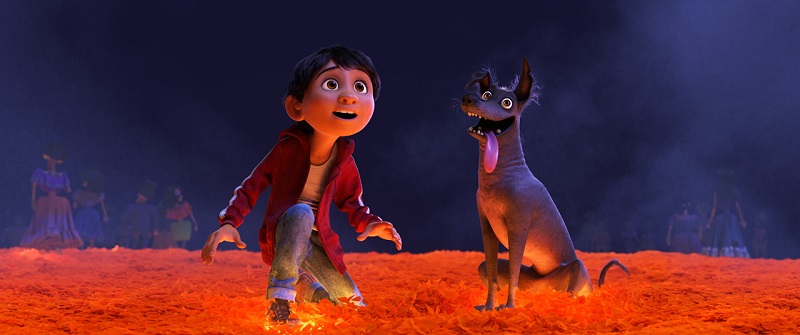 Which is exactly what they do in Coco, arguably their most ambitious film to date. Coco is a film that goes to darker places than Pixar ever has before by taking you to the land of the dead and filling the movie with weird and strange creatures that are likely to both scare and enthral younger viewers. Yet at the same time, Pixar has created a gorgeous world that you will instantly fall in love with.
As with all Pixar movies, it goes without saying that their animation quality is outstanding and in Coco it is probably better than it has ever been. From the brightly coloured environments that they have done a sterling job of creating with impeccable detail, all the way to the amazing facial movements of its human characters and even how things like water and wind affects them – every detail is incredible. There is quite simply, no better-looking animated movie avilable.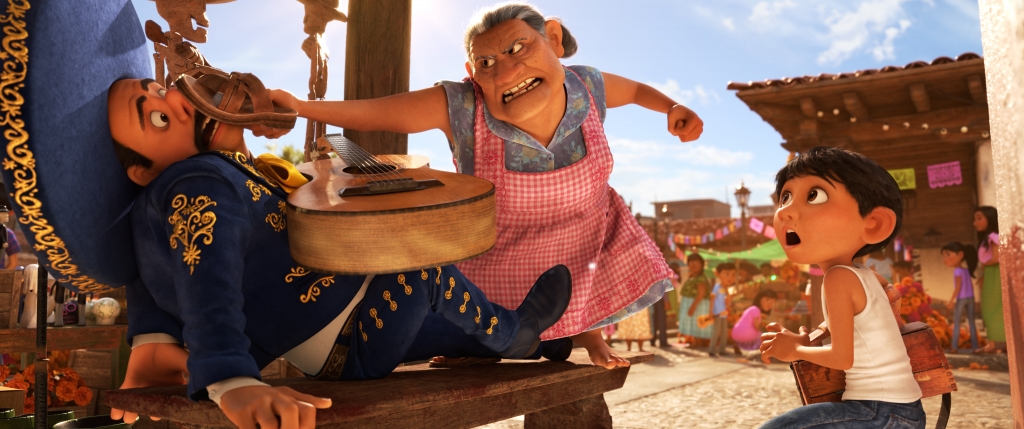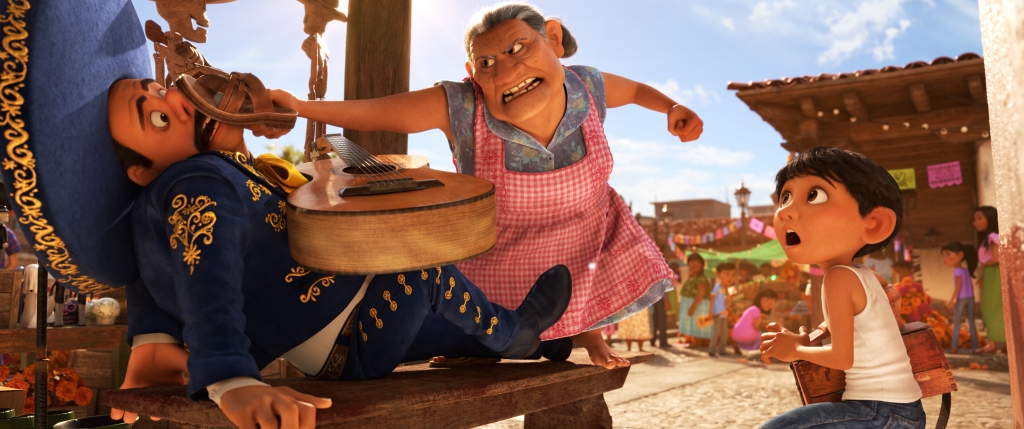 Coco follows the story of Miguel Rivera (Anthony Gonzalez), a young Mexican boy whose family is all about two things: making shoes and a serious dislike for music. This conflicts with Miguel's ambitions to be a musician, which doesn't sit well with rest of his family. On the celebrated Day of the Dead (Día de Muertos), Miguel decides to follow in the footsteps of his idol Ernesto de la Cruz (Benjamin Bratt) and chase after his dream at the local talent show. With no instrument to play though he resorts to stealing the guitar of his idol, but in the process mysteriously crosses over to the Land of the Dead where he now has to get the blessing of his deceased family for his musical ways before the day is over or he will be stuck there forever.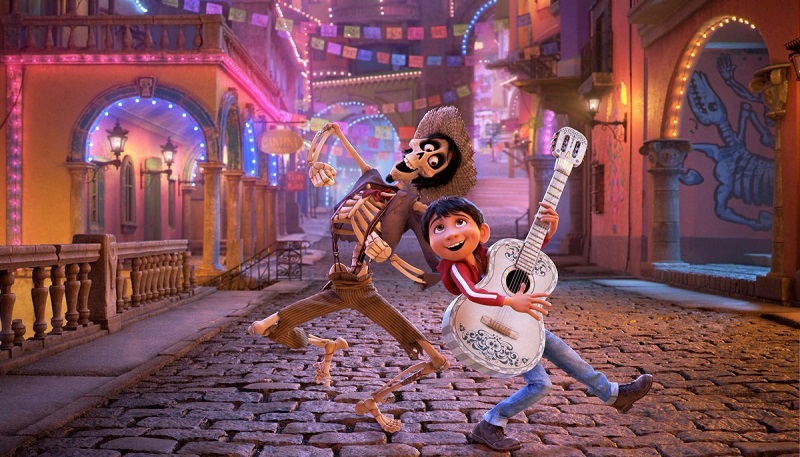 Now if you were following that synopsis, you would have noticed the word "steal" there and indeed that is what happens. The movie is a little different to most Pixar movies in how dark it gets and there are a couple of themes like disobeying parents, stealing said guitar and even murder that might make this a little difficult for the younger ones to watch. And of course,  it deals with the topic of death first and foremost. It's all told in a rather innocent way, but might surprise many at how much darker and more mature it feels from the standard Pixar fare. To be honest, I think the story is all the better for these different elements. However, Coco may be somber narratively, but is very colourful and non-threatening in its presentation at least.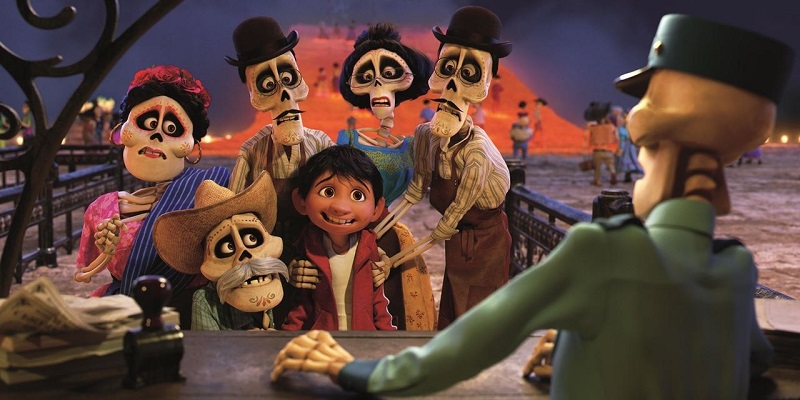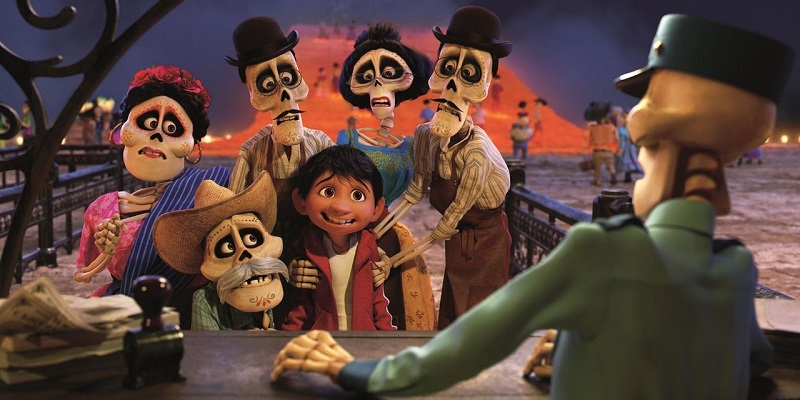 The story is a lot more complicated than what's mentioned above, but obviously, I won't spoil it for you. Its many twists and turns are actually all quite predictable though and if you pay attention to its many hints, you shouldn't be surprised by them. This predictability won't prevent you from feeling full gusts of emotion when certain events occur though. Much the way Pixar has pulled on your heart strings with films like Finding Nemo, Inside Out or the opening 5 minutes of Up, Coco is going to have you pretending there is something in your eye a lot – so be warned. It's perhaps not as emotive as those earlier movies and takes a little longer to get going, but it remains incredibly powerful nonetheless.
That's a fact that probably shouldn't surprise when you consider the film is directed by Pixar mainstay Lee Unkrich (Toy Story 2 & 3, Monsters Inc. and Finding Nemo) based off a story he co-wrote with Matthew Aldrich. Much of the magic that made those films some of the best Pixar has ever made remain in place for Coco. All this effort behind the screen is further brought out by the exceptional all Mexican voice-talent that includes Gael García Bernal, Renée Victor, Alanna Ubach, Jaime Camil and Sofía Espinosa alongside Bratt and Gonzalez.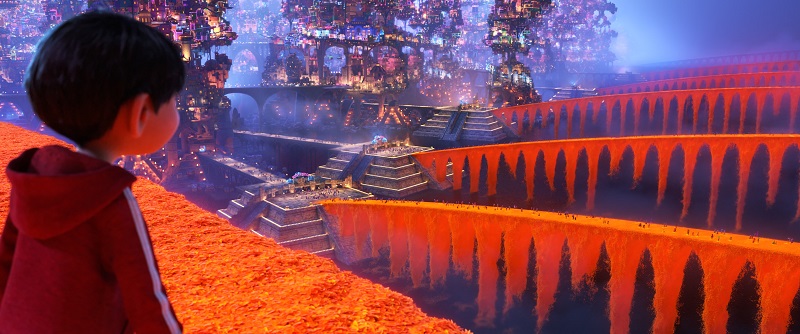 But as good as Coco is, it is by no means perfect. As a Pixar story, while it is exceptionally good fun, it's perhaps not as funny as you might want it to be. You will enjoy it and still laugh at its macabre humour, but it's a little less immediately amusing. There are also some parts of the story that don't quite add up, like certain creatures called spirit animals and why some characters seem to have them and others don't. These things are never really explained and the more you think about them, the more you realise that many aspects of the story are a little too convenient for the protagonist. Children are likely not going to care in the slightest, but it does point to some loose storytelling from the writers.
Another aspect of the film that I felt was a little hit and miss was surprisingly its music. Being a film all about music, there is obviously a fair amount of it and while the overall score is exceptional, the Mexican style music is not something I am a big fan of. As a result, I found the songs forgettable and do think the film might struggle to gain traction in this area in different parts of the world. Not that the decision to set the story in Mexico should be looked down upon. It's definitely a refreshing change of scenery for animated movies and nice to see Pixar make such a move.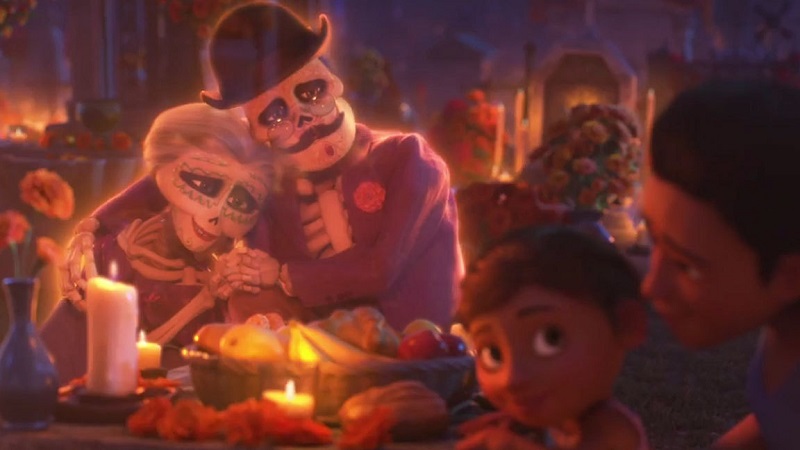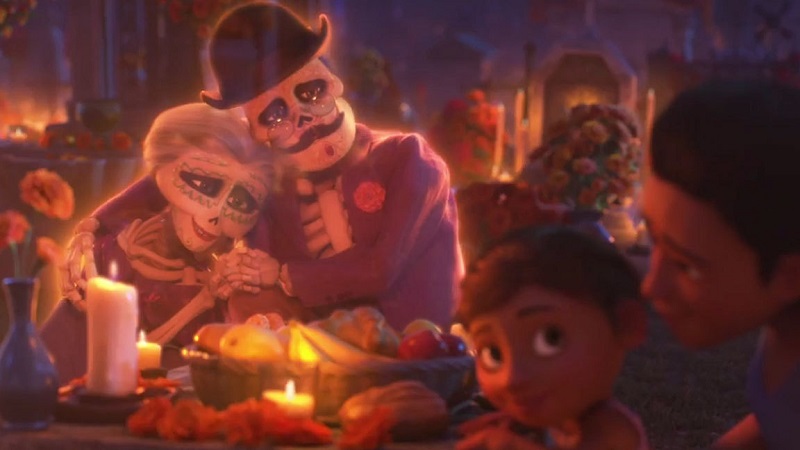 These are all minor things though when you consider its overall excellence. In the end, it's not Pixar's greatest effort, but certainly a reminder that when they are at the top of their game, they make films that are hard to beat. It'd also a reminder that Pixar is at their best when trying out bold new ideas rather than rehashing old ones and I hope that's something we get to see the studio do more of in their upcoming movies. It's perhaps the darkest movie Pixar has made, but also one of their most memorable. It's a delightful tapestry of delights woven into some complex and mature themes and it works.
Last Updated: November 21, 2017
A bold and at times darker movie from Pixar, but one that continues their trend of exceptional characters and heart-wrenching moments that will leave an impact on you despite its few "rough edges". It's a delightful tapestry of delights woven into some complex and mature themes and it works.