It would be exceptionally easy to write this review from the mindset of a cynic. There are plenty of things in Concrete Genie one could point at and shout, "Yeah, it's pretty BUT…" and I wouldn't be surprised if many reviews do end up taking that route. I'm not saying those reviews are wrong, mind you; there are certainly aspects to this game that can easily be taken for more…industrial rather than whimsical, yet I think to hone in on those factors would being doing Concrete Genie a disservice. One of the smaller Sony first-party titles to launch on development, it has the aspect of "prestige gaming" that's become quite the buzz word at the moment, the sort of experience that places cinematic storytelling over its core mechanics and for the most part it succeeds. Concrete Genie isn't meant to be a blockbuster game, designed to ship millions of copies, it's far too quiet and experience for that and divorced from the expectations of what many might heave onto a Sony published game, I think Concrete Genie is small, deeply personal that should evoke a great deal of child-like whimsy in anyone proudly still has a heart beating in their chest.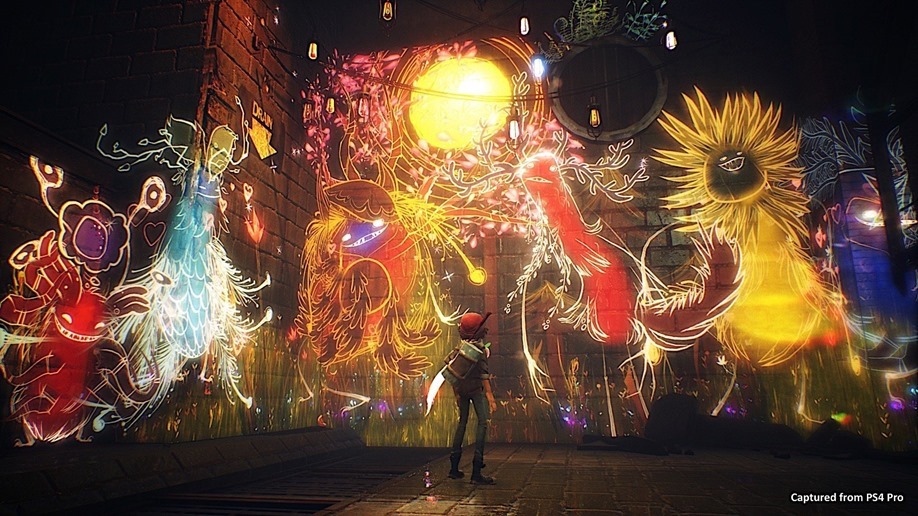 Concrete Genie is a game about creativity and life, told through a story that's tingling with the twisted darkness of Neil Gaiman infused with the magical wonder of Enid Blyton. It's about the creative process, how it creates and destroys lives and how those of us gifted with an eye that can see beyond the crushing darkness surrounding us can turn the world into a place that's special. Inciting the events of Concrete Genie, our main character Ash is granted with a magical paintbrush that can bring his sketches to life and is tasked with saving the dreary port of Denska from some kind of encroaching darkness.
Concrete Genie isn't concerned about the "hows" and "whys" of its story, I think it's all the better for it. A story with magic doesn't need to explain where that magic hails from or what causes it, that just defeats the point of it. Instead, the game focuses on the relationship Ash with the several Genies he's able to bring to life as they act as a symbolic stand-in for the relationship he has with his own creativity, something which is tested through the merciless bullying he endures throughout the game.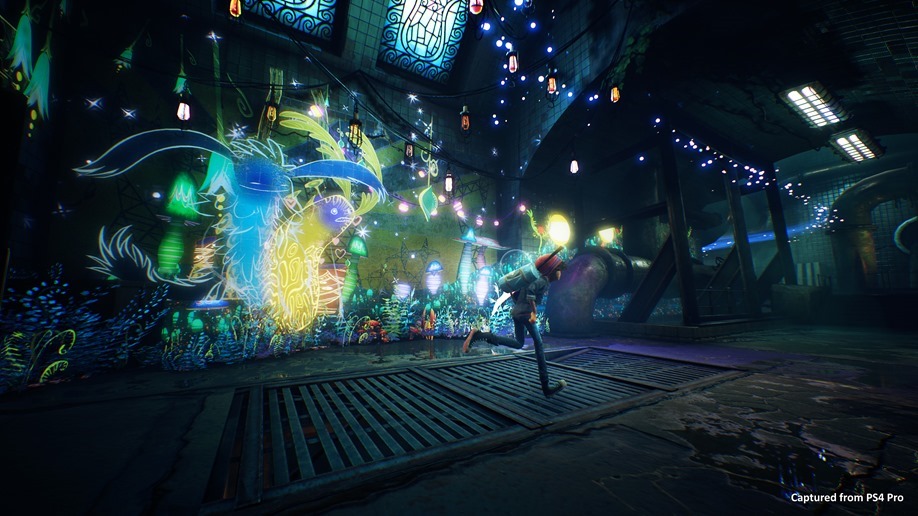 It's a modern-day fairy-tale of the 80's, equipped with taunting children on bikes, creatures that are overflowing with adorable charm despite their sinister appearance and a protagonist pushing back against the evils of a world that took something very dear from him and I couldn't help but fall in love with the sleepy little sandbox of Denska while Ash explained some of his favourite memories in the place. It's a simple story, which isn't a criticism in the slightest, the simplest stories are often the ones with the most meaning. To bring life back to Denska, Ash will have to traverse the small, dense map of the port and literally paint it back to life with his sketches and this is easily the game's strongest aspect.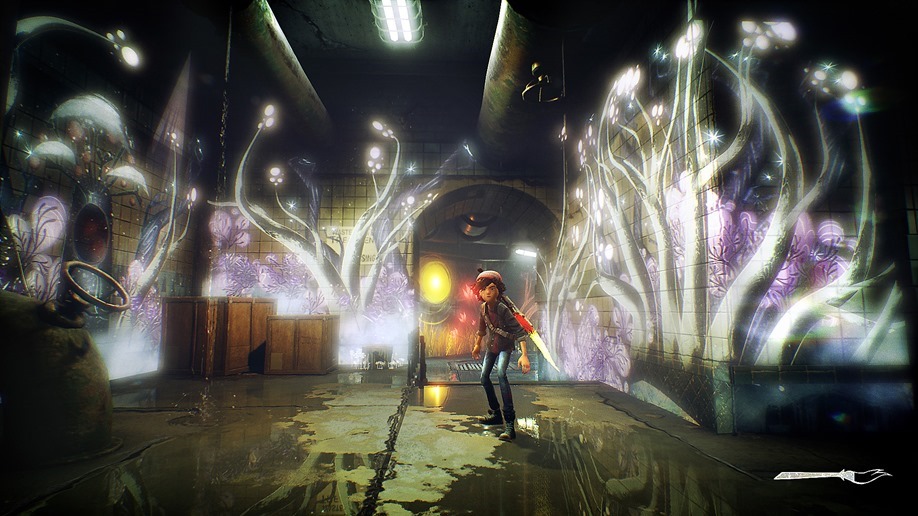 Concrete Genie sells itself on its aesthetic alone. With an animation style akin to smoothed-out stop motion films like Coraline or Kubo and the Two Strings, Concrete Genie might be the best looking game of the year so far. It's an immaculate style that manages to perfectly capture the eeriness of a desperate town and contrast it against the bright joy of living paintings. Opening up his sketchbook, Ash is able to paint his drawings to life, covering nearly every possible wall in the game with gorgeous dioramas that move and interact with any genies you've brought on the wall. It was deeply satisfying to see the once dreary avenues of Denska lit up with an assortment of glowing butterfly dashing across the stained bricks or small, moody forests adorning every other alley. I just wish the game did more with those mechanics because once you've done that a handful of times, there's not much left to it.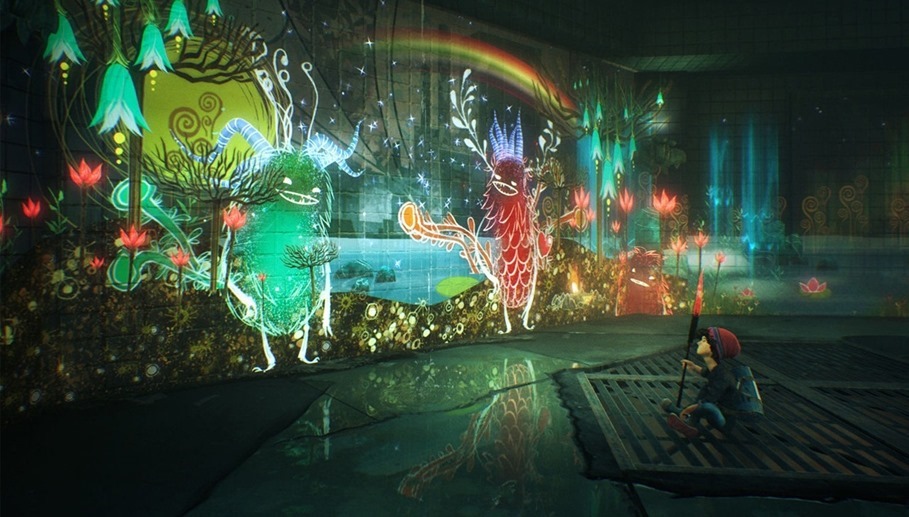 There's a shift that happens just after half-way in Concrete Genie that gave me whiplash it was so sudden. Not from a narrative perspective, from that point of view it was a perfectly reasonable direction to take. Mechanically, the game almost asks you to forget everything you'd been doing up until that point and throws an entirely new move set at you, and while it is totally functional, it never actually sticks around long enough to be fun; It takes the game in the direction of…generic, which is something that really pains me to say. Sure, a game about painting on walls and navigating a small map by rooftop can only be entertaining on that premise alone for so long, but to abandon what was such a fresh perspective instead of evolving it just didn't sit right with me.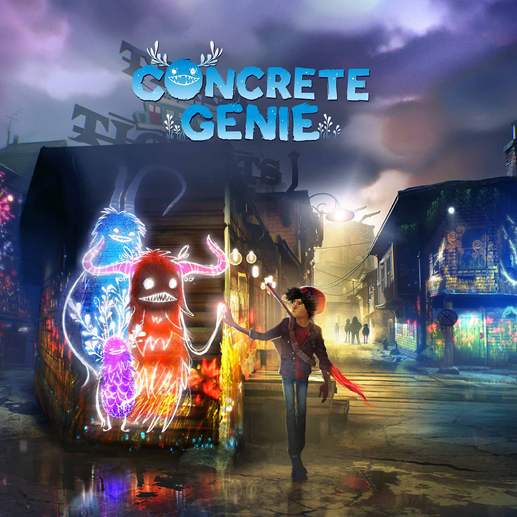 Again, it would be very easy to point at Concrete Genie, a game about creating life through art, and proclaim it a "Photo Mode Game". The sort of game that makes itself relevant purely because it'll sell copies based on the pictures people are able to take with the mechanics. That might be true, I'm certainly not going to disparage that. Yet I think there's something profoundly meaningful under that surface layer, something that a group of people certainly felt exceptional passionate about. Bar the games visuals and it's writing, I think there's something genuinely unique to developers offering up an open world and asking players to bring life back to it rather than remove it. Although maybe that's not the best way to express how I felt about Concrete Genie, so how about an example: There is nothing in Concrete Genie that forces you to paint on every wall in Denska, only certain ones will actually help in solving puzzles and advancing the story…
Somehow, when I was done, there wasn't a single surface devoid of my creations.
Last Updated: October 8, 2019
Concrete Genie

Concrete Genie is a short, deeply moving expression of creativity and life. Despite embracing some generic mechanics towards the end, Concrete Genie is a bold, passionate game that bears one of the most stunning aesthetics I've seen all year

Concrete Genie was reviewed on PlayStation 4