Though perhaps not the most immediate choice for many when it comes to input devices, Cooler Master has always delivered superb mouses and keyboards to go with their premium, sought-after coolers. Their high-end Masterkeys MK750 is available locally for just over R2000 if you shop around, it's certainly a fair bit to pay for a keyboard, but in line with what you might expect to pay for a keyboard with similar features.
It's a keyboard that has very nearly everything you'd want from a modern mechanical keyboard. A simple, understated design; genuine Cherry Mx switches, programmable macros, a removable braided cable; a detachable, included wrist-rest – and yes, of course, RGB lighting.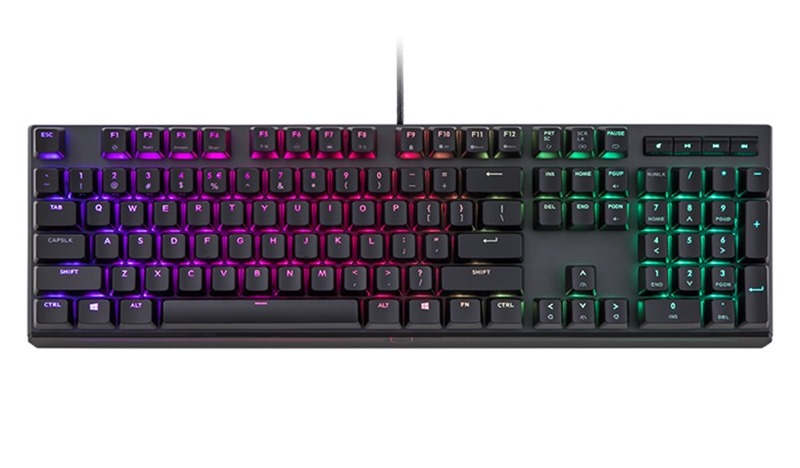 It's a full-sized keyboard with a sleek open-frame design, which means that it doesn't have the space-consuming row of dedicated macro keys along either side. This could be a positive or a negative for you, but as I have a small work area, space comes at a premium. The frame and the keycaps are made of a solid plastic, with a matte, gunmetal aluminium top-plate keeping things sturdy. Try as I might, I couldn't introduce any flex by bending the keyboard – and if you couple that with the removeable USB-C cable, you've got a keyboard that's perfect for taking to LANS, or even just disconnecting for a good cleaning. The cable can be routed along the underside of the keyboard in either direction, which is a nice touch. The keycaps themselves are the floating sort, which means that they're easy to remove and replace, while offering the best in illumination.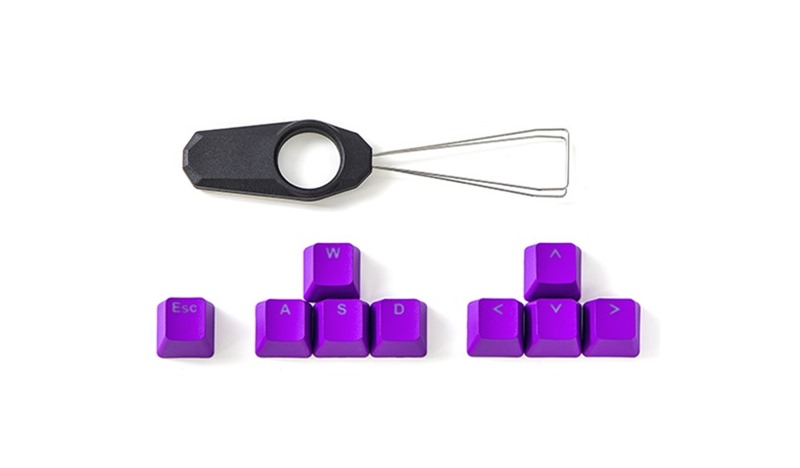 To that end, Cooler Master graciously includes a keycap remover, and a set of PBT Double-shot purple keycaps for WASD, the arrow keys, and Escape, if RGB lighting isn't enough customisation for you. They're a little more durable than the standard keycaps, which are painted ABS. It means the regular keys could wear out after a while, but I've not noticed any wear yet.
As another included extra that is seldom included these days, Cooler Master has also thrown in a magnetically attached leatherette wrist guard. It's a little short, but actually pretty darned comfortable, and attaches well enough. I'm not generally a fan of magnetic rests as they are prone to dislodging, and movement, but I experienced very little of that with my extended time with the MK750.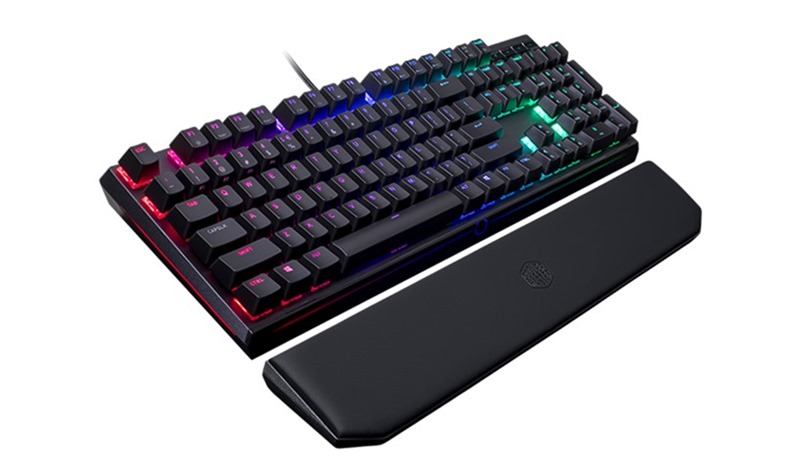 While a physical connection may be better, this is definitely quicker if you do want to disconnect your keyboard and move it elsewhere. Curiously, the wrist-guard blocks off one of the keyboard's best features when it's attached. There's a light bar that runs along the bottom of the keyboard, and attaching the guard obfuscates it.
There are four dedicated media keys above the numpad. They're nicely recessed which means there's very little chance of hitting them during a heated game, but it also makes the a little tricky to press when you want to.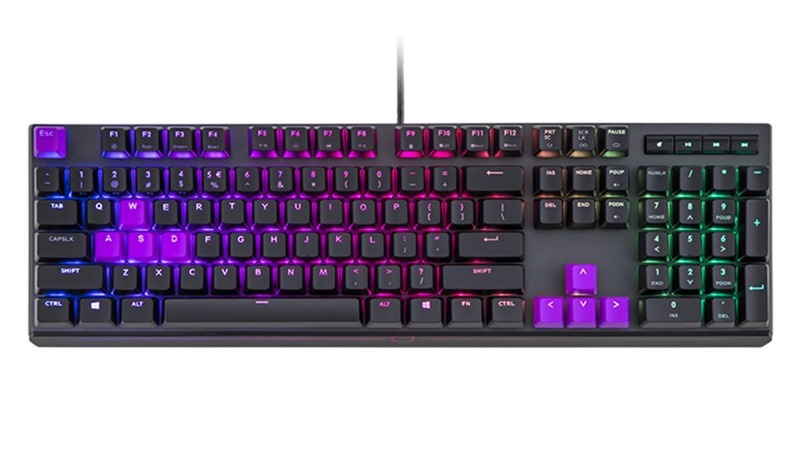 One thing that does make the MK750 stand out a little is that you can do just about everything you need to without having to install any software. You Can cycle through the RGB lighting modes with ease just by using the Fn Key coupled with the F keys – with most of the top bank serving double duty in some way. You can even set up and delete keyboard macros on-the-fly, though it's a bit of a fiddly process all told. What is quite nice is you're able to not just set the lighting patterns and directions, but also their speed, all through keyboard controls.
Of course, if you do need something a little more visual, you can download Cooler Master's Portal software, which lets you easily set you RGB lighting up on a per-key basis, as well as set-up and finetune your macros. It's not quite as polished as something Steelseries Engine, but it does a fine, hassle-free job.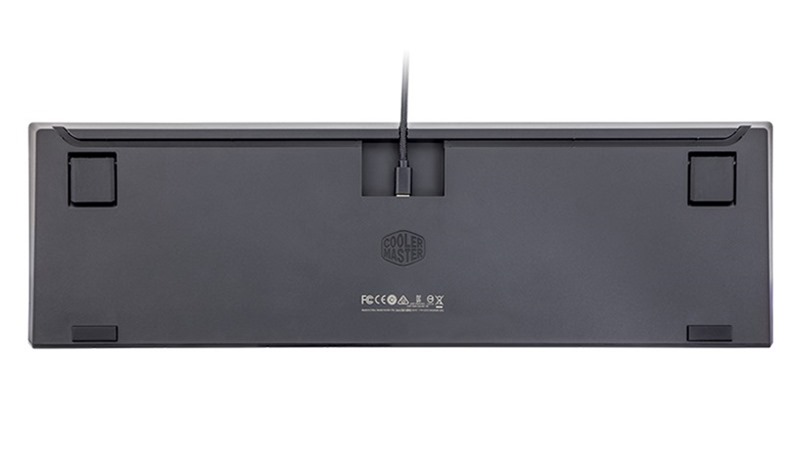 The unit I was sent had the typical gamer-focused Cherry MX red RGB linear switches, which produce a nice, but not overwhelming click, without the tactile feedback you'd get from something a little more typing focused like a Brown, or the hearty click of a Blue. The keyboard is available with Blue and Brown switches though, should your fingers favour them. They're the industry standard, and perform exactly as you'd expect.
| | |
| --- | --- |
| Product Name | MasterKeys MK750 |
| Switch Type | CHERRY MX (Red/Blue/Brown) |
| Material | Plastic / Aluminum / PU Leather |
| Color | Gunmetal Black |
| LED Color | RGB, 16.7 million colours |
| Polling Rate | 1000Hz |
| Response Rate | 1ms / 1000Hz |
| MCU | 32bit ARM Cortex M3 |
| On board Memory | 512KB |
| On-the-fly system | Multi-media, Macro Recording and Lighting |
| Multi-media Keys | Yes, 4 dedicated |
| Smart cable manager | Yes,180 degree, 3 ways |
| Wrist rest | Removable magnetic with soft PU Leather |
| Cable | Detachable braided USB Type-C |
| Software Support | Yes, Portal |
| Connector Cable | USB 2.0 |
| Cable Length | 1.8m |
| Dimensions | 437.75 x 132.25 x 42mm |
| Product Weight (without cable) | 1003g |
| Warranty | 2 years |
Last Updated: June 28, 2018
Cooler Master MasterKeys MK750

In the time that I've has the MK750, it's a been a delight to use, and has quickly become one of my favourite keyboards. If you're looking for a premium keyboard that is minimalist, solid, well-built and comes with the extra bells and whistles that many modern mechanicals forego, look out for the MK750. It is a little pricey, but well within the realm of what you'd expect to pay for an exceptional mechanical keyboard.