While Cricket has a huge following in Asia and a few of the old English colonies it is practically non-existent in most of the Western world and as such we as fans of both Cricket and gaming have been starved of action for many years. The team from Big Ant gave us a respite back in 2014 with their well-received Don Bradman 14, (check our review here) and now they have followed that up with Don Bradman 17.
One of the most difficult parts of Cricket to replicate is the intricacy of the game. At first look Cricket is the most simplistic sport around. You get one player who hurls the ball at another player and that player then needs to hit it as hard as they can and score runs.
Done.
However like most sports it's far more complicated than that.
Bowling
Bowling is broken down into 2 distinct options: you are either a pace bowler or a spin bowler.
When pace bowling you need to select one of 7 different bowling types which decide how the ball will swing before or after hitting the pitch. You also need to decide the length of the ball that is going to be bowled and the speed that you are going to be aiming for. My preference when yelling at the Proteas during the last over of a game is to bowl a fast yorker (a ball that bounces right at the foot of the batsman) as when I used to play that was one of the most difficult to bat against.
However if you decide to do that al the time,  you will very quickly find the batsman taking a step forward and sending your ball hurtling over the boundary for six.
During my playtime I've found it best to check what stats your bowler has and then attempt to force the batsman into a mistake by altering the pitch and speed of the ball. So a few Yorkers are great and then when you predict he's going to step forward change it to an off cutter and slow down the pace, the idea being that he'll step forward and swing early and hopefully you get that glorious nick to the slips.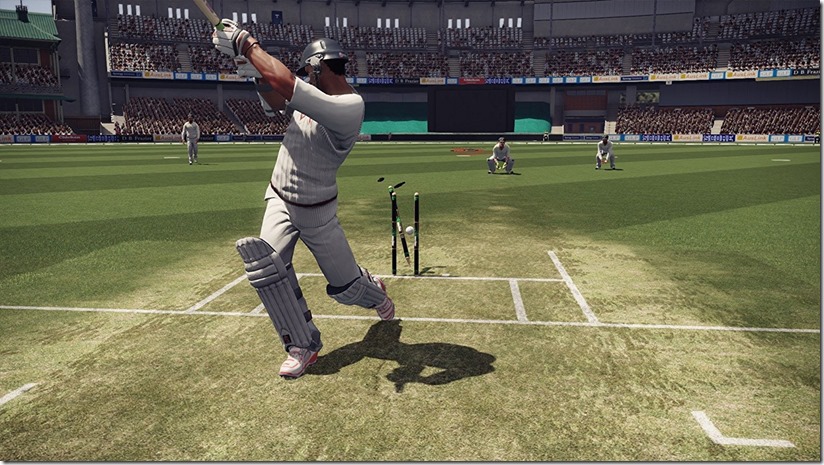 However if the batsmen are tearing your pace attack apart then it's time to switch to a spin bowler who has a much shorter run up and you now have the option of a differing spin type. You can choose to move the ball mainly in the air or after the bounce. gain depending on your goal you will either bounce it earlier and quickly alter the angle or throw it up to the batsmen and make it swerve through the air. It sounds relatively easy… but it really isn't. To get the timing perfect is incredibly difficult and hugely rewarding when it all comes together.
I literally jumped off the couch when I finally got the batsman who was on 94 out with a spin ball that nailed him right in front of the wickets. Oh don't forget you have to appeal for LBWs and nicks as it won't do it for you which I found out the hard way.
Fielding
Another hard lesson I had to learn was how to field. Again it seems easy at first as all you have to do is get to the ball and send it back to either side of the cricket pitch. Done. However when it comes to catches you will see two circles appear on the screen and your goal is to get the inner circle into the outer circle and to hold it there so that the fielder can catch the ball.
If the catch is going to be easy then you get a lot of time to do this and hold it there, however for a diving catch or a slip catch your reactions had better be amazing and when the inner circle is there it'll do its best to escape. It takes a lot of skill holding it in the circle, so if you grab one of those you really feel like you've accomplished something. For normal fielding you can also perform quick throws by starting your fielding action before the ball gets to your fielder and he'll pick it up on the run and hurl it back to the stumps, a bar appears above his head and you need to get your throw perfect to hit the stumps or throw it wide and give your opponents a couple more free runs.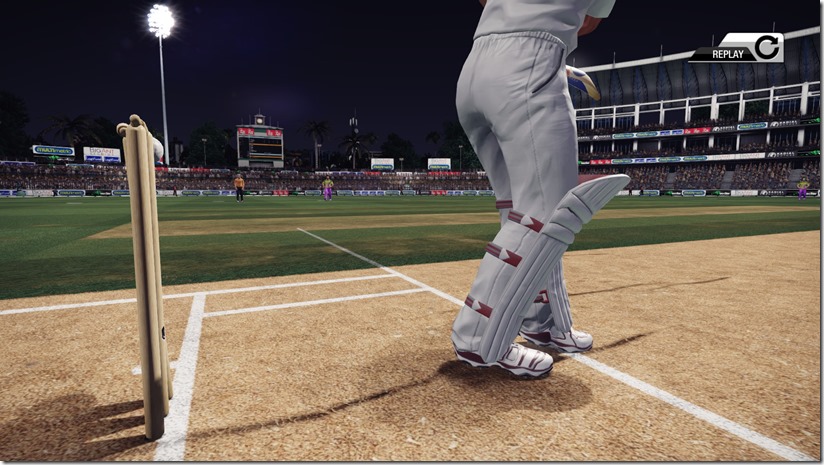 Batting
Batting… my old nemesis. When I used to play cricket in school it was in the same stage at my life that I was playing baseball for the local club. So as you can imagine I had very much the same style in both sports. My goal was to hit it, and hit it hard.
Unfortunately that is still my style and while the batting mechanism allows a multitude of defensive shots and precision movements my favourite is still to hold down the offensive button and target it over the boundary at all opportunities.
It didn't end well for me. The first few balls disappeared where I planned but the AI quickly changed the way it was bowling and also moved some of their fielders around and suddenly my perfect shots were either missing the ball entirely or perfectly hitting the ball into the fielders' hands. When the bowler arrives a coloured circle appears around his hand which gives you an indication of what sort of ball is coming. This can obviously be turned off at the higher levels but you're not going to want to do that until you are really comfortable with all the mechanics.
Variety
Don Bradman 17 comes with all of your favourite game modes –  like test matches, One Day Internationals, 20/20 matches and for the first time you can play as the fairer sex. I played a few games as the ladies and to be honest I couldn't really tell the difference that much. It felt a little slower but by no means easier. It's a nice, inclusive move by Big Ant.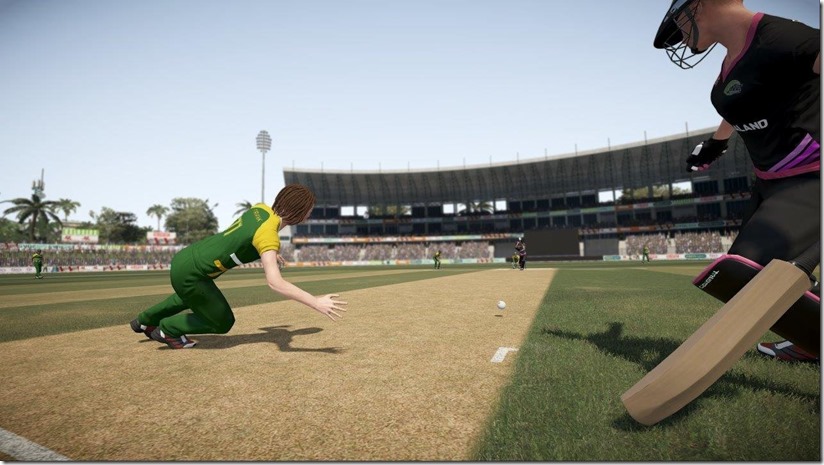 If you're the artistic sort, you can completely model your own team logos, stadium and bats. The idea being if you want to play as the Highveld Lions at Wanderers then apparently you can. I've got the artistic talent of a deformed newt so this section really isn't something I can fairly review. But it looked cool, that's something right?
I enjoyed Don Bradman 17. It's got all the new technologies that Cricket uses, including the ability to appeal the umpire's decision, heat maps, hawk eye and others. The game's not perfect and the speed that the fielders run at is truly annoying but it's an improvement on the previous version of Don Bradman. And since I called that game the best cricket game of the generation that makes this one the best of this generation.  However, it's the only one of any real substance.
One thing I'm disappointed about is that they haven't spent enough time on their menus and it is looking very dated when comparing against other sporting titles of the day. I feel developers often under-estimate how important the user interface is in their games and this is something I'm hoping RedAnt pay particular attention to moving forward.
Last Updated: January 23, 2017
Don Bradman Cricket 17

Don Bradman 17 is an improvement on Don Bradman 14 but it's no giant leap for cricketing kind. If you're a cricket fan and want to experience your sport in a video game this is by far your best option. DB17 is available on PS4, Xbox One and PC

Don Bradman Cricket 17 was reviewed on PlayStation 4