You probably noticed earlier this year that the famous DXRacer series of gaming chairs have finally landed in South Africa and over the past 2 weeks I've been lucky enough to be sitting in one.
Due to my overindulgence in beer and profound lack of exercise the local distributors, Megarom, decided to send over the King Series for me to review. It arrived in pieces which thanks to my years of puzzle game playing I put together without incident in a few minutes and then I took a seat.. and it didn't fall apart.
It was at this point that I realised I had literally no idea how to review a chair? I mean it chaired, so I'm done right? 10/10?
How do you review a chair?
Well no. To be honest if I was reviewing it from the first few minutes of sitting on it I'd be telling everyone to avoid the DXRacer like the plague. My first impressions were that the chair was incredibly uncomfortable. The lumbar support pillow was far too hard, the cushioning itself wasn't great and the entire thing just didn't sit right. Just to check that I wasn't losing my mind I got the rest of the family to check and each and every one of them had the same reaction. The chair looks mindblowingly good. The quality of the stitching and materials is obvious to see but it's just not comfortable.
It really made me think about all those influencers who were posting pictures from the DXRacer event saying how amazing the chair was, but that's a conversation for another day.However there was no way the chair could be this bad when they retail for such high prices and are an amazing success all over the world. So I took it for a spin, and then after spinning around until I felt ill I loaded up my faithful, beloved Overwatch and settled in for a few hours of hard reviewing. It's a hard job but someone has to do it.
After about 15 minutes I couldn't take the lumbar support anymore. It is legitimately uncomfortable and seeing as that I have no lower back problems I decided to risk not using it at all. The chair instantly became a lot more comfortable.
I also changed the angle of the back of the chair so I could sit comfortably with my feet up on a table in front of me (playing on console) and swiveled the arm rests in a bit so I could rest my forearms on them while holding the controller. I raised them slightly as well and positioned the head cushion to fit perfectly in the arch of my neck and it was around about this time that I realised how versatile the chair actually is.
You can fine tune so many parts of the chair to fit your personal choice and the previously uncomfortable cushioning quickly showed that it's designed for long-term use. This isn't a chair you flop into and fall asleep in. This is a chair designed exclusively for people who sit for hours at a time while still being alert and working or, more likely, playing.
The next morning I lugged it through to my office, and I do mean lug as this thing weighs a ton. Okay it weighs 30Kg but it's a decidedly unwieldy 30kgs to move up stairs.
As a software developer I spend at least 8 hours a day sitting behind a PC working and then as a gamer at least another 4 hours behind a PC or TV gaming – so on average I've been using this chair for 12 hours a day and the real beauty of the chair comes to the fore after these longs hours.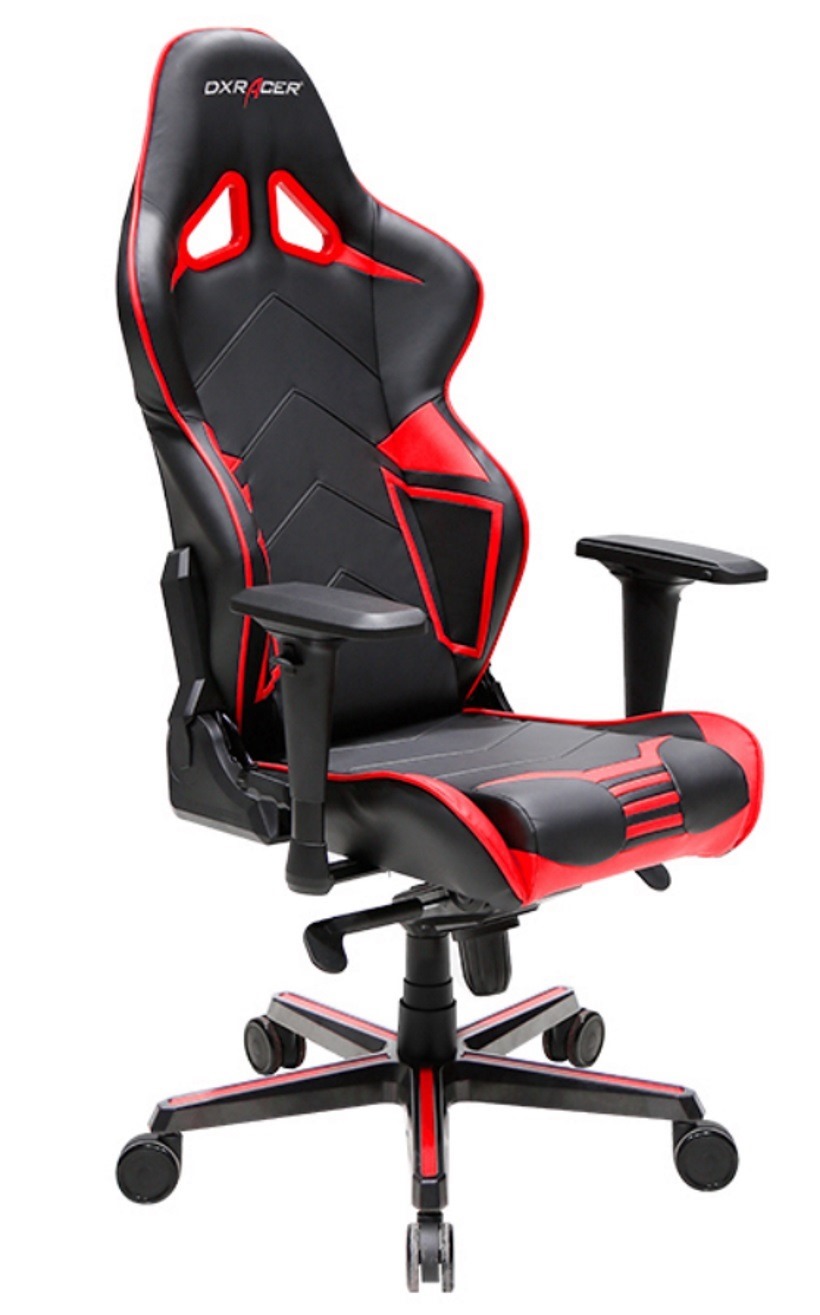 The cushioning hasn't been squashed into place like standard office chairs, the material feels luxurious (PU Leather) and the best part for me is that it somehow uses some black magic to alleviate sweating during the warmer hours of the day. I guess said black magic is simply a breathable fabric but I'm no material expert so I'm sticking with the arcane.
The ability to set the chair up to be perfect for you once again was helpful here as when I'm working I don't usually have my feet up on the table so I simply changed the angle of the back, swiveled the arm rests to be straight again and lowered them so they fit under my desk perfectly and away I go.
Regarding the angle of the backrest, for some reason the DXRacer allows you to configure that at between 90 and 135 degrees giving you tons of flexibility there. However I'm still stumped as to who or what needs it at 135 degrees. I mean this is 135 degrees. What is the person doing if not sleeping?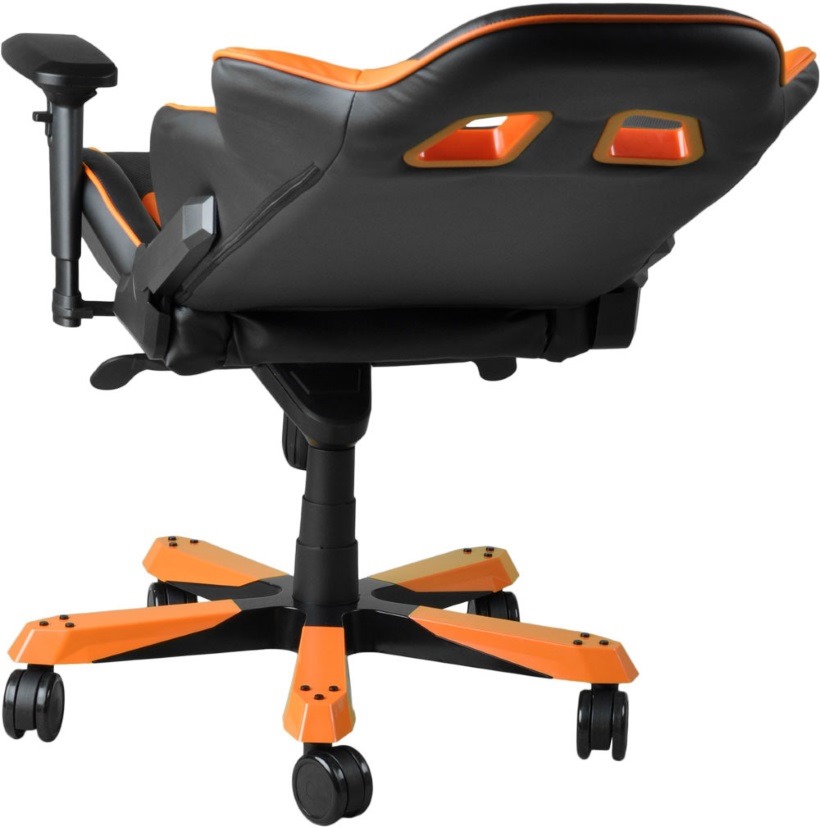 Anyway, moving on and after about a week I remembered about that lumber support pillow so I rummaged through the closet and got that back out to give it a fair go on the chair while I was working and lo and behold… it still sucked. It's back in the closet. Maybe it's just me but that thing is so uncomfortable. Since it's so easy to remove and some people may require it then I guess I can't complain too much about it.
Final Thoughts
My feelings about the DXRacer series have been all over the place since I first saw they were coming into the country. On one hand the styling of these chairs really is right up my alley. I think they look fantastic,  and ever since I saw them I have wanted one.
However paying R8 999 for a chair is a very scary thought. Can a single desk chair ever really be worth spending that amount of money? The answer to that question will be different for everyone. If you are flush with available funding and spend more than 6 hours a day in a chair then I don't think you can do any better than organising yourself a DXRacer. On the other hand it's Nine Thousand Rand. That's a lot of cash.
I've sat in more fancy office chairs that I care to remember and I take care where I place my derrière very seriously. My current office chair has reached the end of its life and I'm in the market for a new one now. Spending R9k on a chair is crazy, but I'm really really struggling to downgrade from this DXRacer to a standard executive office chair now.
I guess the old adage still applies. You get what you pay for and if you want a high-end, comfortable and long-lasting work and gaming chair I simply don't think you will find anything better. For now Evetech are the exclusive distributors for DXRacer and the prices range from R5 999 to R10 999 depending on size and covering.
Last Updated: March 29, 2017