As a child, I spent many school holidays visiting family in Namaqualand, often off clambering over sun-baked rocks and stubborn brush, playing "cowboys and crooks" with my cousins as our high-pitched mock-gunfire ricochets echoed off the haunting hills. Somehow though, it took three decades and a stunning feature film debut for me to realise just how much South Africa has in common with the Old West.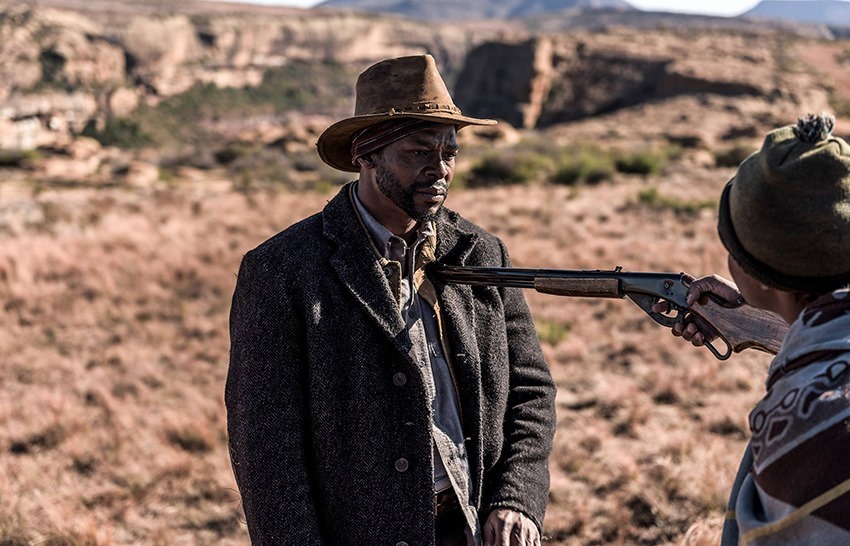 Seamlessly smooshing together the dust-streaked genre fashions of spaghetti westerns with a deep philosophical vivisection of the ever-bleeding scars of post-Apartheid South Africa, in Five Fingers for Marseilles director Michael Matthews and screenwriter Sean Drummond delivers a towering work of art that is unlike any local feature film I've ever seen. It's also intensely timely as it echoes so much of the world we see around us today.
Filmed entirely in local language Sesotho, Five Fingers is set in the titular Marseilles (in real life, the Eastern Cape town of Lady Grey, whose citizens make up a large part of the production's cast and crew), a rural South African community clinging to existence on the wild frontier that had once sprung up around local train stations – now it's mostly broken dreams and not trains which rumble through these broad valleys. Years before though, a quintet of young kids had also roamed this expanse, these "Five Fingers" dreamily promising to be the hand that protects this town from the brutal police regime in control. However, dreams turned to bitter reality when broody group leader Tau unintentionally killed two police officers in defence of a friend. Disgraced and fleeing for his life, the young "Lion of Marseilles" left his four companions to face the repercussions of his actions.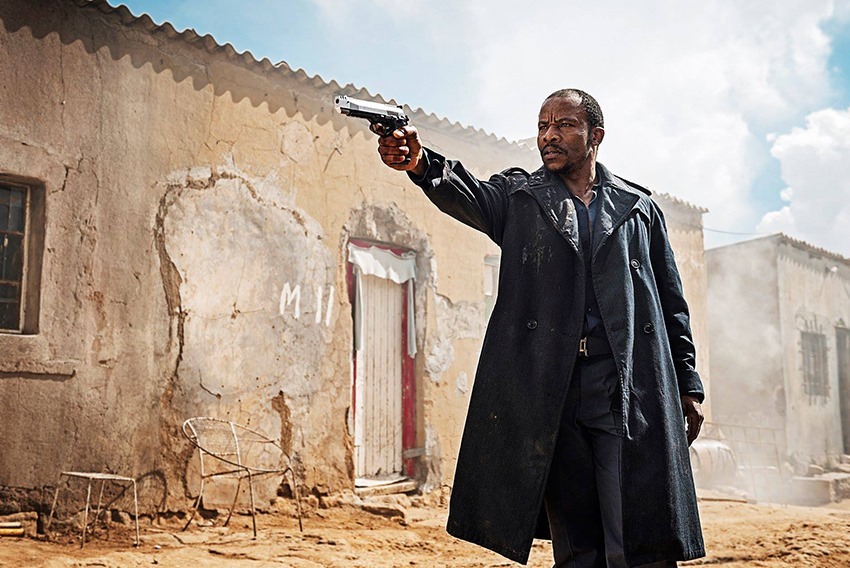 Two decades later, grown-up Tau (Vuyo Dabula) has become a bandit, but not for much longer. Freshly removed from a recent term in prison, Tau has decided to hang up his gun belt and return to his childhood home to live out his life away from the violence that has become so commonplace to him. However, when Tau reaches Marseilles, he finds that despite the splintery yoke of Apartheid lifted, his old home is still not free. One form of oppression has been replaced by another, as crime and corruption now run rampant.
To make it worse, some of the "Five Fingers" have grown up to become cogs in the very machine they promised to fight against. While dutiful Lerato (Zethu Dlomo) still does what she can for her community, once vibrant Unathi (Aubrey Poolo) has become a withdrawn man of faith, complacent to stand by and watch the rot around him deepen. Jovial Bongani aka Pockets (Kenneth Nkosi) has become the town Mayor, so obsessed with developing this land that he's willing to deal with devils to see it happen. Meanwhile, Luyanda aka Cockroach (Mduduzi Mabaso), once Tau's firebrand rival, has become what passes for the law around these parts, which is to say, not much, as he allows creepy local gangster Sepoko aka the Ghost (Hamilton Dlamini) free reign to do as he pleases.
While initially reluctant, Tau is urged on by the injustices he witnesses and rekindling of old fires of companionship. He also has to face the reality of his part in perpetuating the seemingly endless cycle of violence with his actions 20 years ago and is soon drawn into a confrontation with both his past friends and new threats. The Lion of Marseilles will need to roar again.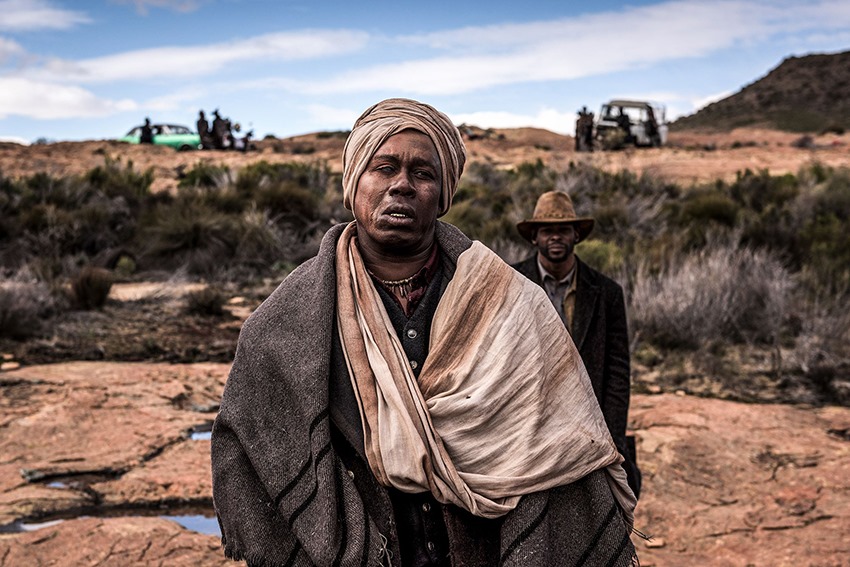 Five Fingers' many homages to classic westerns are deliberately obvious and brilliantly executed, but there are a few missteps here and there, mostly when it comes to the players in this drama. Hamilton Dlamini is utterly magnetic as Sepoko, the very timbre of his voice a thing of nightmares, accentuated by his eccentric appearance – but as bone-chillingly creepy as he is, the character is a wanly written one. Evil just for the sake of evil. So too, peripheral characters see themselves thrust into central roles late in the film with little to no setup or justification for them ever being there. Said final chapters also see some twists that feel almost forced on the characters due to blind adherence to genre trappings rather than an utterly organic development of their narrative.
Luckily, for every foible like these that the script makes, it gets so much more so very right. Drummond's background in theatre is clear as he pens things on an almost operatic level; characters are larger than life avatars of the very natures of the human psyche. Allegories with contemporary South Africa and the changing of one era to the next abound. Big ideas are painted with big strokes. There's also an admirably deliberate pacing that allows this world time to breathe as themes of family, friendship, the corruption of power, and the burden of leadership are explored. This measured stride through its two-hour running time also allows Matthews and cinematographer Shaun Harley Lee several opportunities to frame some of the most arrestingly beautiful vistas I've seen in film in ages and the best I've ever seen in any local production. This is jaw-dropping work, belying the relatively modest budget of this production with almost improbable technical and artistic wizardry.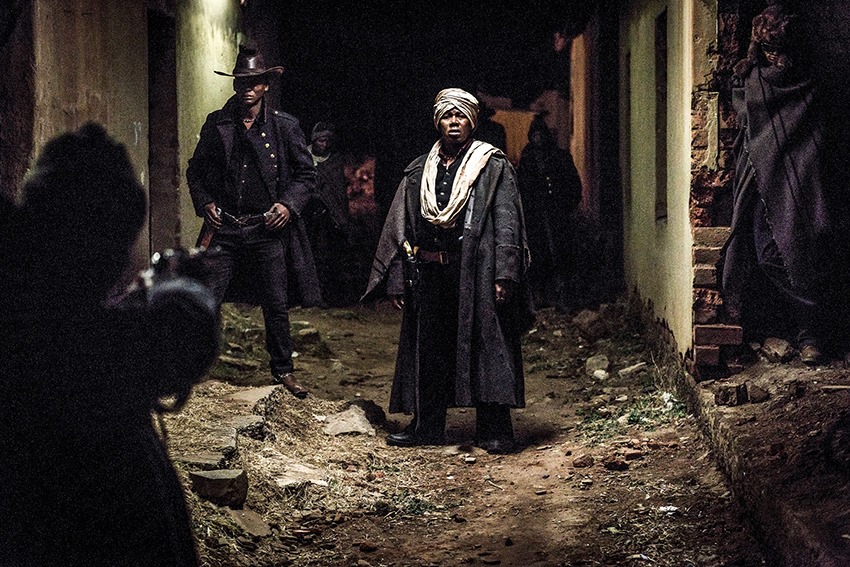 Matthews applies that same sky-high level of sheen and polish to the film's drama and action, both of which determinedly escalate until Five Fingers' climax – a multi-faceted standoff that would make Sergio Leone proud – erupts into a brutal conflagration of lead and violence. The director never shirks from the latter, fully earning the film's age restriction, but he doesn't dwell on the gore either. This is a violent tale set in a violent land, but Matthews' masterful handling of it all marks him as a serious breakout talent.
Leading man Vuyo Dabula also makes a strong case for future superstardom as he handles said action with aplomb, looking every bit the rugged frontier hero with a rifle in his hands, his blood and sweat-streaked face half-hidden under a dirty hat. Tau is also undoubtedly the heart of this film, with Dabula's performance a study in simmering emotion. So too Zethu Dlomo shows off a stunningly layered turn as Lerato, while the rest of the cast also makes meals of their roles – even if some of them are bit thinly written – turning in nuanced showings.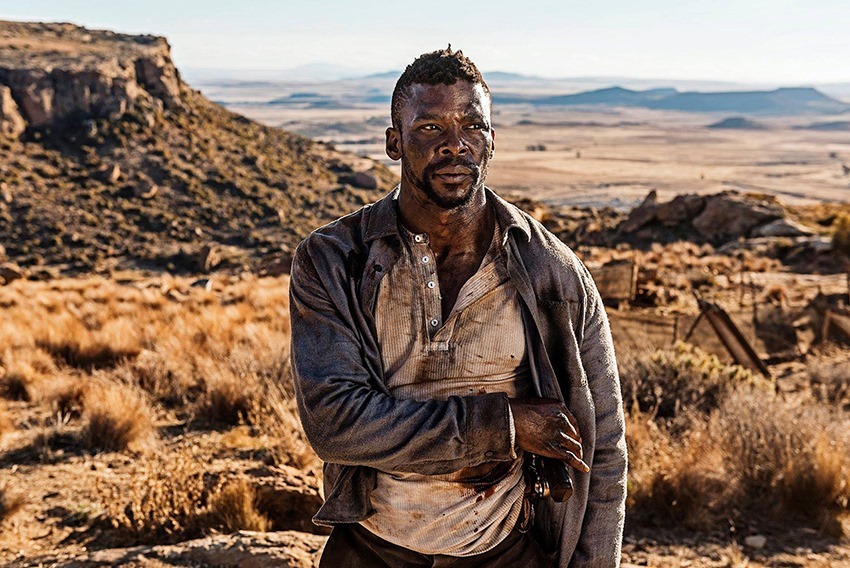 The result is that you believe these people, which in turn ultimately sells the unexpected marriage of rural South Africa with western genre aesthetics. Matthews, Drummond, and co excel here, and I lost count of how many western tropes they translated so successfully to this setting. Stetsons, taverns, and horses feel right at home with balaclavas, bicycles, and posses on the back of a bakkie.
That combination of cultures and genres working so seamlessly despite their juxtapositioning may be Five Fingers for Marseilles' most visible hook, but there's so much more to this movie though. Equal parts expose on modern South Africa, deep character study, and riveting western action thriller, Matthews and Drummond have produced arguably the most important local film since Neill Blomkamp's District 9 as it will undeniably capture the attention of international audiences like nothing else out there. Don't wait for them to tell you how good it is though – go out right now and see for yourself how the West was won in Eastern Cape.
Last Updated: September 16, 2020
Five Fingers for Marseilles

Director Michael Matthews and writer Sean Drummond announce themselves as serious breakout talents with this stunningly beautiful, utterly gripping South African genre hybrid. Despite some script quibbles, a game cast led by regal leading man Vuyo Dabula, brutal action shot with a jaw-dropping level of technical polish, and allegorical drama that feels extremely timely, makes Five Fingers for Marseilles unlike any western you've ever seen.