Football Manager 2017 is unlike any game I've played before. I went through my years of FIFA, some PES now and then, but nothing like this. From the beginning (if you're paying attention) Football Manager will reel you in, placing you at the helm of tough decisions, budget planning, practice regimes, and of course press interviews. Your days are spent answering emails, sorting out your team, and delegating work to your managers and assistants. The game itself has incredible functionality, feeling as if everything was thought of, and taken care of.
You're Hired!
You start you career off as an unemployed manager seeking asylum within a popular club of your choice. I, naturally, chose Manchester United taking the place of Jose Mourinho with the aim of doing things right. No longer will Manchester United score one goal a month! Once you're appointed, you're thrown into the deep end of administration, board meetings, interviews, social media, and pretty much a whirlwind of information on your screen.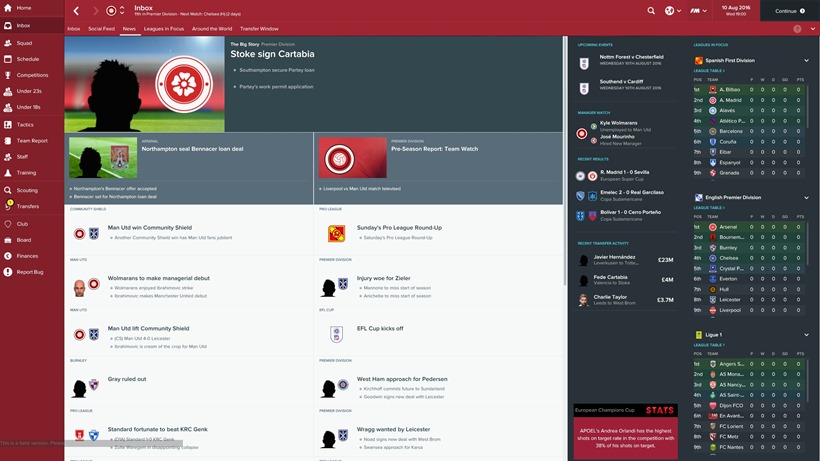 The game has great functionality and almost every aspect of being a manager is accounted for, from emails, to squad selection. There's honestly just so much to do, and I felt this became a clear issue with the game as I began rushing through pages and emails to get to the fun part – match day! I went from being excited about interviews to leaving "no comment" on every one. Some of the actions become tedious, and for a simple game of managing a football team, you're stuck with a ton of admin which can easily become someone else's job.
After I discovered the staff responsibilities tab, I became the laziest manager ever. I gave all my responsibilities to my assistant manager and just took control of my team. I still kept transfers, team management, and the cool stuff to myself, but everything else went to Rui Faria.
It's a long day's work
Your days as a manager go by a lot quicker. For the most part you spend your day reading emails, responding to transfer offers, ignoring finance reports and spending more money. The UI is fast paced, but includes everything you need to gauge your managerial performance from match reports, statistics, and the newest feature – social media. The social media was rather disappointing as it just seems like rehashed generic AI posts. You move rather quickly through your daily duties, but there are important issues which need your attention and these give you the managerial feel all over again.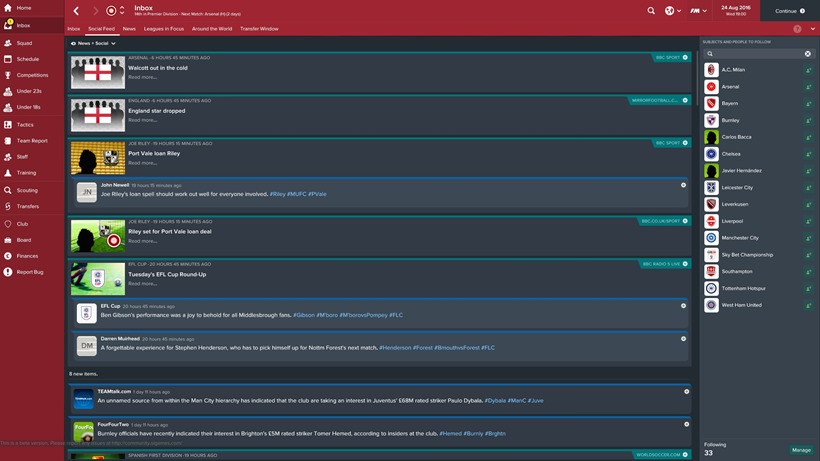 The emails which come through play out in a sense of real life interactions. You're able to discuss issues with players, an example being using them to tutor and help up-and-coming players, as well as dealing with issues regarding contracts and transfers directly with players. Your assistant coaches and managerial staff also feature as real-life interactions through conversations, much like your interviews with respective newspapers. Although most of these are played out in a text-based format, you still get an inclusive feel of being a hands-on manager.
Match day
Before I began playing Football Manager, I had a rough idea in my head to what I'd be doing. I'd never played it before, but it sounds simple enough? Not entirely. In essence, yes you're managing a Football team, but there's so much more to it, and this was great. Typical Match Day scenarios blew me away with pre and post-game analysis, statistics, and even betting sites laying out the odds.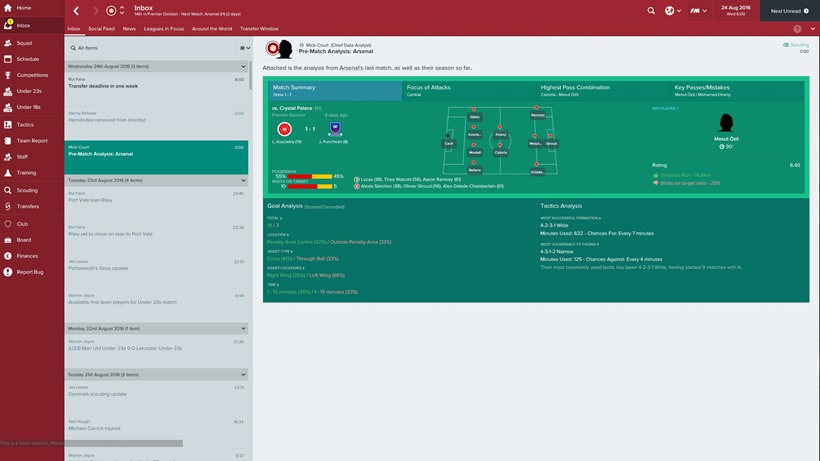 The pre-match analysis included a bunch of nifty features such as heat signatures for "Focus of Attacks" and other tabs as seen above. An insightful addition for pre and post-match analysis.
Then came building your squad for match day, which included choosing your players, substitutes, formation, playstyle, and pretty much everything you could think of. I thought this was it, I would now just wait for the game to end and see the result, which was not the case at all.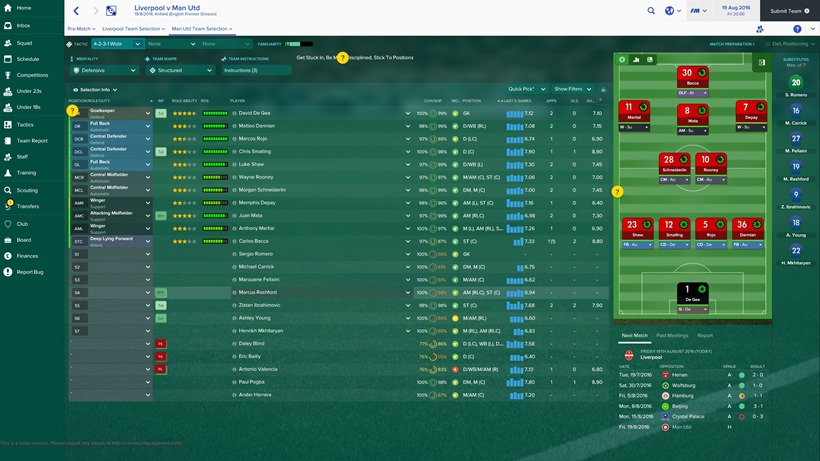 I was impressed with the real time managing feature, allowing you to pause, make changes, change playstyles, and most importantly encourage your players from the sidelines. You're also able to watch the game "live" with a fast paced viewing client offering a slowed down highlight function showing your goals scored, or conceded. You're able to change out players, respond to strategies, and alter your playstyle on the go – which was quite incredible once you notice the AI responds too.
At half-time you could go as far as motivating individual players, or the whole team, with some assertive or aggressive words. I was the Football Manager, and it felt great. The post match reports offer insight into your game, players, and really do tell you what's going wrong or right in your team. You're always faced with options, and each email, proposal or message you receive offers a ton of advice on what to do. Whether you're tentative on a transfer, or about to buy a new player, you always have a number of options.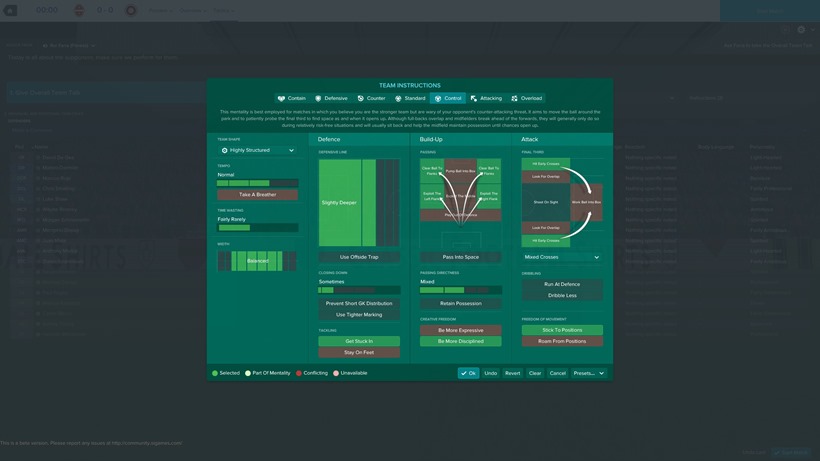 What struck me off guard was how responsive the AI is in the match engine. I entered a game against Liverpool during week 2 of the Premier League, and went with my usual 4-2-3-1 set-up and went ahead 1-0. I then noticed they'd switched up their set-up and scored an equalizer. I had previously changed my formation for a more aggressive attack, and the AI responded. This was a refreshing realization and caught me off guard a bit.
Personally, I don't see much longevity in Football Manager 2017 for me. While the game is fun, it was more of a casual distraction from other games, one that you'd leave open in the background while doing other work, or playing another game.
Time between match days is filled with clicking, reading, clicking some more, and reading a bit more. It is extremely impressive and interesting, but after you've seen it 100 times and your "Cage responses" during interviews still result in wins, what more is there to do? You can reach the top of the log (something I failed to do), win multiple tournaments and cups, but is the grind really worth it?
I started to feel as if Football Manager 2017 was for the die-hard fans, a game which some might find inclusive in the whole Football experience. The timing, however, could have been a bit better as the launch arrived amidst a number of big releases such as FIFA 17. The game is fun, I'm not going to lie, and you do grab a great sense of belonging as you craft your perfect team building on your managerial skills.
One feature which I especially enjoyed was the 3D Model you can generate off a picture of yourself. I gave it a try, but my rendered image made my manager look like he had liver failure.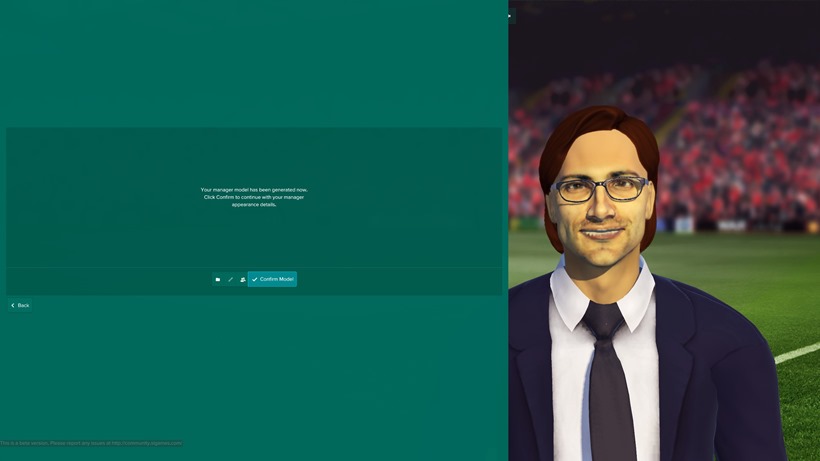 Last Updated: November 3, 2016
Football Manager 2017

Walk a season in the shoes of a manager taking the reigns of your favourite club. Football Manager 2017 offers inclusive functionality, making sure your decisions as a manager can either win you the trophy, or bankrupt your club. It's fun, but it starts to feel like little more than admin after a while. That, I suppose, is the point.

Football Manager 2017 was reviewed on PC