I'm a big fan of cars though I'm definitely not what you'd call a petrolhead. I don't know how many horses the Veyron has or what the optimal gearing ratios for maximum speed compared to acceleration are, but I love the the different sounds of the engines, the slight squeal when you nail that perfect corner and the rush of that perfect overtaking manoeuvre.
So I was a little worried starting up Forza 6, as simulators have never really grabbed me that much as I'd rather be racing than spending my time in a garage tinkering and perfecting a car's setup. So when I first started Forza 6, I was expecting to be lost and frustrated.
I couldn't have been more wrong. When I first started it honestly felt more like an arcade racer than a simulator. I was hammering down the straights and taking the corners with ease while it was definitely harder than the likes of Need for Speed to keep the car on the track, it definitely wasn't very taxing.
This looked great for me and pretty bad for all simulator fans out there, but after the first race the nice lady, who is the narrator, let me know I can take off some of the assistance if I was finding the game too easy. So I quickly removed all assistance and tried again. Here is an artist's impression of what my car looked like at the first corner.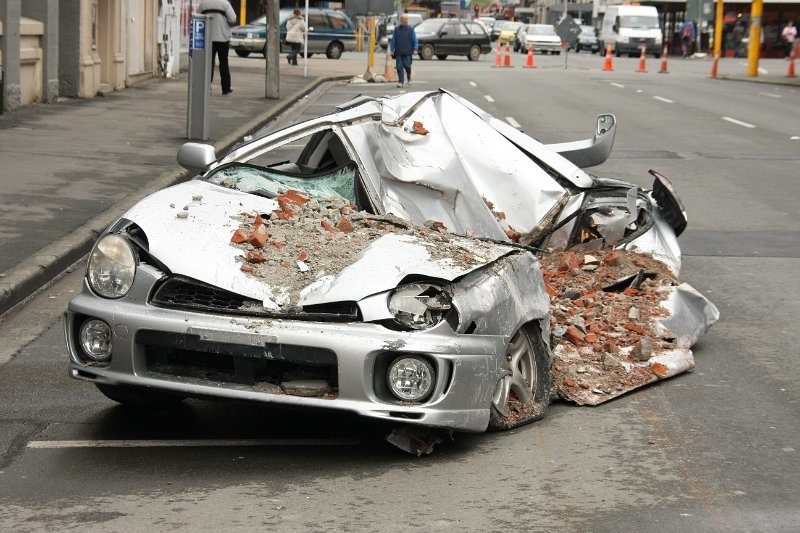 Okay so maybe I was trying to teleport before I could crawl. I added the suggested racing line, ABS and ability to rewind back and then went back to trying. After fiddling with  the assistance a little bit I found my level and the races were now incredibly hard but doable if I concentrated and really put some effort in to my driving.
The story mode is pretty simple, really. You need to work through different series and make sure you finish in the top 3 to progress to the next race. Once you complete a series you can choose a new one – any of them really – and start again with a brand new car.
The Cars
The cars.. .oh man the cars are beautiful. I tried to count them but there were just too many, so I took the easy way out and Googled it. According to Wikipedia there are over 450 cars in the game, making Forza 6 the title with the largest vehicle inventory ever.
And these cars aren't just basic skins with different names; each one is meticulously designed and rendered using physics-based materials which means when you damage them they will all damage differently depending on what materials the car as and how they are manufactured.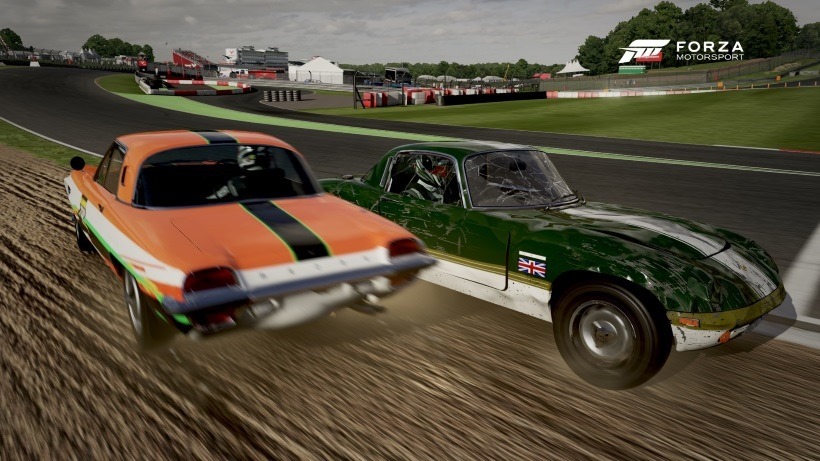 And yes that's me in the green car going the wrong way. Hey, I didn't say I was good at this.
But it's far more than simply looking the part. Each of the 450+ cars handles differently. Apparently they handle as they do in real life but unfortunately I've not driven most of these cars so I really couldn't tell you if that was accurate. Each car has its own unique cockpit which is lovingly finished for all those special people who can actually race in cockpit view.
What I can tell you is that every single car I drove felt handled entirely differently and you had to learn exactly how eachcar handles and brakes to be able to win the race.
The Tracks
You will get to race your cars over a total of 26 tracks, with tracks also having variations – making feel like there are far more tracks than there really are. From the Daytona Speedway with its Oval banked option to test out your ability to hold a car at over 250mph through a banked corner to the tight and twist Brands Hatch that you will need all of your acceleration and handling ability to dominate.
But it's not only the track itself which I loved. Some of the tracks have the most spectacular vistas to look at. Through long sweeping runs with mist dotting the side of the track to bright blinding sunshine splashing off the waves while you speed along the coast the graphics and environments in Forza 6 are easily the best I've seen in a video game and honestly made me slow down on the track just to take it all in.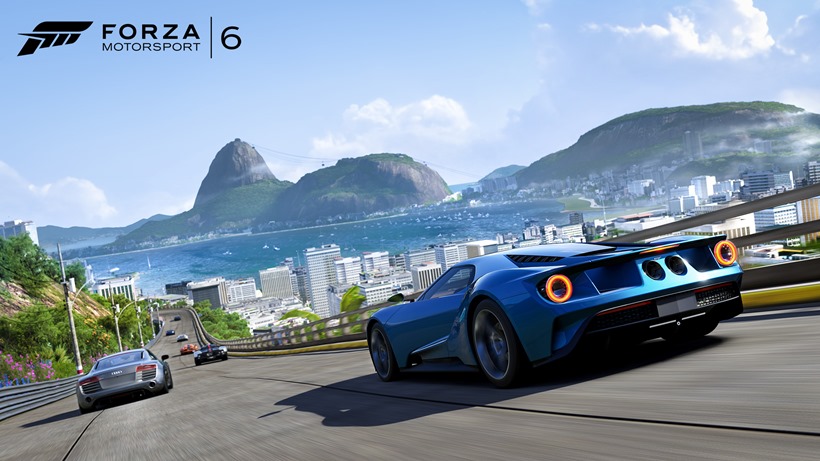 That was before the roar off a V6 engine going past me woke me up from my stupor. I think right now my favourite track is Circuit of the Americas in Texas with some awesome bends and that epic long straight it was definitely the one I enjoyed the most. Until it rained.
The Weather
As in real life the weather changes everything. As it starts raining all the rules go out the window and if you don't change your racing style you are going to end up in the wall. I didn't realise how accurate this was until I started on a rainy track and as I was screaming down the long straight I saw a puddle in front of me and just kept going. Big mistake. As I hit that puddle directly on, my car started aquaplaning  andas I exited on the other side I was slightly skew and the tyres dug in and swung me round in circles.
The aquaplaning is also different depending on the amount of water on the track, the number of wheels that touch it and the speed of the car you are currently using. From bright sun, to cloudy days to light rain to a torrential downpour; it all changes how you go about your race and adds a staggering amount of depth to something you think you have mastered.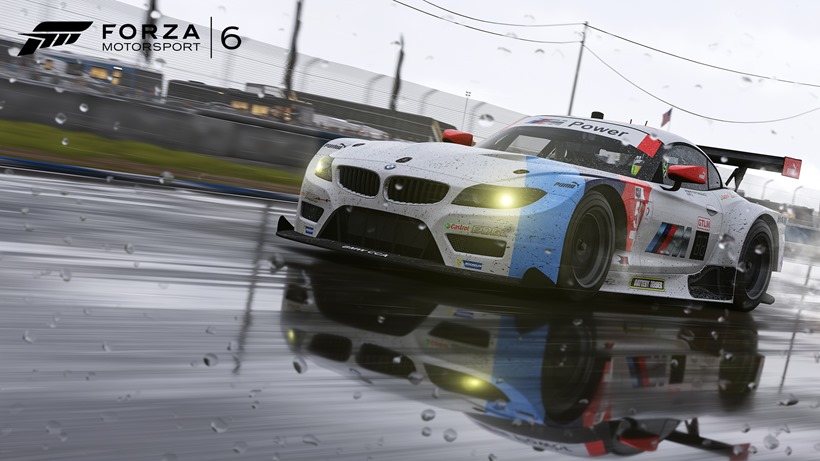 And that's all before you even look at the online side and extra showcase events.
Multiplayer, The Hub and Showcase events
While the game is already deep enough with the single player experience it doesn't stop there. As you progress through your career you unlock showcase events which give you the opportunity to race strange and exotic cars in well know locations and events, including the chance to race The Stig's Digital Cousin.
I'm a massive Top Gear fan so I loved this little event but to be honest it was all a bit too easy and the entire Top Gear side is definitely a bit gimmicky – but just because this is a serious racing game it doesn't mean you can't have some fun with it.
The Hub is the central social showcase for the game that you download from the Xbox Store and in it you can compare yourself to friends, check their times and just generally brings in a social atmosphere to the game. I'm not sure why it is separate and not built into the game though.
Last but definitely not least, the multiplayer is the part of the game that you'll truly be able to test your skills in. So far the best result I've had was coming 12th in a game and you will definitely have to be a real pro to move through the rankings and compete in the top leagues. I think this is where most of  the tuning and tinkering will need to take place and the options to tune your engine and the rest of the car are huge with you able to change pretty much everything in your car.
The Tinkerman and those Triggers
I dabbled in the tinkering for a bit and what I did like is as you change things the car will calculate the expected result and show that to you in the side bar. So changing my gear ratios for acceleration will show you that you will now hit 100 in 0.2 seconds quicker than before but your top speed has now taken a hit. Ideally you should change this to suit every single track but as I said in the beginning, this isn't my thing so I played around a bit but really wasn't sure what I was doing.
It definitely changed things though. Pity for me it made them worse.
In the end this is simply the best racing semi-simulator I have played and is definitely getting the very best out of the Xbox One graphically and socially.
Microsoft made a big deal about the haptic feedback triggers when the Xbox One was released and it is no surprise they are utilising them again in Forza 6. And yes they do make the game more immersive as the triggers give fantastic feedback when your tyres are losing grip and you will need to alter your race if you want to keep it on the road. It's incredible, and incredibly immersive.
Last Updated: September 21, 2015
Forza Motorsport 6

Forza 6 is one of the very best racing games available on any system. If you are a fan of cars and racing then this is absolutely something that you need to play. I still can't decide whether I preferred the classic racing or taking dedicated racing cars around the larger tracks, but it was all incredible, offering the perfect balance between simulation and accessibility

Forza Motorsport 6 was reviewed on Xbox One