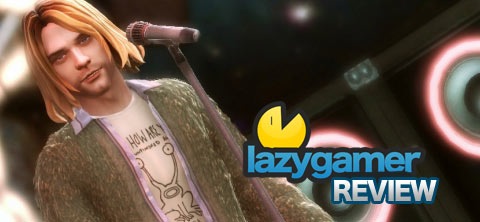 Guitar Hero, we all know it, some love it and some hate it.
Most of you love it though because there's nothing like having the feeling that you are a true rock star without having actually learnt to play an instrument, or being doped up for 8 months straight.
Guitar Hero 5 comes in as the newest iteration of the series and hopes to entice newcomers as well as bring fans back with it's added party features.
Guitar Hero 5 is really what you would expect it to be… another Guitar Hero game. Since World Tour took Guitar Hero into the whole 'play as a band' idea the focus has changed from being just being a guitar player to being able to play as any part of the band.
Some of the new features in the game include the ability to drop in and out of songs that are already being played by your mates as well as other like being able to play with your avatar (Xbox 360 version) and a rockfest mode that allows 4 local players or up to 8 online players to jam it out.
While the game plays as well as they always have, it definitely has to be said that the franchise is feeling incredibly stale. One could say that it all depends on how much you love the games as well as how many of the ones released you already own.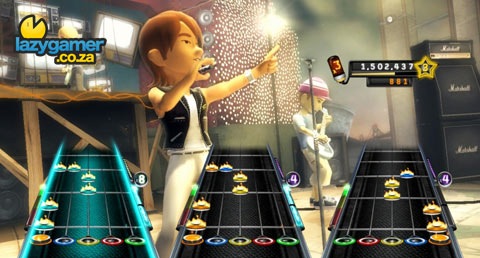 I also found the track list to be a little on the weak side and as someone who could be considered as a "casual" fan of music, I felt like I barely knew most of the songs in the list.
I recently reviewed Guitar Hero: Metallica and found it to be a celebration of a great band with great music. Now that the franchise has moved on I feel like this next one has either come too soon or just cannot compete with their own product.
Reviewing Guitar Hero 5 is a bit of a tough call, mainly because it all depends on you. If you are a huge fan of the franchise that just can't ever get enough, get it. If you are also somewhat of a casual gamer looking for a solid party music game that can easily be enjoyed by you and your friends, then get it too. If however, you are like me and sit somewhere in the middle, you may find the game to feel too much like some of those sports titles that come out one year later with minor improvements and added features.
Scoring
Gameplay: 8.0
You already know this one
Presentation: 8.0
Nothing unexpected, still has a decent vibe
Sound: 7.5
The tracklist left me wanting
Value: 9.0
As with most Guitar Hero's, lots to play and multiplayer has legs
————

Overall: 8.0
Like that tired alcoholic friend of yours. You can get tired of him sometimes but he always lands up being a blast at parties.
Last Updated: November 5, 2009