Islanders is simple, meditative and perfectly priced. It manages to streamline the mechanics of a typical city-builder, stripping out the genre's complexities and honing in on the aspect of building placement as its only mechanic. Its puzzle-like progression makes each of these placements a strategic choice, but its charming visuals and soothing music ensure that this slight bit of pressure never becomes the central theme of Islanders. That simplicity, is Islanders' greatest attribute.
Islanders streamlines city-building by only giving you a limited number of structures to build at a time. There are no resource costs to their construction, with Islanders instead focusing on limiting how many you can place at a time. Categorised into themed packs, you'll be presented with the chance to choose between two themes at any given moment. A Forestry pack will give you buildings that capatalise on an island's trees for production, while a Fishing Pack will let you place fishing stations on water. Each structure adds points to an overall score that determines when you're given more buildings to work with.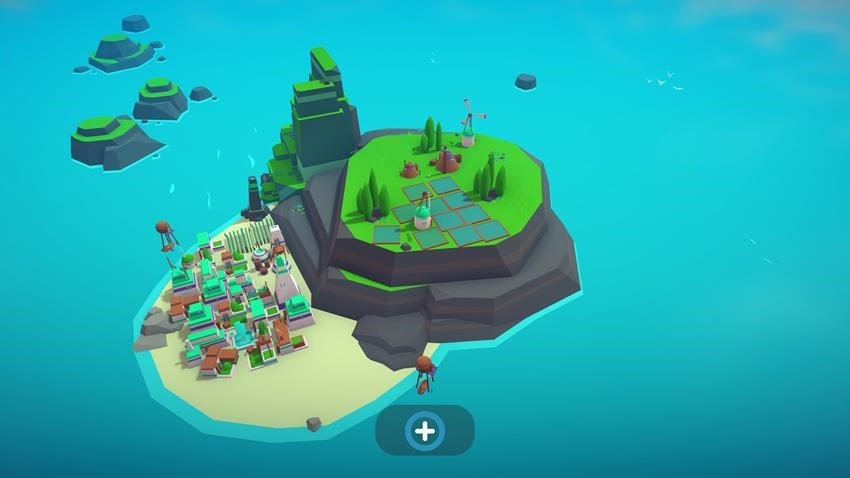 Points are awarded once you place a structure, with its placement being important to how many bonus points you can score. A mansion, for example, will award additional points if placed near a city centre and other houses. A fishing station will similarly award more points if placed near an established city, but lose points if placed too close to an identical station. New structure packs are only awarded once you reach a new specified points total, making each new pack a micro-puzzle to solve in your bid to survive as long as you can. If you place your final building and don't reach the total score required then your journey is over, with only a new High Score potentially cushioning the blow.
Gaining momentum in Islanders is easy. As you place more buildings, chaining up lucrative points boosts for new placements becomes easier despite space becoming sparser. Eventually you'll be forced to move though, retaining your points total and moving to a larger island with a new biome. These new islands present their own small challenges, and you'll have to keenly survey its biome to make informed decisions on what buildings to invest in. Most of your strategic placements will take place during the opening stages of a new island, where a run can come to a premature halt with just one or two poorly thought-out placements. Without the ability to undo an accidental move, it is frustrating to have a great run sullied by a single mistake.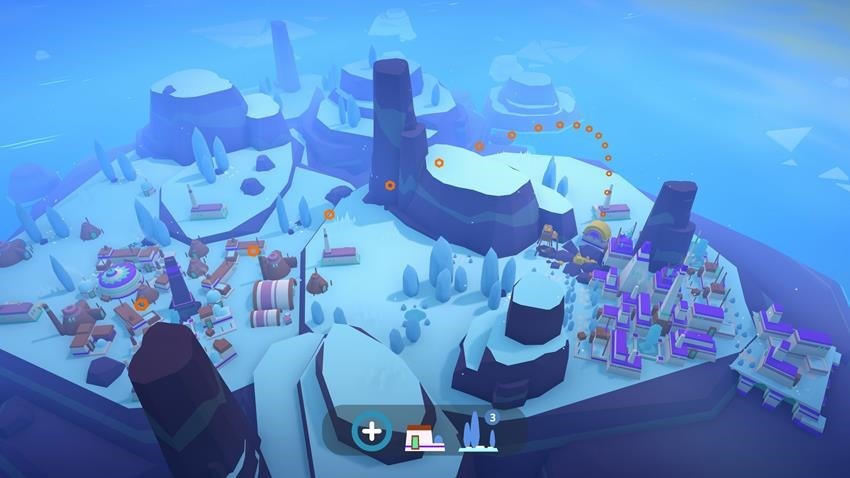 Its an idea that is at odds with Islander's otherwise relaxing gameplay loop. There are no timers pushing you into decisions, or civilisation needs and status bars to worry about. It is disheartening to restart a run though, in part due to the sluggish pace. This slow and methodical start is appreciated in the first few runs, but it becomes boring to trudge through when you're looking for a way to quickly get going on another long lasting run.
It could be argued that Islanders isn't looking for that much of an investment though, which is why it's only concerned with a single high-score and not increasingly complex gameplay as a run progresses. Your goal at the start of each run doesn't change the longer it lasts, only with its procedurally generated islands mixing up your decision-making along the way. It is immensely satisfying to look upon an island that was once barren thriving, with windmills, dense cities and lucrative lumber mills all contributing to the life you made possible. This sense of accomplishment is the only one your earn alongside your numerical score, and there's little to no additional options to experiment with if you're looking for an additional challenge or easier time respectively.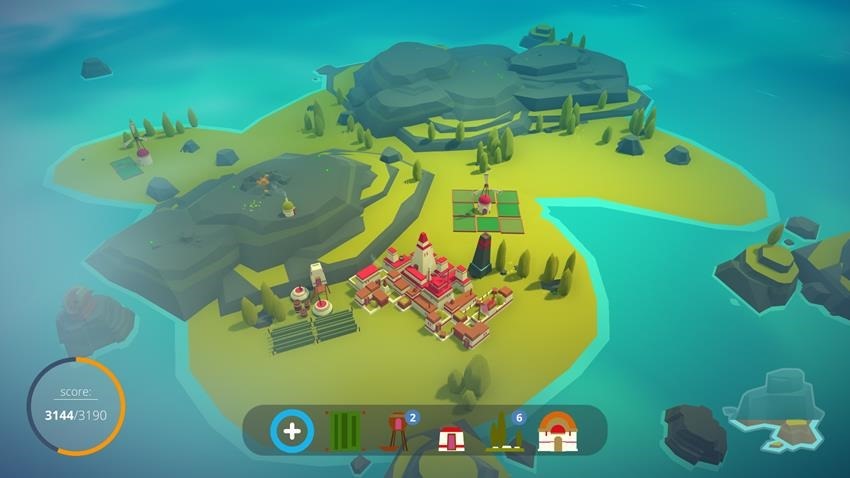 Islanders' low-poly aesthetic and flat colour palette make it delightfully easy on the eyes though, as do its adorable structure designs and small effects when placing each one down. Its soothing soundtrack only amplifies its meditative properties, reducing any stress you might have attributed to the compelling score chase down to a pleasing simmer. It's difficult to not be enraptured by Islanders' spaces, be they blanketed in blinding white snow or basking in the warm orange glow of the sun without a speck of flora in sight. Their random construction keeps the surprises coming too, making each new run another opportunity to be captivated by another small bit of land lost at sea.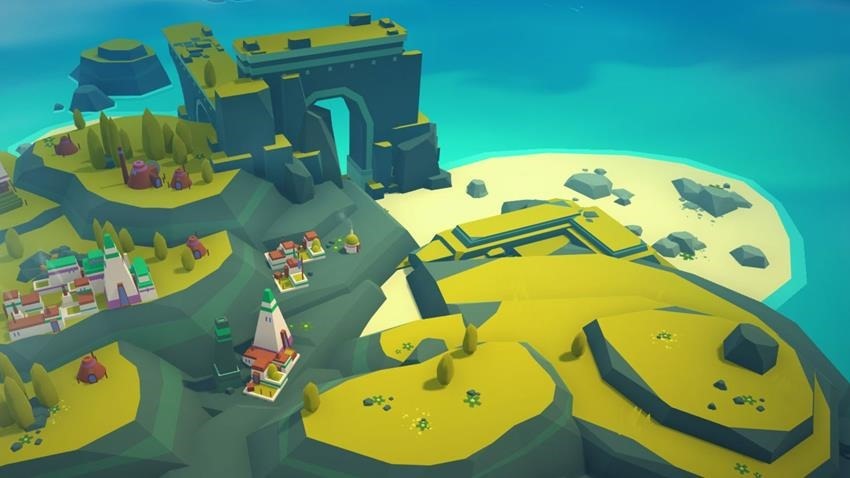 Islanders' doesn't pretend to be an all-encompassing take on city-building, and that's reflected in its reasonable asking price and streamlined mechanics. Its parts, as few as there may be, interact in a deeply engaging way, adding a simple layer of strategy to its single-focused progression. It's the way that Islanders makes you feel that is its greatest triumph, with its effectively simple colours and randomised islands coalescing with its relaxing soundtrack to create a beautifully relaxing atmosphere to lose hours to.
Last Updated: April 9, 2019
Islanders is simple and straight-forward but still manages to make each of its city-building runs engrossing with a high-score to chase and procedurally-generated spaces to explore. It's the charming visuals and meditative soundtrack that make your brief stays worth it, enrapturing you in a relaxing aesthetic as you try to survive as long as you can.

was reviewed on PC