I've never been especially keen on most "gaming" keyboards. Too many of them seem to have been designed by the same committee that decides alien technology was jagged, pointy and glowed an ominous red. It's become worse. Now they shine and pulsate in every perceptible colour, provided you're not a mantis shrimp.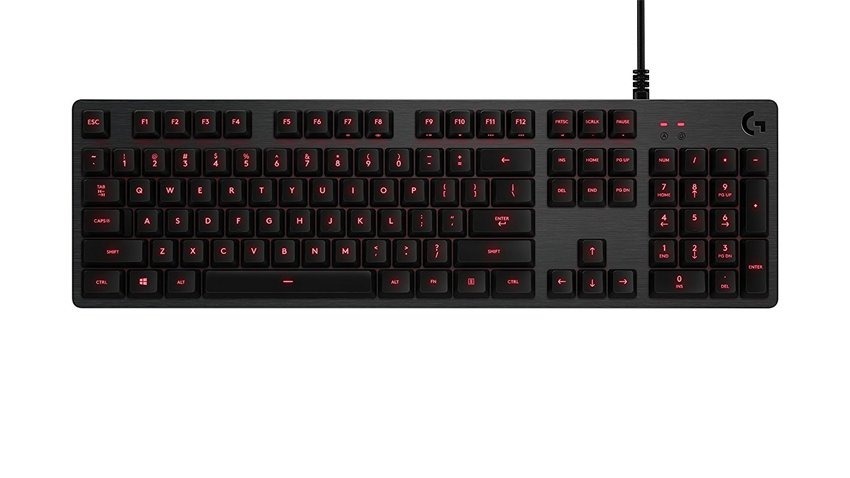 It's a pity because I firmly believe that keyboards aren't the sort of peripheral to skimp on – and if you're after the very best in typing and gaming pleasure, then you need a mechanical keyboard. And, if you're like me and prefer a little austerity in your keyboards, then Logitech's G413 mechanical keyboard could be right for you.
For starters, it doesn't look like a rainbow's vomited all over your desktop. The G413 sits on the lower end of Logitech's mechanical keyboard pricing scale (under R1500 locally), so it eschews many of the sorts of features you'll find in higher-end and more expensive keyboards. The first thing to be chucked is full RGB lighting, instead opting for red. While that seems to the colour du jour for gaming peripherals, I'd have preferred is Logitech stuck to blue – which would have tied in nicely with their overall brand – or white. Red's just a little too angry and gamer-centric for my tastes. That said, each key is individually lit, though they're not individually dimmable – it's all or nothing here.
It also doesn't have a plastic frame, so all of the keys seem like they're just stuck on top of a brushed carbon steel plate. That's fine by me – it's an aesthetic I actually appreciate. The very thick, durable and braided cable just out of the right of the board, terminating in two USB plugs. This is so that you've got a USB pass-through, which is great for plugging in USB headsets, flash drives or that very silly and completely pointless USB coffee warmer you got for Christmas one year, but just haven't been bothered to throw out.
The layout itself is fairly standard stuff. You've got a standard layout along with a full numpad. There are no superfluous macro keys, though a number of function keys can be used for volume, media controls, setting the keyboard's brightness and for enabling "Game Mode," which disables things like the Windows key to prevent in-game mishaps. Through Logitech's Gaming Software control centre, you're able to se which keys you'd like to disable, whether you want that awful "breathing effect" on or not. You can also set up profiles, so that different games or programs turn of different keys with "game mode" enabled. There's also a heat map, allowing you to see which keys you use most, for some reason.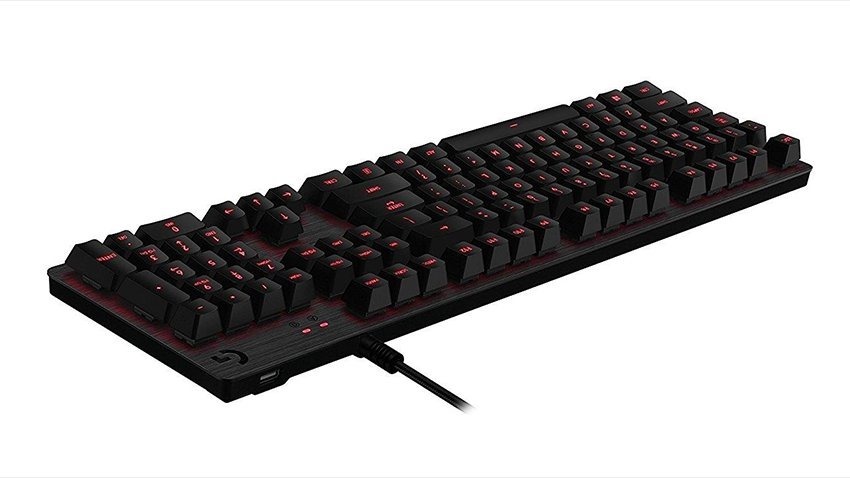 As for the keys themselves? They're actually very good. Some might be disappointed to find that the Logitech G413 uses Logitech's own Romer-G switches instead of the famed Cherry MX ones, but that's a silly concern. The Romer-G switches are functionally and sonically similar to MX Browns. They're comfortable, responsive, and have a lovely, dampened clickety-clack to them without feeling squishy. Cherry MX purist may hate them, but I'm quite a fan.
Logitech says they have an actuation force of 45g, a 1.5mm actuation distance, and a 3.0mm total travel distance. They're the very same switches you'll find in Logitech's high-end keyboards, and they're very good. In the box you also get a handful of extra keys, with trenched versions of Q,W,E,R,A,S, and D keys available – along with a key removing tool. They allow your fingers to rest within them more comfortably, which is nice if you plan on using the keyboard for gaming.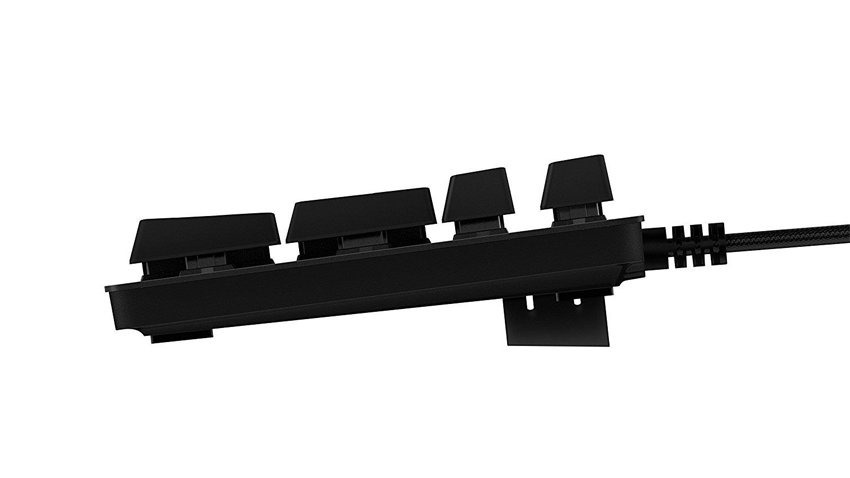 There are a few niggles though. While there are lights to indicate caps lock and Game Mode, there's nothing to indicate that Num Lock or Scroll Lock are engaged. There's also a perceptible "ping" when hitting the keys hard, as sound travels through the metal base. It's a minor blemish, and one that'll likely be drowned out by the game you're playing, or the clacking of the keys themselves. Small issues that don't detract from a pretty good entry-level mechanical keyboard.
Last Updated: November 29, 2017
Logitech G413 Carbon

Overall though, it's a great entry-level mechanical keyboard. It may be light on features, but offers the same typing experience you'll find in Logitech's premium keyboards. Yes, some better lighting choices and the inclusion of a wrist rest would be nice, but they'd escalate the price.