Nintendo could easily have taken Mario Kart 8 straight from its home on the Wii U and shoved it on to the Switch, and people would have been happy. It is, after all, a fantastic Kart racer that has nothing egregiously wrong with it.
Instead, they've gone beyond, adding to and tweaking Mario Kart 8 for its deluxe incarnation on their newest system, the hybrid handheld Switch. It is everything the game was on the Wii U. When I reviewed the game on the Wii U, I gave it a solid 8, saying: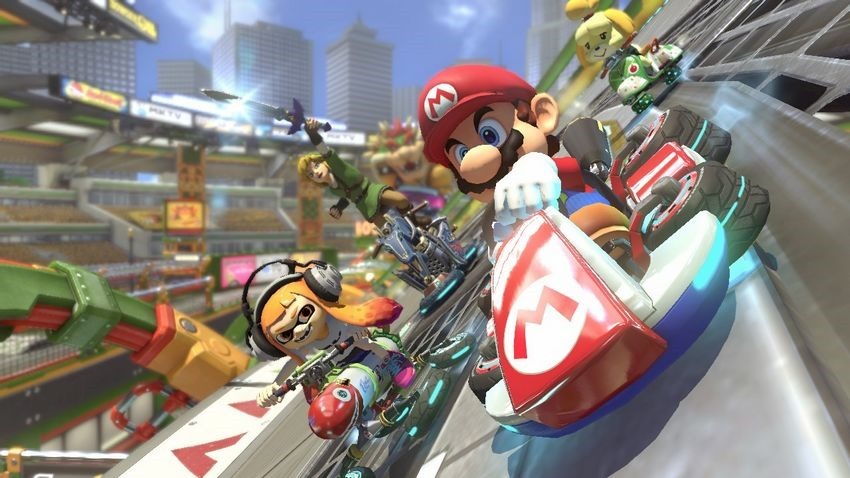 "What it lacks in raw innovation it more than makes up for in pure joy. Mario Kart 8's bare-bones presentation is offset by its solid core racing, and is an essential purchase for every Wii U owner who appreciates fun."
That still holds true. Only now, it's packed to the brim with everything that the Wii U version had to offer, including all of the tracks and characters that the original received as post-release DLC. That means Switch owners get 48 courses and 42 characters available out of the box, without the need to grind through the game to unlock a thing. There's also the newer, blisteringly fast 200c mode, and a mirrored 150cc mode – all available from the onset.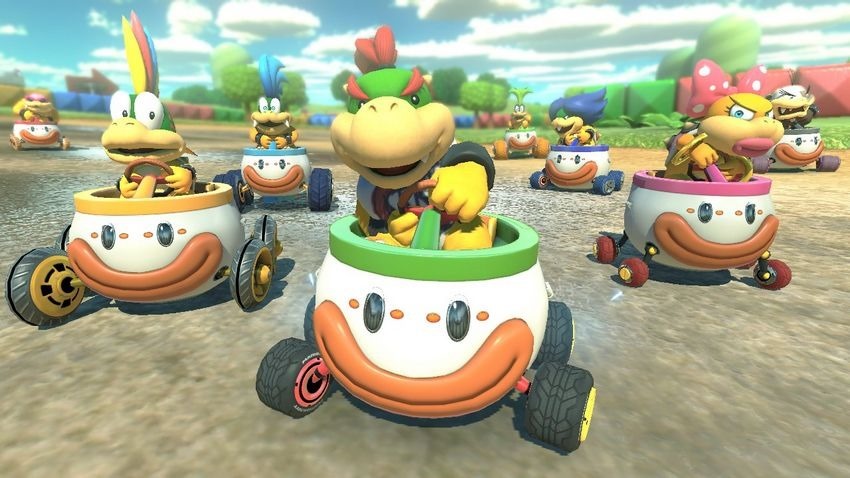 That may remove a little of the sense of progression for newcomers who won't have to grind through the game's barebones single player grand prix modes to unlock everything, but it's a good thing.
Mario Kart 8 Deluxe also sees the return of double item boxes and a second slot for weapons. It's a dual-edged sword, offering up an extra item when you may need it most – but also giving your opponents a bigger arsenal. What results is the same chaotic racing that happens in Mario Kart, where a barrage of attacks can quickly pull you from first to last place.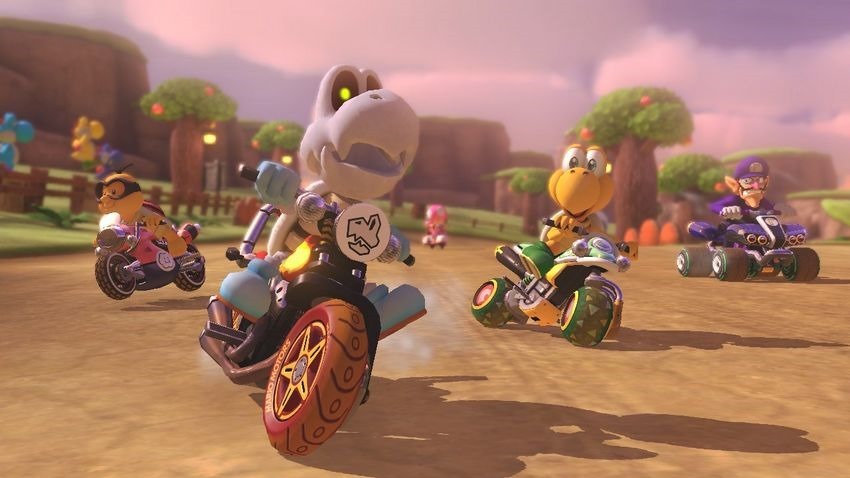 Nintendo has added a few things for beginners and veterans alike. For series newcomers, there's a lot more accessibility, including a steering correction mode that helps fresh players adjust to the game's corner system, and a setting that auto-accelerates. For old hats, there's a new Ultra Mini-Turbo during drifting, which makes up for the removal of the fire-hopping trick that catapulted veterans to the front.
If there was something bad to say about the Mario Kart 8 on the Wii U, it was in its lack of a polished battle mode.
"It's a tremendous amount of fun really – but it's not all good. The package as a whole is a little bare, offering the standard 4 race Grand Prix, Time trials, customisable VS races and the balloon-popping battles that have become standard. The battles have taken a step backwards. Instead of the battle-specific arenas that would funnel players towards each other, battles now take place in stripped down versions of a selection of the game's race tracks, so it's become a case of racing around until you manage to see somebody long enough to hit them with something."
Nintendo's fixed that. Mario Kart 8 Deluxe ships with 8 bespoke battle arenas, and a wholly revises battle mode. Instead of just balloon popping, there's a selection of fun and engaging battle modes that take advantage of the new fun, brightly coloured arenas. There's the aforementioned Balloon Battle, where the goal is to pop opponents' balloons using wily cunning and the assortment of zany weapons. Bob-bomb blast is similar, only every weapon is one of the explosive critters. Coin Runners is probably my least favourite of the lot. Originally introduced in Mario Kart Wii, it's a dull mode that has racers vying for coins scattered over the arena. Mario Kart: Double Dash!!'s Shine Thief returns, where players have to grab and try to keep hold of a Shine Sprite until they rack up enough points. Unlike most of the battle modes, which rely on offence, Shine Thief puts defensive skills into play.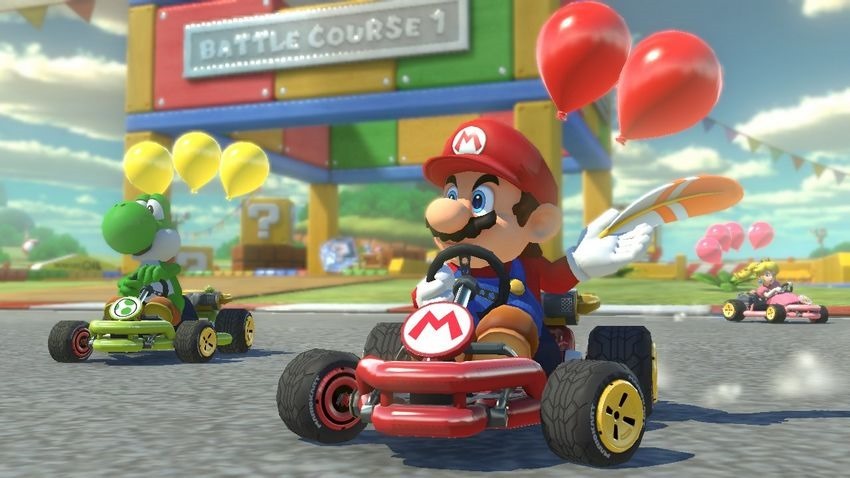 A brand new mode in Mario Kart 8 is also arguably its best. Called Renegade Roundup, it's a team-based mode that's a bit like Mushroom Kingdom cops 'n robbers. One team has its vehicles fitted with permanent Piranha Plants, used to catch the opposing team members. Once caught, they'll be placed in jail. Their teammates can spring them out, but it's a bit of a risk-reward situation. It's Mario Kart at its most thrilling.
The online mode is still as minimalist as it's ever been, but it works – and finding races is quick and easy, as long as you're looking for global races rather than regional ones. Players can now also change their character and vehicle customisation options right from the lobby, without having to drop out of the game. It's about time.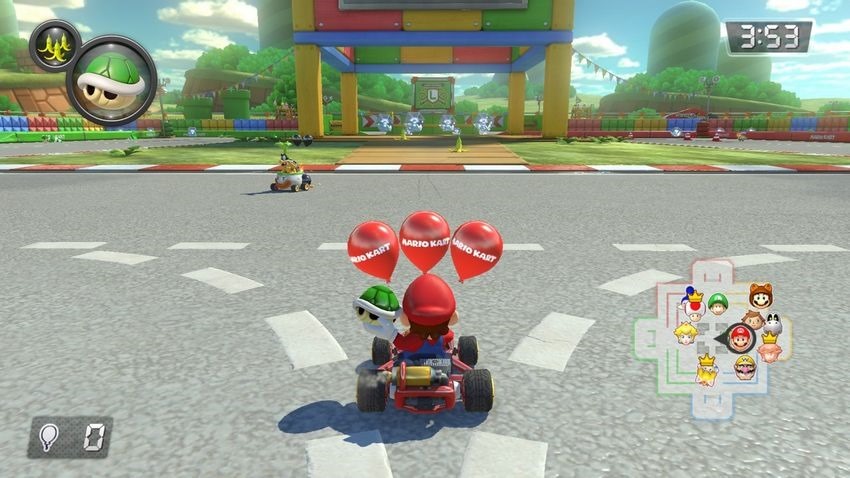 Mario Kart 8 ha a new home on the Switch, and it's fantastic. The Switch itself is terribly versatile, letting you play the game as a handheld one, or even as a pick-up and play split screen one, using a pair of JoyCon. Sure, it may be hard to discern fine detail on the Switch's screen when it's propped up on a table, but at Mario Kart's blistering speed, it's moot. There are options for ad-hoc wireless multiplayer if your friends happen to have a Switch, and of course TV play, where the game runs at a crisp 1080, at 60fps.
I'd still love for Mario Kart to have a single player adventure mode beyond just Grand Prix, and for there to be some sort of voice communication with friends in multiplayer.  Those aside, Mario Kart 8 Deluxe is very close to being the perfect Kart Racer.
Last Updated: May 2, 2017
Mario Kart 8 Deluxe

With improved visuals, accessibility, more content and a newly invigorated Battle Mode, Nintendo has demonstrated a masterclass in spiffing up an older game - giving us Mario Kart at its very best.

Mario Kart 8 Deluxe was reviewed on Nintendo Switch