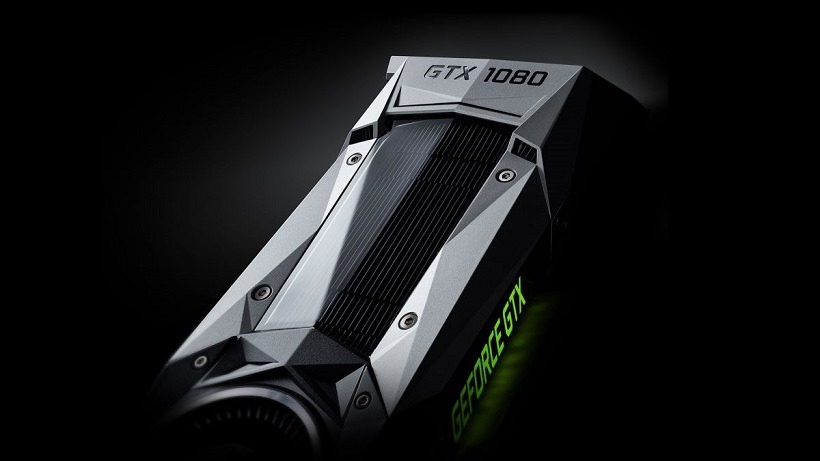 Nvidia have really been enjoying life lately. Their previous GPU architecture, Maxwell, was a smash hit – producing stellar cards such as the widely adopted GTX 970, the blisteringly fast Titan X and GTX 980Ti and sadly confused GTX 980. it would be strange to expect them to deliver such a radical revolution just under two years later, but so far that's exactly what their latest Pascal range does. And none do it better than the GTX 1080.
Maxwell to Pascal is a particularly big jump for Nvidia, with a keen focus on efficiency and power consumption. The GP104 chip features the new 16nm FinFET transistors, which makes the move to Pascal almost akin to a CPU die-shrink. More space means more transistors are able to be shoved in (7.2 billion to be exact, with 2560 CUDA cores), allowing for much higher clock speeds, faster performance and more dynamic memory with the same power draw. In a few words, Pascal is fast – and does it with the same push that Maxwell had.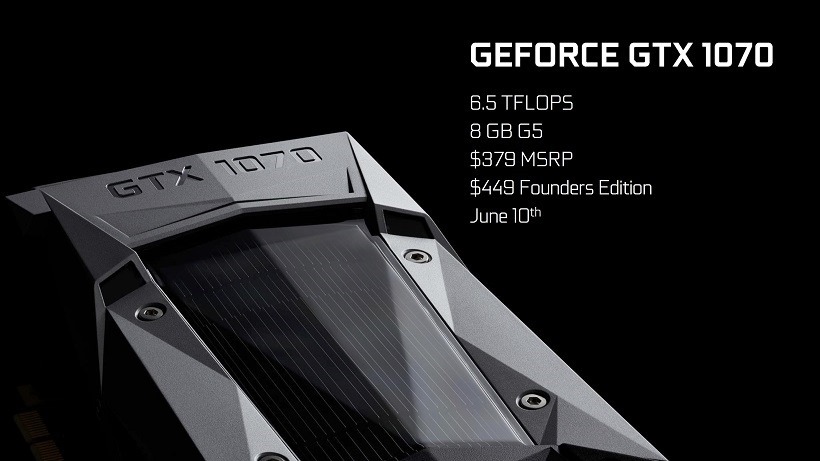 It's easy to think of Pascal then as a Maxwell 2.0, but that would be selling the architecture extremely short. While it bears many similarities, the GTX 1080 ships with a brand new type of memory, namely GDDR5X. While not the faster (and incredibly more expensive) High-Bandwidth Memory expected for future cards, GDDR5X allows the GTX 1080 to push up its memory speed well beyond what Maxwell managed. What that means is you get 8GB of 10GBps memory, with a bandwidth speed of 320GBps. A massive leap over Maxwell.
That extends to the advances made in core and boost clock speeds, which sit at 1,607MHz and 1,733MHz respectively. With a mild overclock those can easily be pushed up to the 2GHz ceiling, although the Founder's Edition isn't the best card to do that. The newly designed NVTTM cooling has been brushed over for a more edgy, angular look, with a black back plate and cool metal finishes over the windowed vapour chamber. It sucks air in from the case and blows it out the back exhaust, which keeps it silent and cool for the most part.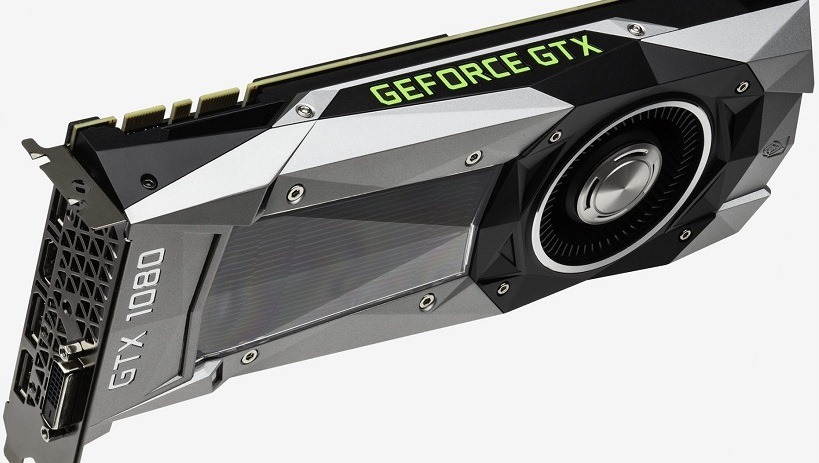 It doesn't do the best job when overclocking though, and in general the GTX 1080 managed to hover around the 80 degree Celsius mark during intense load. It's incredibly quiet at this stress, but it also means that the chip dials back its clock speed to compensate. Pascal introduces some changes to the limitations of overclock (while adding point-based performance changes), but it does mean that when the Pascal card runs too hot, it will lock you out and take matters into its own hands.
That's not a terrible thing in terms of safety, but it does mean that Nvidia's proprietary card (which is sometimes a full $100 more) isn't the best cooling solution you could possibly find. It is, however, one of the most efficient, requiring only a single 8-pin power connection to supply the card with a TDP of 180W. A ludicrously low requirement when you take the performance into consideration, and even 70W lower than the Titan X and GTX 980Ti.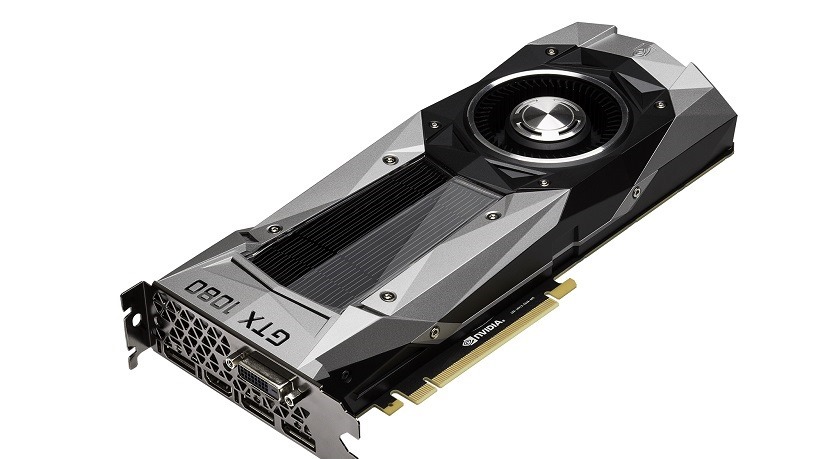 You'll also get a bevvy of connection options, with a connections for HDMI 2.0b, DisplayPort 1.4 and the older DL-DVI. Pascal also introduces High-Dynamic Range support as part of its feature list (which might appease a small collection of gamers), along with the introduction of Nvidia Ansell (a brand new way to take screenshots in supported games) and Simultaneous Multi-Projection (a hardware iteration that allows for simultaneous multi-display projection). This helps optimise both multi-display setups, and (more importantly) VR-headsets – almost doubly so in some cases.
But you're here for raw numbers and frame rates, right? Well unsurprisingly, that's where the GTX 1080 and Pascal in general exceeds the most. Trading out Crysis 3 for the fantastic DOOM, we ran our normal frame rate tests on the GTX 1080 on our standard testing rig, and the results didn't disappoint in the slightest.
Metro: Last Light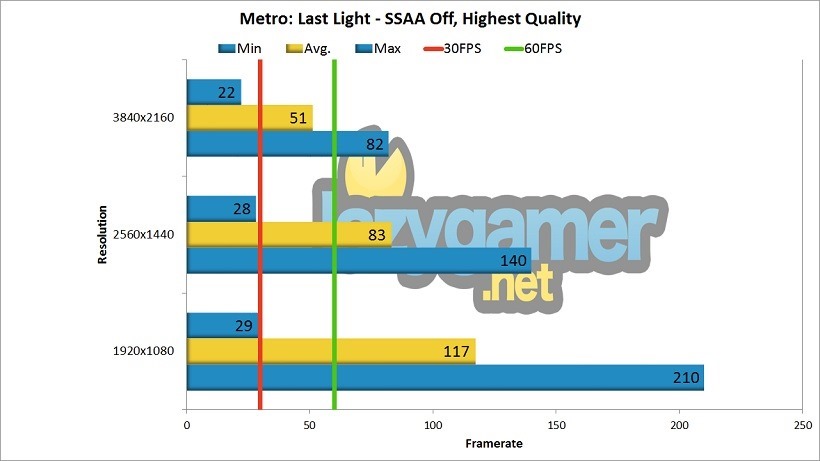 Metro: Last Light still provides one of the most punishing benchmark tests out there, but the GTX 1080 made me revaluate that in a few instances. The card simply blows away the test at standard 1080p and 2K, while also nearly managing a solid 60FPS at 4K. No other card has come close to that yet, as we'll analyse a little later on.
DOOM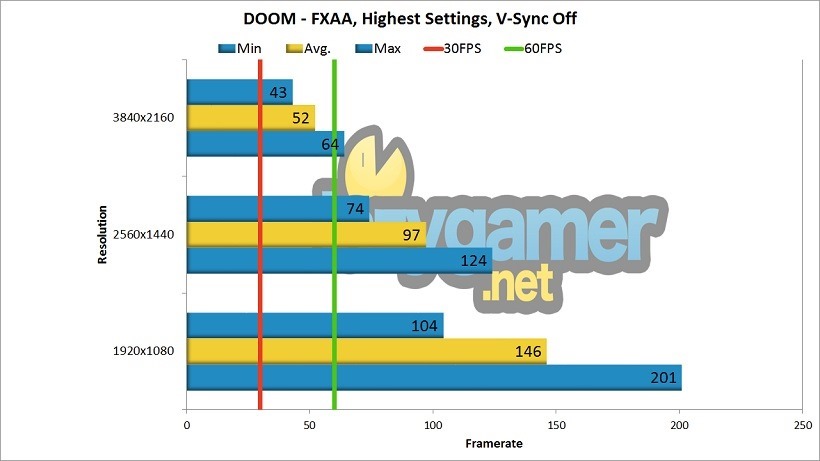 DOOM is one of the most visually impressive games of this generation, and manages to do that with some amazing efficiency. Taking a spin on the graphically taxing Foundry level though, the GTX 1080 simply breezed past anything the iD Software title threw at it, even coming close to a stable 60FPS at 4K. V-Sync seems to drop these averages remarkably though, but it's still impressive nonetheless.
Grand Theft Auto V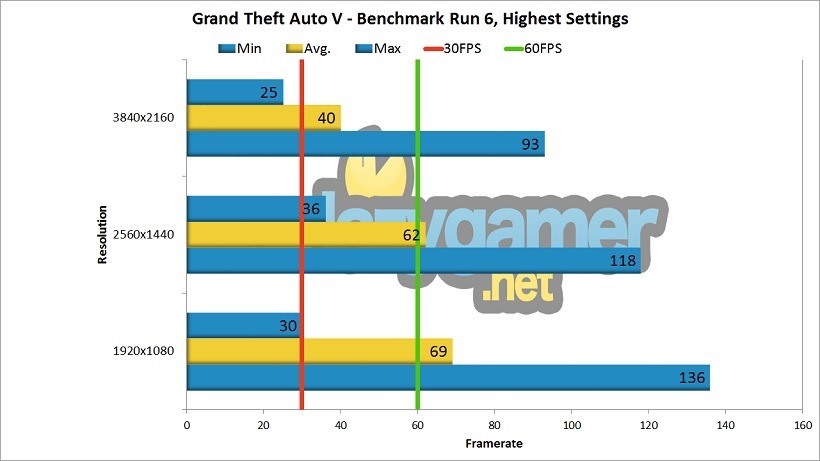 Looking specifically at the sixth (and most taxing) run of the GTA V benchmark, and it's clear to see the prowess that the GTX 1080 brings to the table. Again it's a matter of the Pascal card being near suitable for maxed out 4K gaming, and it's head and shoulders above water for anything below that.
The Witcher 3: Wild Hunt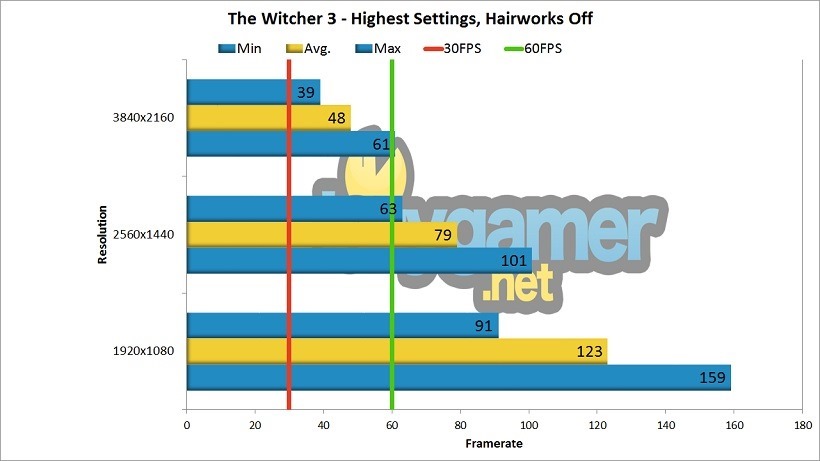 The Witcher 3 is a gorgeous game, and doubly so when you start cranking up the resolution. The GTX 1080 does a more than admirable job in this sector too, delivering smooth gameplay with managed framerates at the highest of highs. Anything lower is almost overkill at this point.
3DMark Fire Strike Benchmarks
The FireStrike Benchmark test prove what real-world testing has suggested – The GTX 1080 is simply one of the fastest graphical solutions ever created. It's faster than the average scores for both the GTX 980Ti and Titan X, blowing away previous scores we've collected in the past.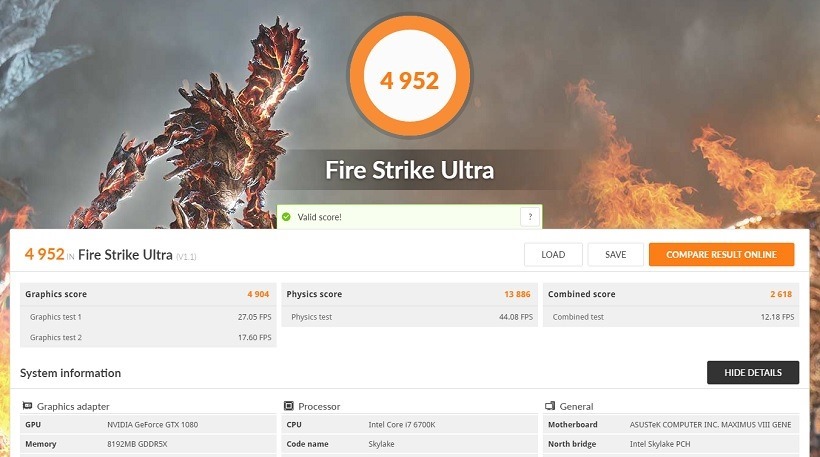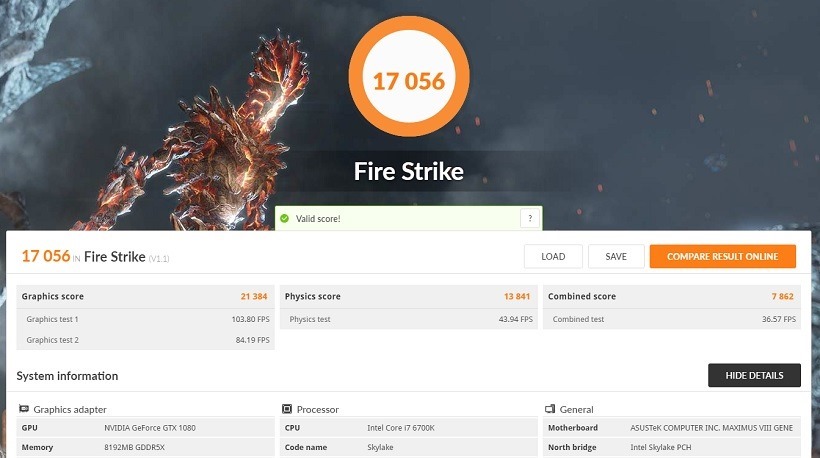 So yes, the GTX 1080 is a staggeringly fast card, but it's even more impressive when stacking it up against the best of the best Maxwell had to offer. Nvidia promised better than Titan X performance with this card, and while we didn't have one on hand to test we did have the next best thing. Using our test results of the MSI Vortex desktop (equipped with two GTX 980 chips in SLI), the results speak for themselves.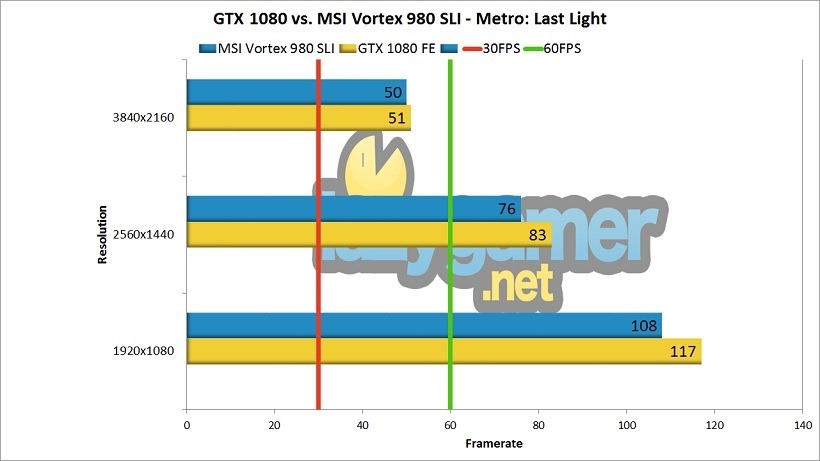 And if you're thinking that a single generation wait might not be that enticing for an upgrade, then looking at the scores against a GTX 980Ti might sway you. Simply put, Nvidia have gone beyond what such a small turnover time should achieve, as you can see from the results below.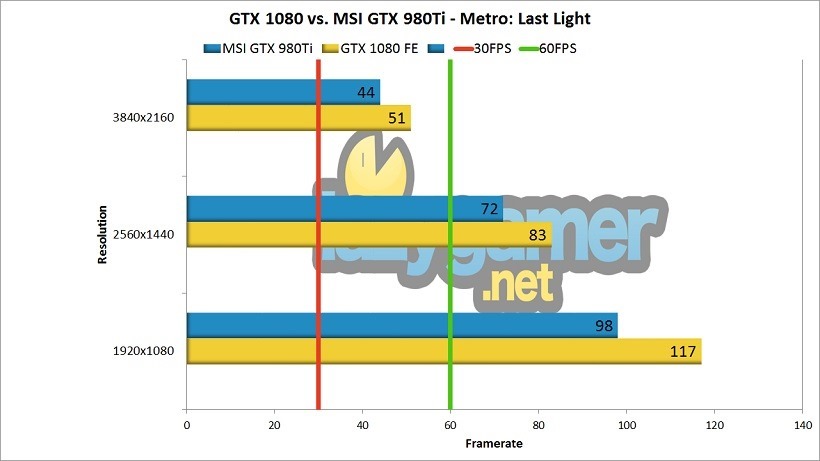 It does, however, come at a price. The Founder's Edition comes at a premium $700 price, and we've seen with the likes of MSI, ASUS and Gigabyte that it's sometimes not the best offering for the money. Third-party manufacturers have been putting out different versions of the GTX 1080 with better cooling and out-of-the-box overclocks for less, and that Founder's Edition truly feels like a want more than a need because of it. Or at least, that's the case abroad, and not so much locally.
Here in South Africa, you can find some of the cheapest Founder's Edition GTX 1080 cards for around R13 000, while the cheapest AiB versions from the same retailer clock in all a little higher. It's strange that the more expensive card in dollars would convert to less here, but that's an entirely different debate for another day. Right now the cheapest GTX 1080 here is the Founder's Edition, and it's still marked at an incredibly premium price.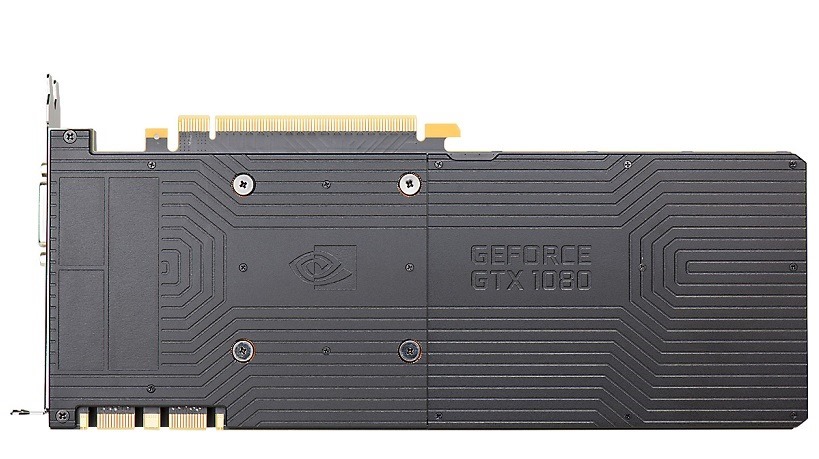 Although taking a look back at the opening prices of the likes of the Titan X (in excess of R16 000 at times) and taking into account the economic turmoil that has occurred since, you're still left with an expensive but reasonable card on the table. The GTX 1080 truly delivers on its promises of being an exceptional step forward in performance while reigning in price and efficiency, so much so that it's made the higher echelon of the Titan X and GTX 980Ti redundant.
It's overkill for standard 1080p (and sometimes higher) setups, but it hits the sweet spot for higher resolution, high refresh rate gaming like no other card has yet. And that's something Nvidia can be proud of right now.
Last Updated: July 4, 2016
Nvidia GTX 1080 Founder's Edition

The GTX 1080 is simply the best graphics card money can buy right now, and the Founder's Edition makes a compelling argument with good local pricing, quiet performance and striking design. If you're out for the best, it's hard to find better.