After nearly a decade in development (detailed here) Metroid and Mario-inspired action platformer Owlboy finally saw release towards the tail of 2016. It made its way to Nintendo's Switch in February, is now available on the other consoles. It was worth the wait.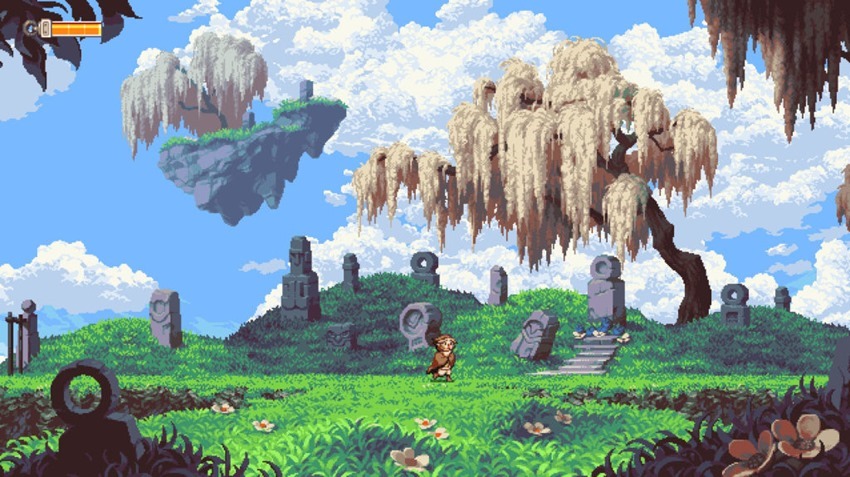 Unusually, for games of this ilk, there's a strong narrative focus – and right from the onset, it's engaging, thought-provoking and utterly charming. It's centred on a young, mute owl called Otus. Always eager to please, Otus is mocked and bullied by his peers, berated by his elder mentor Asio. It's the sort of negative relationship that many of us have had, whether in school, at work or in social circles, where no matter what is said or done, it's just not good enough.
Here, it immediately creates a sense of empathy and connection that carries through to the handful of other characters that you'll meet on Otus' adventures. Otus is one of the last of the Owls, a human-hybrid race that protects the skies above the floating islands in the air; let loose from the ground in a catastrophic event in a time long passed. On patrol with his friend Geddy, Otus – with the owl cloak that grants him flight – is distracted by a menace that drags him deep into the caves in the town of Vellie. When the pair returns, they discover their home attacked by pirates, which serves as the impetus for a grand adventure that takes the duo to varied and exciting locations; exploring caves, pirate ships and ancient ruins.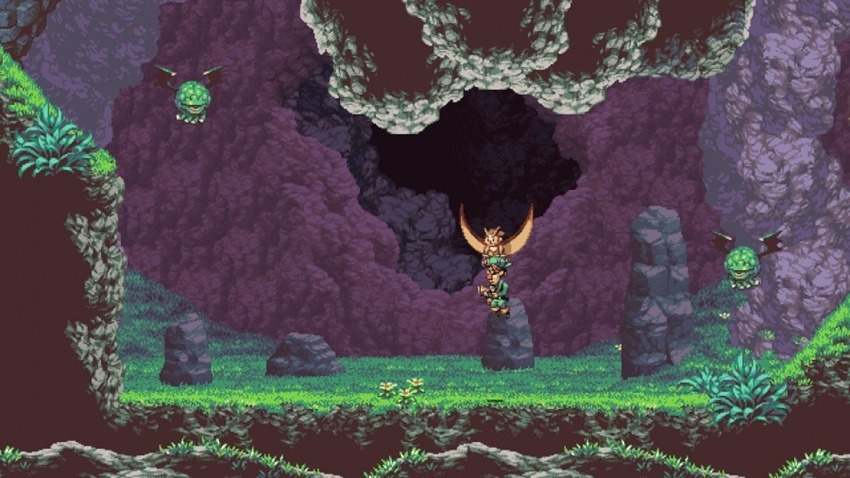 Along the way, Otus meets new friends, but they're not only there for the sake of the story. Owlboy brilliantly does a few things that subvert genre conventions. While it has obvious inspiration in games like Super Mario Bros and Metroid, it cleverly changes what you expect from games like those. For starters, Otus' free flight means you won't be doing the running and jumping you'd imagine you would in a platformer. The threat of gravity's never a looming one, which opens the gameplay up with exciting possibilities.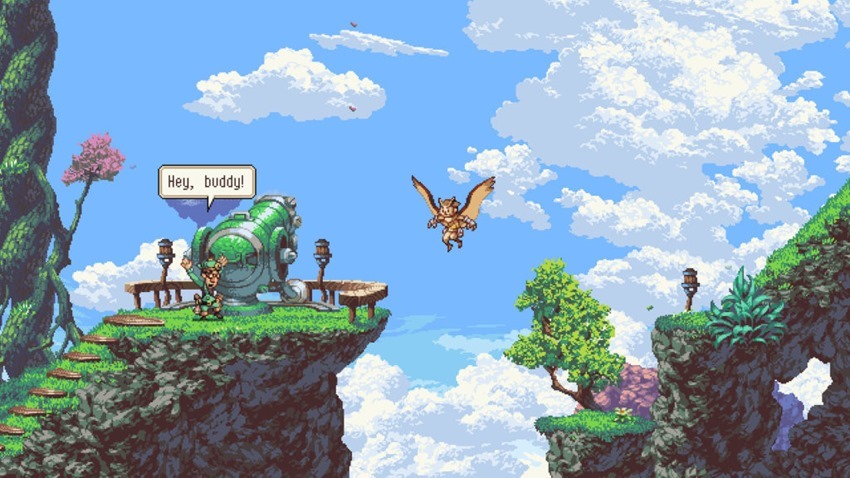 While it has that a Metroid influence, you're not spending your time hunting down artefacts or weapons that open up new pathways. Instead, Otus can carry his friends by their shoulders, using whatever abilities they bring with them. The ever-faithful Geddy can fire a pistol, turning the game into a twin-stick shooter of sorts. Later on, you're able to switch through your companions on the fly, opening up your repertoire, but also letting you use their abilities to get to previously inaccessible locations. Even then, it's deceptively linear, without the back-tracking that's usually found in these sorts of game. The control scheme for this is a little fiddly at first, but before it becomes second nature, making playing it a joy.
It's also easy to see why it took so long. The Hi-bit pixel art is stunningly breathtaking. The environments are crisp and detailed, brimming with life. The characters themselves are unbelievably expressive and filled with personality. If Shovel Knight is a look at 8-bit gaming without the 8-bit limitation, then Owlboy would be a glimpse of the sort of stuff we'd have played if post 16-bit consoles weren't so focused on 3D.
There are a few issues though. Some of the games section's are tedious, particularly the timed ones near the end of the game. A few moments of frustration stop it from being a masterpiece, but they hardly detract from its loveliness.
Last Updated: April 12, 2018
Owlboy

It's beautiful, it's fun to play and it's accompanied by some wonderful music, but it's the way that the narrative of loss and failure, of hope and redemption is inextricably woven into the game that makes it special.

Owlboy was reviewed on Xbox One