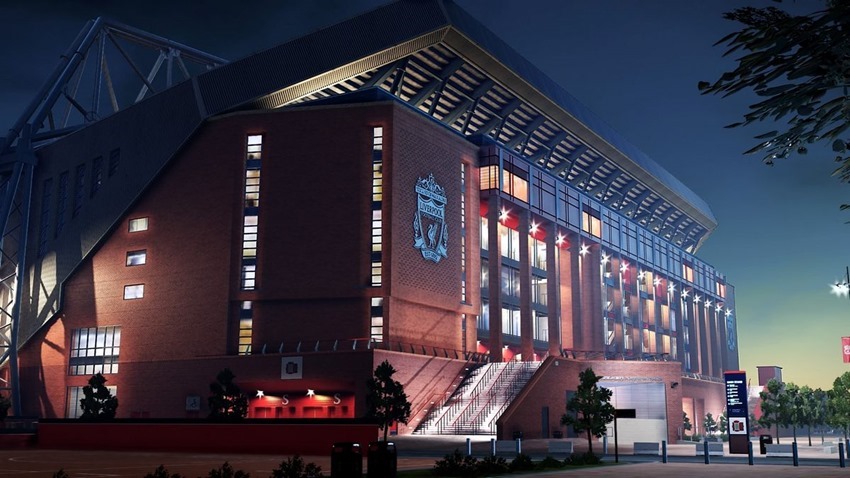 "The Power of Football". That's this year's tagged-on slogan for Konami's PES 2019, and never before has there been a more fitting description. Football has the power to bring nations together, ally to a common goal, bring the best out of people, create a spectacle, make you want to dive onto the floor, remove your shirt out of elation (well, not my shirt…) and experience just about every emotion possible, all in the short time of 90 minutes. PES 2019 comes off the success of an extremely well-presented PES 2018 despite its glaring issues. Does PES 2019 attend to these to take it that step further?
Channeling my inner Mourinho, let me start off with the negatives. You see PES has the winning tactics, the winning strategy, but it isn't always a winner. Respect? Respect.
PES 2019 is its own worst enemy in so many ways. Ignoring the (most important) on-field experience for later, it suffers in just about every aspect prior to getting to the climax. It's akin to dreadful foreplay, where you just want to get on with it, then you get to the ending and think "hey, let's do that again". Rinse and repeat.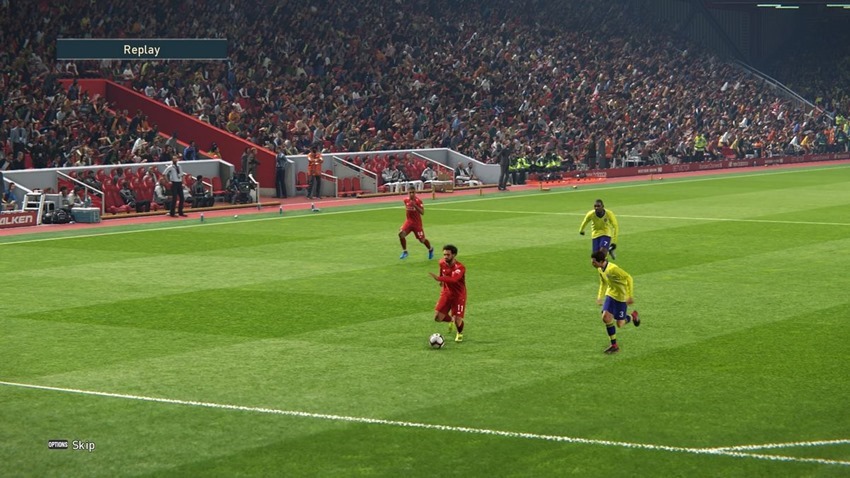 I hate having to mention menus but there's no escaping them. The setup has reached a point where even the aesthetically challenged will find issue with them. The menus are ugly, unwieldy and unpleasant to navigate – and the worst part is that you see them a lot. No matter which mode you play you'll be required to move through a series of confusing, cumbersome menu screens and options that will make you long to stare at a desktop filled to the brim with icons.
Aside from the hideous menus, what's most notable about PES 2019 is that there isn't actually anything particularly notable; that is to say there has been very little in terms of innovation. The usual suspects return – some no livelier than a Balotelli celebration. Become a Legend continues its uninspired existence while your bog standard online modes return alongside the generic League mode, Cup mode, co-op modes, training and the Random Selection mode which was introduced last year. Nothing new to see here.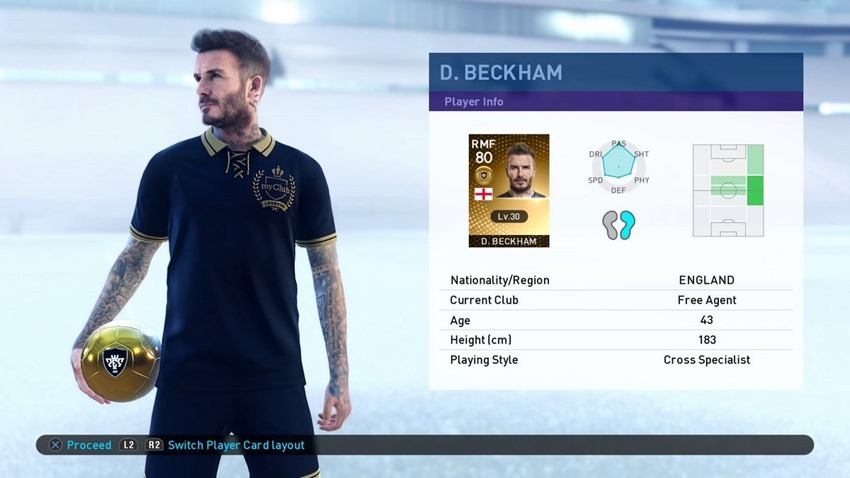 Master League was once the shining beacon of the PES series, the mainstay that had addicts coming back for more. The promise of a fix full of so much splendour that the Beatles could just as well have used it to "inspire" their song writing. These days though? It's fleeting at best. The change in the original squad makes it feel somewhat hollow and while there is still something to be said about how great it is to start with your set of nobodies and drag them up, given little else in terms of changes it's more a case of "hey, I've done this before". It does have a new "Challenge" mode which makes things a lot harder, giving you a tight budget, lots of expectations and more realism – but it's a behind the scenes type change that won't be blowing you away. It's still a fantastic mode, and worth putting time into, but there's nothing to shout about here.
MyClub is the other major mode in PES and while it has undergone a facelift, the general idea is the same and, if I am completely honest, has become tiresome. MyClub has never been able to match the brilliance of the ultimate team modes in the EA games, or even NBA 2K's MyTeam mode, but it has been largely enjoyable given its randomness in acquiring players. The thing is, though, even that is getting old.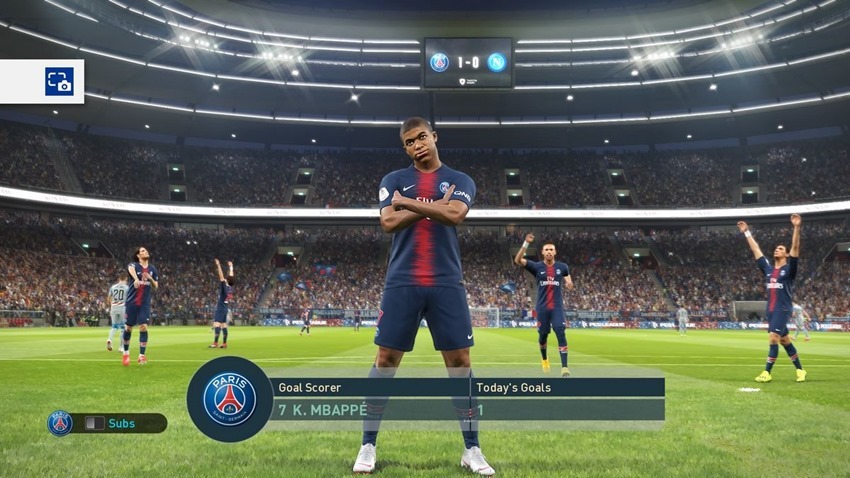 MyClub has a new setup in terms of how you get your players. You no longer spin the roulette wheel and pray that you land on a Gold or Black ball. Now, rather, you just get assigned a player based on …who knows what? Using the various agents comes at a higher cost, going from 10 000GP (the in-game currency) to 25 000GP, a significant jump which makes getting your team filled out with even semi decent players relatively tough. Even worse is that the new "Featured Players" i.e. stars of the week, require you to spend MyClub coins which can be obtained slowly through playing, but really there is some slight insistence for the need to spend real money to get these players, something I refuse to do.
MyClub once again has several online and offline competitions to keep you busy with, with new tournaments and challenges added weekly. It's still an addictive mode, and one of the best reasons to play PES, but given that there's very little new in this department too, it's not likely to compete with the Ultimate Teams version in FIFA. It's a great pity because MyClub always seems destined for something greater, but for now it is staggering somewhat.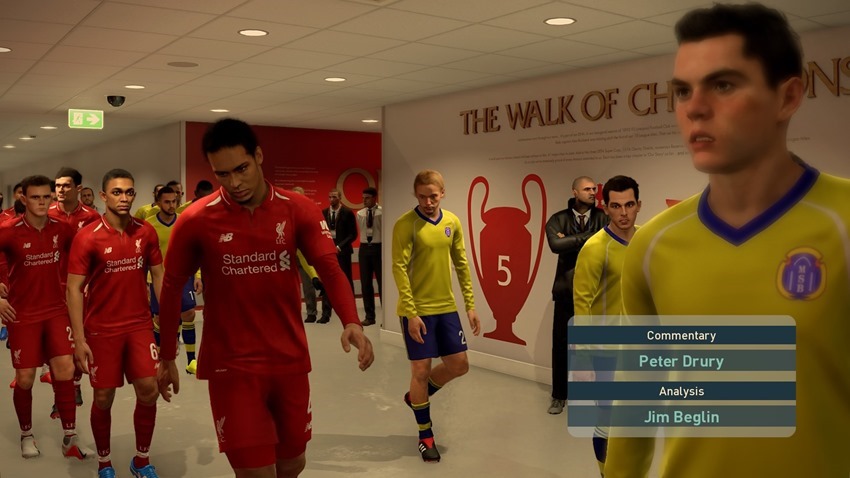 It's been well publicised that PES and Konami recently lost out on their exclusive rights to the Champions League and Europa League licensing. It was a huge blow but given that it would have resulted in some extra budget it would have been great to see this countered with a larger focus in some of the production value of the game. Despite a few new licensed leagues and partnered teams, it really has not shown. Perhaps in next year's game it will be once the lack of that license has settled.
The above paints an average picture of the game, though that's not really fair. It's not as though the existing modes aren't good quality. They are, but that they have added a miserly amount of new, fresh content or modes to appease fans.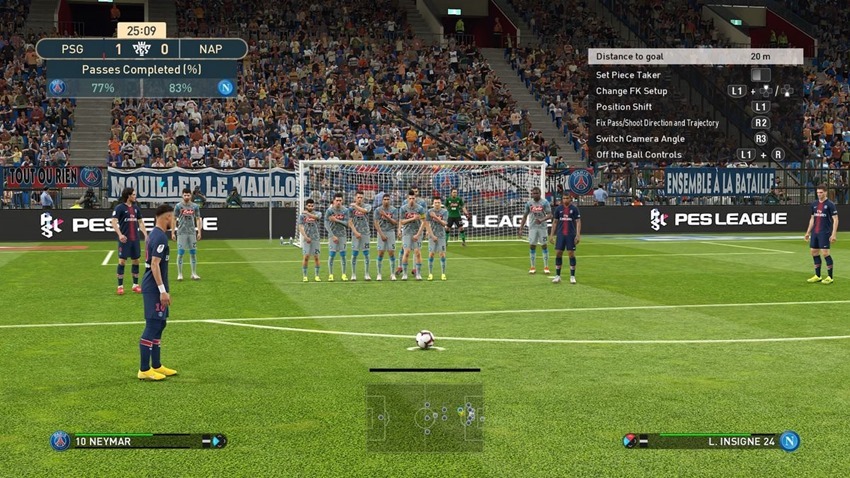 Where PES 2019 truly does shine is with its on-field antics. In fact, the exact opposite is true for these elements of the game when compared to the tired menus and modes. While the off-field bits resemble Alexis Sanchez struggling to rediscover any kind of form, the on-field section is more fittingly described as a cool, slick Klopp-like attack, firing on all fronts.
The PES team has always insisted that gameplay is the most important focus, and it's where the most work has clearly gone. It's telling that while the franchise has made huge strides over the past three years, it does feel as though this year the authenticity of the game is nailed better than ever. PES 2019 has a slower, far more measured approach to the beautiful game compared to PES 18's all-out-action approach (and FIFA's Michael Bay spectacle approach). The result is that everything has more meaning and the Power of Football can be used honestly and accurately in this regard.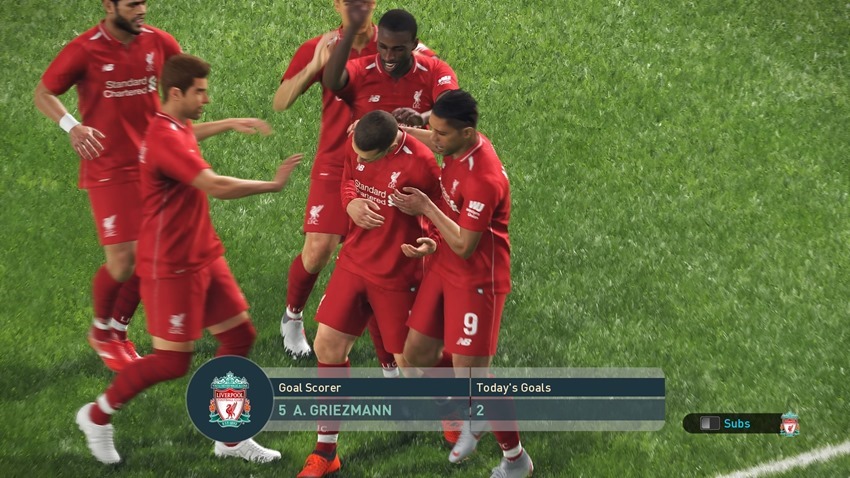 The newly introduced first touch control makes every movement feel precise, intentional, and in control. This new feature adds so much authenticity to the way the game runs that it's hard to believe how we ever played before. To the degree that I have never felt in a football game before, I feel as though I can manoeuvre and manipulate my players (and the opposition) in so many different, smooth ways. The animations truly are unbelievable. It's telling that after hours and hours of the game I am still getting the hang of how many ways you can react to receiving the ball, and how it depends on your positioning and your placing as to what is the best route. Even more telling is judging what your opponent is going to do. Truly a game changing addition.
Other features improve the flow of the game tremendously, particularly the specific player identities. We all want our heroes to react, move and play the way they do in real life and PES 2019 captures this aspect wonderfully. Mo Salah performs like the Egyptian King himself, Neymar's swagger is there for all to see, while Modric is coolness personified on the ball; always seeming to have extra time and space. No matter which star you focus on, his play style will be evident immediately.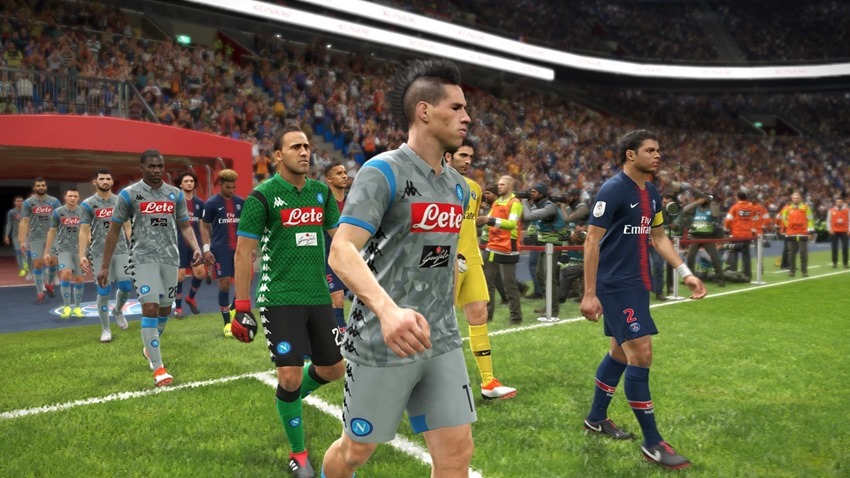 Visible Fatigue has supposedly been added and while I do see the players getting tired, there doesn't seem to be a discernible, telling effect as a result. More skills add to the options when moving past players and creating space and blending these with the close control makes for a lot of freedom when moving across the park.
All the above is assisted by the focus on the weight of the ball in this year's game. It appears near perfect in the way it reacts to situations. Whether it be shots, passes, crosses or even more subtle movements like changing directions, hitting the post, saves and deflections, everything mirrors how you would expect the ball to react in real life.
It's not all Tiki-Taka though, even in terms of gameplay. The AI can still make you want to tear your hair out with some of the runs they make off the ball, or when they completely forget that they should be defending and walk back to help, or sometimes just stand still without any awareness. Most frustrating is that heading on attack seems to be somewhat broken, or near impossible to time correctly. After last year's game being a bit too easy in this regard, now it has gone to the other side of the spectrum. I am all for making it difficult, but when my 6ft plus striker is out jumped by a 5ft defender, well then I have to question things.
Last Updated: September 4, 2018
PES 2019

Overall, PES 2019 is still a fantastic game. The on-field experience is one of the most authentic, impressive portrayals of football you are ever likely to see. It's what happens when a team is finally completely comfortable with the engine and system. Every match feels like it offers something different and that adds to the whole experience. The on-field additions certainly make up for the lacklustre menus, the loss of licenses and the lack of innovation, but only just.

PES 2019 was reviewed on PlayStation 4