Steven Spielberg. Meryl Streep. Tom Hanks. Usually just listing those three names side by side on the top of a poster would be sufficient in getting folks to watch a movie. And really, this powerhouse team-up is undoubtedly worth the price of admission alone. Even more luckily for us though, that's not all The Post has going for it.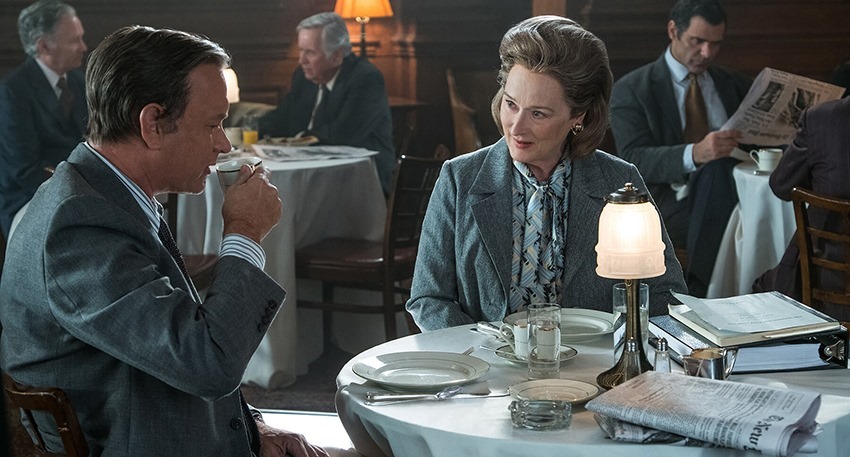 Back up a bit to last year, and we find that Spielberg got involved in this production through happenstance as his schedule opened up unexpectedly when The Kidnapping of Edgardo Mortara was delayed due to casting issues. When the acclaimed director read the spec script for The Post from first-timer Liz Hannah – which she only penned as a means of shopping herself out to land an agent! – he stated that "this wasn't something that could wait three years or two years — this was a story I felt we needed to tell today." He could not have been more correct.
This true-story period piece, which tells of the Washington Post and it's battle in the 1970s to publish the controversial Pentagon Papers – thousands of leaked documents that detailed the US government's four-decades-long ruse to hide their actual weakened position in the Vietnam War – proves to be more timely and prescient to current world affairs than the latest bungled speech from certain tangerine-tinged world leaders. Besides for tackling the issue of a political bare-knuckle slobber knocker between press and government about the journalistic freedom to pursue and distribute truths to the people even – and especially – when it's at odds with the Presidency, The Post also pins the spotlight firmly on the struggles of gender equality.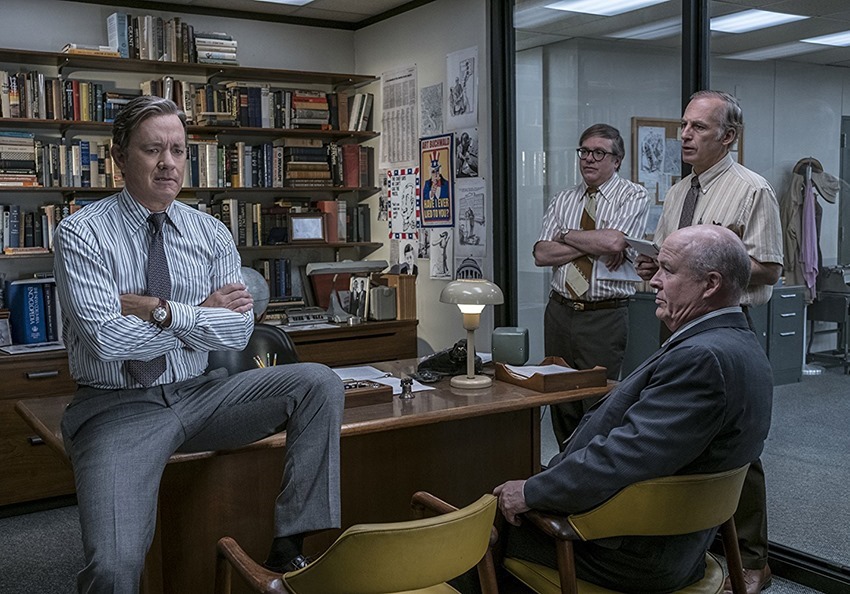 This latter cause is championed by Meryl Streep's Kay Graham, an old-money heiress who lists former presidents and high-ranking government officials as her close friends and who inherited the role of publisher – the first woman to ever do so in US history – of her family's newspaper from her deceased husband. The Washington Post was started by Graham's father but he passed it on to her husband instead of her, because back then, as she states herself, that was just the way things were done. Unable to compete with some of the bigger competition in the newspaper world though, Graham makes the bold choice of taking the Washington Post public on the stock market to alleviate its financial pinch. Or rather that decision is made for her by her inner circle of male advisors, all cigar-smoke and old boy handshakes.
Graham's mounting anxiety about this huge change in the only job she's ever had is pushed to breaking point though when the Post's bristly editor-in-chief Ben Bradlee (Hanks) manages to get a hold of a scattered and disorganized copy of the Pentagon Papers, snippets of which had already been published by the New York Times and which sparked a political and social conflagration as a result of its contents. With the New York Times staring down the barrel of unprecedented litigation and censorship from a panic-stricken US President Richard Nixon and his administration, would the Washington Post face the risk of its own livelihood – and potentially land Graham and Bradlee behind bars – by frantically piecing together and publishing all the evidence they have?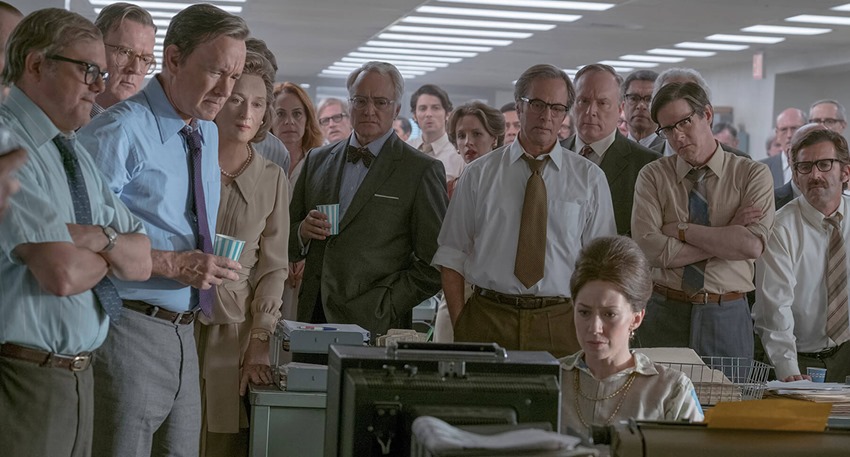 You don't even have to be a student of history to hazard a guess at what Graham and Bradlee ended up deciding, but thanks to Spielberg's fantastic direction the build-up to that moment is an unceasingly tense pot-boiler. Much like director Tom McCarthy did in 2015's Spotlight, that other most recent and equally brilliant film about a real-world newspaper's quest for the uncomfortable truth, Spielberg eschews any flagrant theatrics in telling this tale. What could have been a messy and unwieldy narrative that tries to do too much and thus loses its impact, is presented in a starkly lucid manner that leaves the audience gripped without ever having to puzzle out the legal and political intricacies of what happened. This should come as no surprise though, as providing the latest draft of the screenplay used by Spielberg is none other than Josh Singer, the Oscar-winning screenwriter of Spotlight.
By not encumbering the screen with unnecessary distractions and just sticking to the core tenets of razor-sharp editing, a completely complimentary score by the legendary John Williams and pitch-perfect framing from long-time cinematography collaborator Janusz Kaminski, Spielberg lets this story just stand up for itself. It's not hard to make the allegorical comparison jump between this approach and Graham and Bradlee's quest to strip away the obfuscations and letting the truth of what the US government had been up to just speak for itself.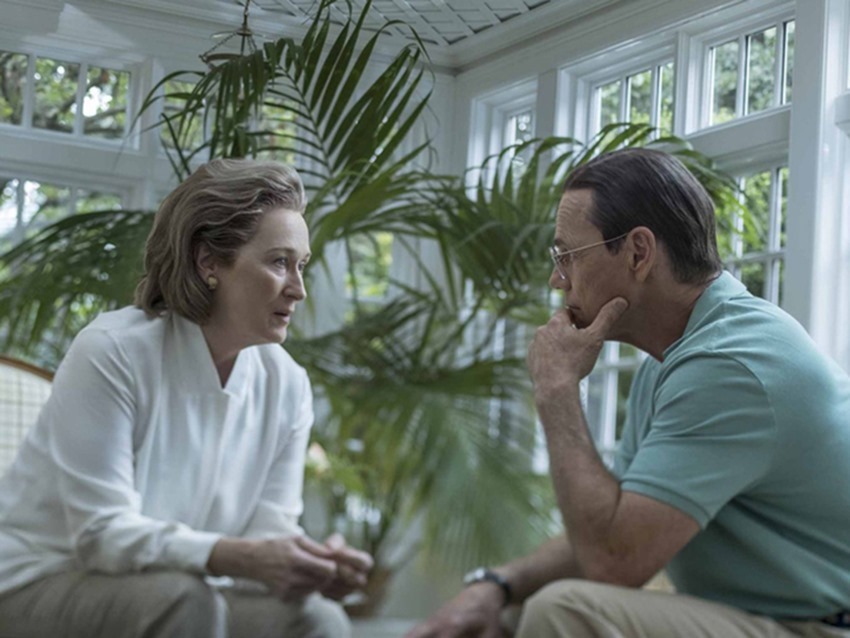 Also, by not over-directing, Spielberg allows his cast to do what they do best completely unencumbered. And boy, do they!. As expected, Streep and Hanks are phenomenal in their roles, and their scenes together are masterclasses in understated, believable performances. In particular, Graham undergoes a cataclysm of emotional growth and turmoil in this movie, and Streep sells it all with aplomb. But the two multiple award-winning actors are not the only thespian highlights to be found here, as the entire cast shines, irrespective of how large or small their roles are.
Particularly impressive is Bob Odenkirk as Ben Bagdikian, the old-school bloodhound newspaperman who was instrumental in getting hold of the Pentagon Papers. Bruce Greenwood, sporting hair so slick-backed you can smell the Brylcreem through the screen, is also fantastic as US Secretary of Defense Bob McNamara, the conflicted politician whose investigation in the US's involvement in the Vietnam War is what lights the fuse on this bomb.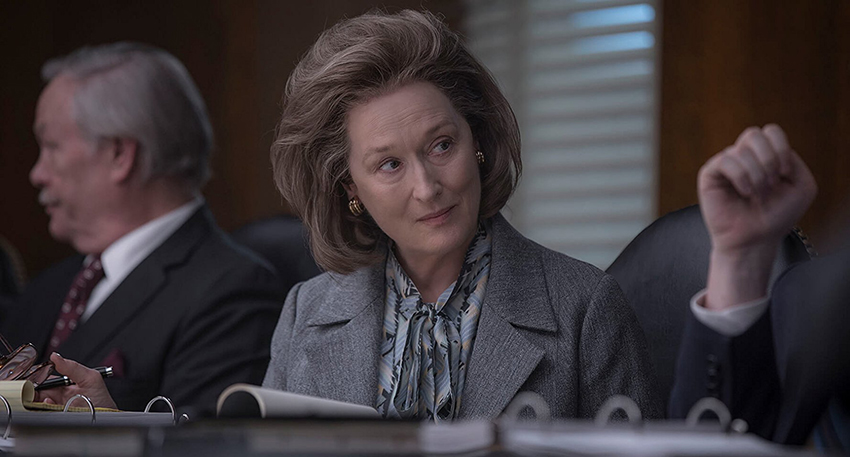 And explosive is exactly how I would describe this movie as Spielberg turns in a 116-minute study in how just filmmaking fundamentals done masterfully can produce a film to blow you away. Well, almost. The film's final act is unfortunately brought down a peg by a deflation of that gripping tension as well as a reliance on overly sweet and heavy-handed sentimentality. But these stumbles are not enough to detract from just what a superb film Spielberg has delivered here. And a necessary film as well.
In a time where we are bombarded on a daily basis by presidents decrying every journalistic criticism as "FAKE NEWS!", and where the woman of Hollywood are spearheading an emancipation from the tyranny of lustful power hungry men who hide each other's sins, The Post stands as a powerful and triumphant anachronism, showing that these fights are nothing new and they can and will be won.
Last Updated: January 26, 2018
Director Steven Spielberg and his incredible cast, led by thespian powerhouses Meryl Streep and Tom Hanks, turn in a historical drama that's every bit as gripping as it is prescient to current sociopolitical climates.