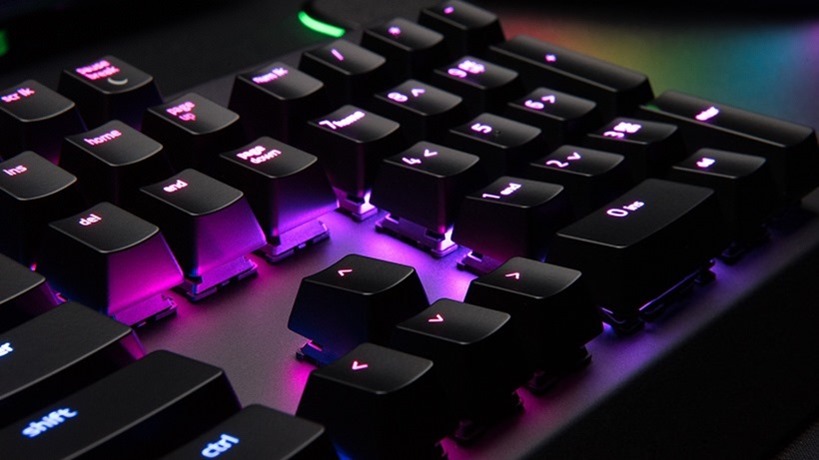 Razer's Blackwidow is so popular, it's almost synonymous with PC gaming itself. The big, black and bulky mechanical keyboard first debuted in 2010, and has seen slight iterative changes in the five years it stood tall above most other competition. To its own detriment though, Razer's apprehension to change allowed competition to thrive in that time though, with the likes of Corsair specifically making a name for themselves with their own K-series keyboards.
The Blackwidow X Chroma is Razer's answer to that call, and it's a keyboard that does a lot to convince you that it's still the leader of the pack. If you have the pockets deep enough.
Where the old Blackwidow you know (and hopefully loved) might have been a massive piece of plastic on your desk, the Blackwidow X is a sleeker, more robust metal one. The plastic body has been entirely replaced with a sexier solid slab of metal, which gives the keyboard a premium feel like no other. The metal finish means no fingerprint oils will transfer to the keyboard surface like in the past, will also reducing the spacial footprint it takes on your desk. The Blackwidow X is slightly shorter in height and width, which definitely suit me on my already cramped desktop space.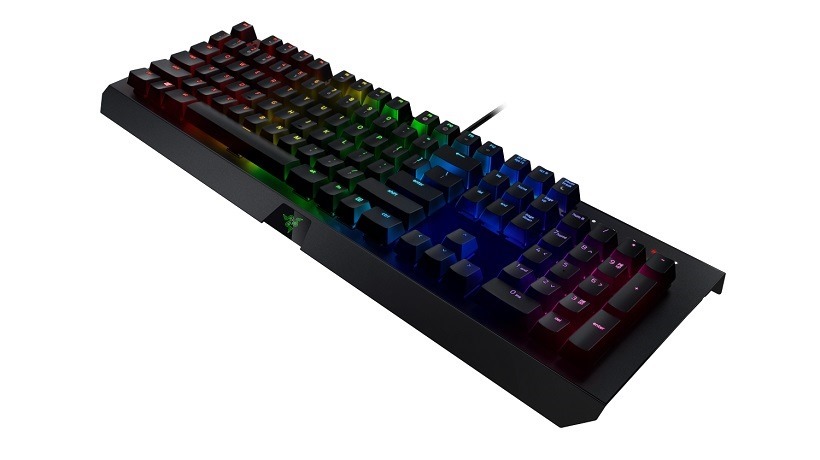 The smaller footprint does mean that certain features are inevitably cut, with the biggest change from the past design being the exclusion of the dedicated Macro keys row. The six buttons no longer take up space on the left of the keyboard, with the Blackwidow X instead assigning them to classic function keys at the top. Along with dedicated Macro keys, the Blackwidow X also drops a USB pass-through port along the side (which was pretty handy in the past), as well as dedicated media keys. The exclusion of a volume rocker, specifically, seems like a glaring omission on a premium keyboard such as this.
The added cable routing system on the backside of the keyboard is a nice addition though. It's the small things.
There is, however, no such disappointment when it comes down to the most important part of the Blackwidow X: its keys. Retaining the same Razer-produced green switches, these clicky keys afford you 80 million keystrokes per switch, and come again in a quieter orange variant if you choose (as well as classic MX Cherry Blue in some cases. The Razer greens in our sample are the same as the ones I used back in my previous Blackwidow review, and my love for them hasn't diminished. They're loud, but the mechanical keys offer an almost unparalleled sense of responsiveness.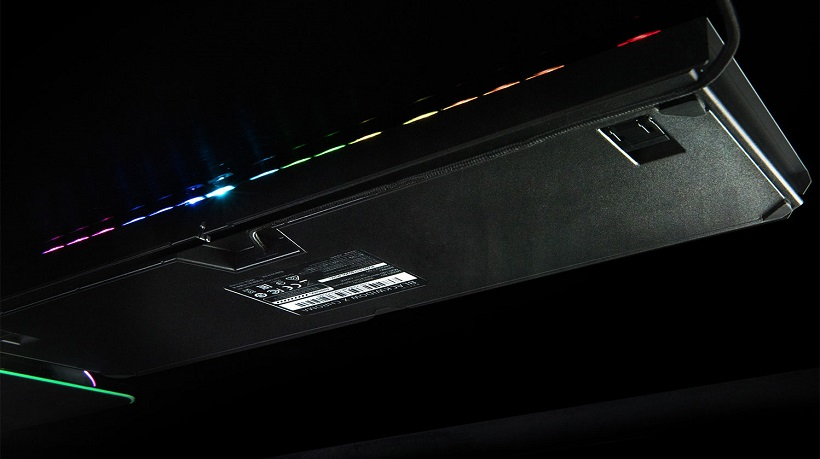 With a slightly long key travel  you'll be assured of your clicks as you make them, making typing and gaming alike blissful. Razer's own enhancements to their green switches also mean they're a touch faster than the classic MX Cherry ones, which will give you the edge in games where split-seconds are the difference between winning and losing. But for the average gamer like me they just offer comfort like no other, with the Blackwidow X being my preferred keyboard to type everything one from this point forward.
Of course having Chroma appended to the end of the name comes with its own set of flair. Like most other gaming peripherals out now, the Blackwidow X features full 16.8 million colour RGB lighting across the board. The LEDs are encased in a clear shell, and placed above the key switch. This prevents possible ESD burnout with extended use, but also means the illumination is even and bright, propelling the Blackwidow to the top of the class almost immediately. Simply put, the keyboard looks stunning illuminated, whether it be a single solid colour or a kaleidoscope of pulsating colours.
It should be noted though that sometimes the Blackwidow X shows off a little too hard, and I found myself having to elevate my monitor purely to escape the glare the LEDs imprinted onto the screen. Even with the brightness dialled down to its lowest setting, the front of the keyboard bounced light right off my screen, which was a real nuisance during games. Most monitors I suspect might have higher necks than mine, but it's something that I've never really had to consider when picking out a keyboard.
Of course lighting can be turned off entirely, but quite frankly that's not something you're likely going to want to do. Not when the Blackwidow X comes with such amazing lighting effects, delivered straight from the Razer Synapse app that has been controlling all of their products for some time now. If you've got any other Razer hardware you can synchronise profiles between your devices with the click of a button, with Synapse still being one of the most user-friendly software solutions out there for customisation.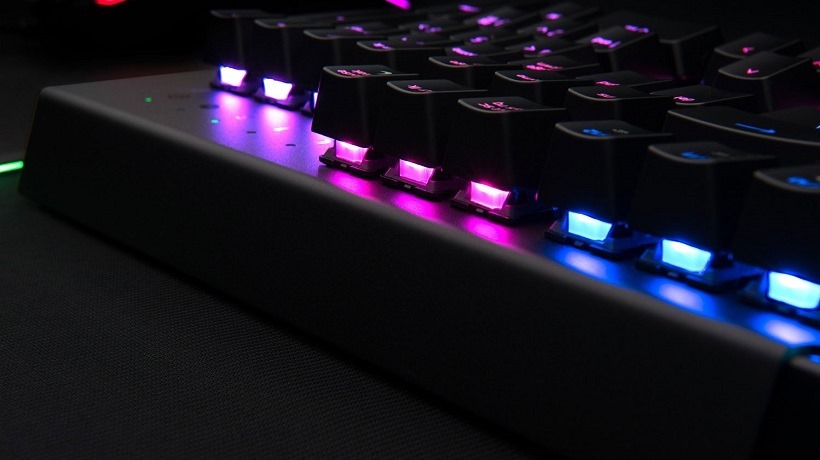 If you're new to the Razer ecosystem, getting setup is just as easy. You have the choice between six lighting effects, ranging from a breathing colour change to reactive typing pulses (annoying and gorgeous at the same time. You can even divide and conquer the keyboard on your own terms, illuminating individual sections or keys to your choosing, in whatever colour you choose too. There's an unprecedented amount of control here, again aided by a friendly user interface that makes saving and swapping between profiles incredibly simple.
It's even better if you happen to find yourself playing a game with built-in Razer Chroma support. These are few and far between, but firing up a round of Overwatch presented me with a pleasant surprise. The native support for the game brought the Blackwidow X to life, illuminating important keys in-game and keeping it a warm orange between rounds. Swapping between characters pulsated the keyboard according to their dominant colour, while others featured special lighting effects entirely. Lucio, for example, would illuminate the keyboard in either green or yellow, depending on whether you current have healing or speed boosts active.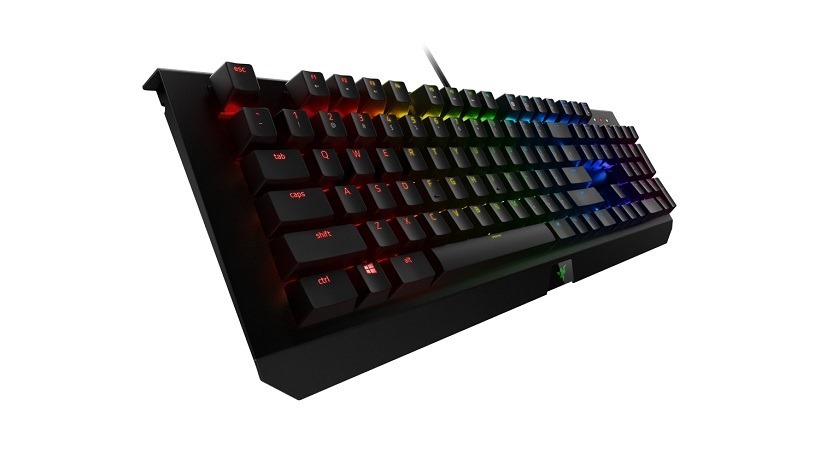 This is rare given the supported games list, but gives the Blackwidow X a little bit of character. That's good too, given some of the missing classic features the Blackwidow has had as a staple for so long. Macros can still easily be recorded through Synapse, but they might not be enough to soften the blow against a missing, dedicated key row. Media features are easy to access through function keys, but a dedicated volume rocker and media options are almost standard on competitor boards. In slimming down and refining the Blackwidow, Razer has subsequently gone back in time a little too.
A tough pill to swallow considering that the Blackwidow X Chroma is – bar the regular, $170 BlackWidow – the most expensive keyboard Razer is currently putting out, ringing in at around $160 (or just below R3000,00 locally). That's a premium price for a keyboard that looks the part, bit doesn't always offer the right amount of features you'd expect. Corsair's K-series does a better job with offering the full package and Cherry MX switches (if you prefer), but comes with it's own set of drawbacks too (it's metal finish isn't the greatest to keep clean).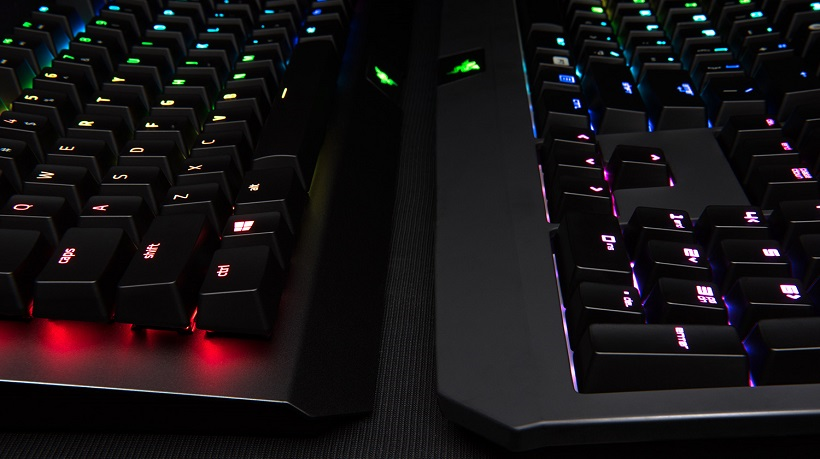 So at this high level tier, it comes down to preference, and the Blackwidow X Chroma definitely makes a compelling argument. It's a supremely built keyboard, with a sleek metal finish that really adds premium to the Blackwidow brand. Typing is as sublime too, and the loud Razer keys are just as pleasurable and fast as ever. The Blackwidow X Chroma is a great keyboard with a high price, but you'll struggle to find much better within the same price bracket.
Last Updated: July 18, 2016
Razer Blackwidow X Chroma

The Blackwidow X Chroma is easily the best keyboard Razer has produced in years, and makes up some of the ground they lost to complacency. Its metal finish and consistently well-engineered green keys keep typing and gaming feeling great, while its lighting is some of the best you're likely to see on a keyboard. It's expensive, but worth every cent.