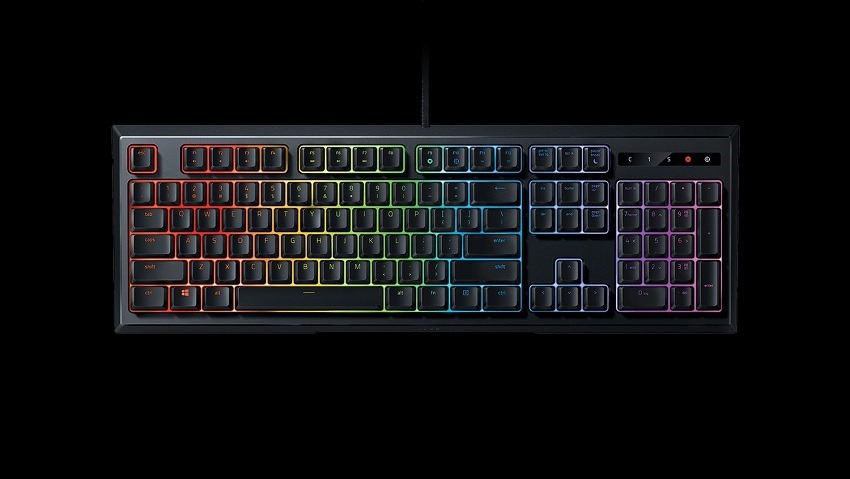 Mechanical keyboards are the most sought after peripherals for a desktop – gaming or otherwise – for good reasons. The satisfaction of a click or the speed of a linear switch is something membrane keyboards simply can't match. Accuracy and responsiveness come at a price though, with most mechanical keyboards (especially in the gaming realm) coming with a steep entry fee. The Razer Ornata is an attempt to mitigate this, which more often than not ends up disappointing.
Razer has been in the game of first-party switches for some time. Their green clicky mechanical switches are reserved for the likes of the Blackwidow, and the Ornata doesn't encroach on this space. Instead, Razer has attempted to create a hybrid – an array of membrane dome keys that are activated with a sort of mechanical switch. This "Mecha-membrane" technology is meant to keep the price down and deliver a pseudo mechanical experience, which it sort of does. Almost. Some of the time.
Because all the keys are mounted on a membrane surface, each keycap still feels a little mushy and weird to the touch. Out of the box the feeling is immediately sub-par to the individual keycap feeling of a true mechanical keyboard, and that's not going to sit right with you if you're already not happy with a strict membrane. There's an extra layer of satisfaction to the clicks though (which sound a lot like MX Cherry Browns), and the tactile feedback is certainly a step up from what a membrane keyboard offers. But it never feels quite right, even if it does improve performance in practice.
The shallow keycaps and semi-mechanical nature of the keyboard does mean that strokes are processed a lot quicker, even if the accuracy often isn't always there. Typing on the Ornata wasn't too different from typing on my regular Sidewinder X8, and only really corrected a handful of mistakes. it's a far cry from the difference you'd feel on a Blackwidow, but that comes with an understandable reason. The Ornata is only $99, so you're cutting a lot from the price for the second-rate experience.
But you're also gaining some of the best features Razer often reserves for its best products. The RGB lighting, for example, manages to produce the same 16.8 million colours that nearly all of Razer's keyboards do, and it's still pretty stunning. Coupled with the Razer Synapse software (easily the best peripheral software on the market) you can fine tune your lighting to your needs with many standard effects pre-sets, colours and profiles. Games like Overwatch still make use of the Synapse API, so you'll be treated to game and character specific lighting too, which is always a treat.
Construction itself also falls more on the side of subtle than the over-the-top designs of so many gaming devices. The plastic base is pretty light and not too domineering on your desk, and the included magnetic palm rest is something I expect from more keyboards going forward. The plastic keycaps could feel a little better, but they're pretty resistant to oils from your hands which is always something to look out for. There's no dedicated macro (you can program existing keys and switch to a macro mode) or media keys to speak of, but certain functions are mapped to the FN keys. Still, a volume rocker would've gone a long way.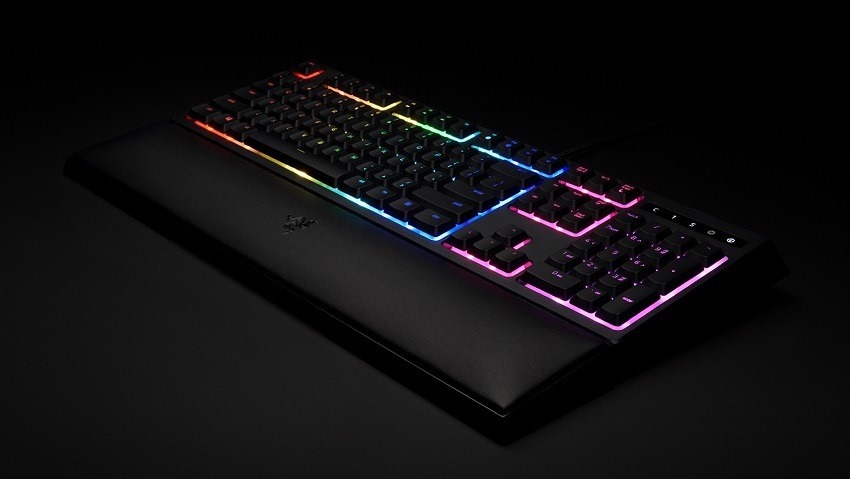 With the slimmer construction come more concessions. There's no USB pass-through to speak of here, which goes double for any auxiliary audio options. Both are present on the pricier Blackwidow and similar models in that price range, so it's not too unexpected. The keyboard still requires two USB slots to work though, which might be something to take into account if you're already pressed for options on the back of your desktop.
The Ornata then is simply just a keyboard a little out of touch with the market it's aiming for. Sure it's a cheaper alternative to the mechanical dominants, but it's also an experience that so far removed from mechanical that it struggles to justify its own existence. Paired with that fact that smaller keyboards offer mechanical switches but ditch the colourful flair, and you're left in a position that asks one question: Do you want a flashy keyboard that screams gaming but underperforms, or a true mechanical one that ditches that unnecessary features. If you answer the former, maybe the Ornata really is for you.
Last Updated: June 8, 2017