Recent rustles on the grapevine indicate that Paramount and Hasbro have decided to reboot the G.I. Joe movie franchise – and no amount of introspection on my part can help me understand why. Don't be mistaken, my hesitation is most assuredly not borne out of any fealty for the wishy-washy two movies we've already received. Instead, I just can't see what the point would be since we've already got about as accurate a live-action adaptation of a 1980s testosterone fueled, toy-selling Saturday morning cartoon as we're ever likely to ever get in the Fast and Furious franchise.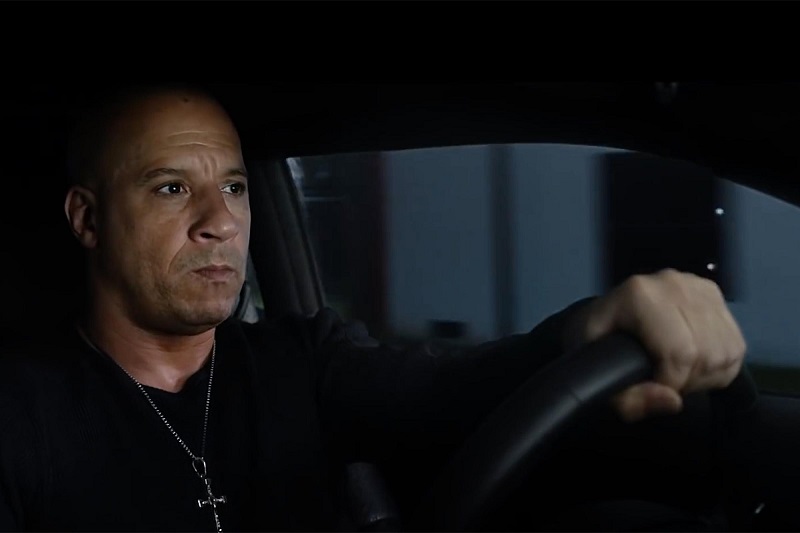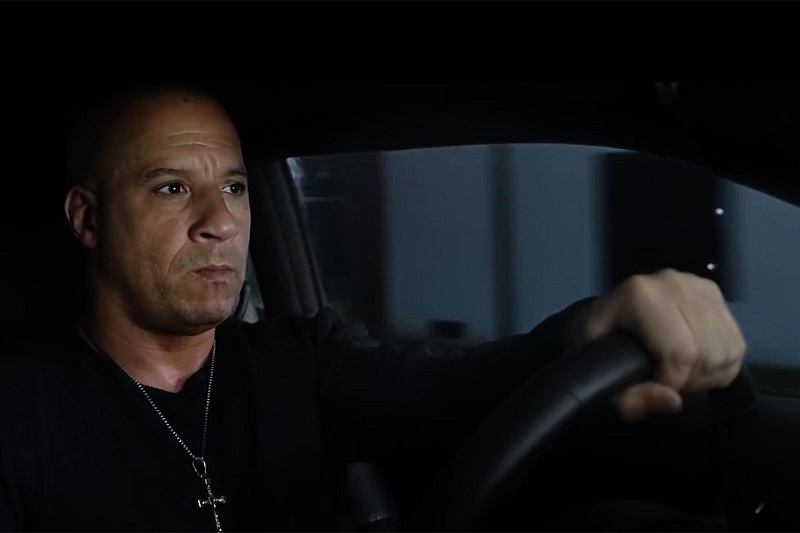 Yes, the box office record-busting series is not actually based on any animated fare – recent or from the past – but much like with the supposedly immutable laws of physics, they really could not care any less about that little technicality. After all, this is a series of movies whose roster of actors are verifiable action figures. Series lead Vin Diesel as Dom Toretto, patriarch of this team of pumped up wily-coyote-road-runners, in particular appears to be molded from plastic… and has the emotional depth to boot.
But you don't turn up for Fast and Furious movies for the tender emotion… Well, actually you (surprisingly) did for Furious 7. And unfortunately for latest installment The Fate of the Furious (or as it's more blandly known locally: Fast and Furious 8), it has none of that unexpected depth to raise its game. Neither does it boast the "Oceans 11 on NOS" slickness of franchise opus Fast Five, or even the superior bone-breaking fights of Fast & Furious 6. What it does have though is a symphony of action spectacles, bigger and louder than anything we've seen thus far. And two not-so-secret weapons in Dwayne "The Rock" Johnson and Jason Statham.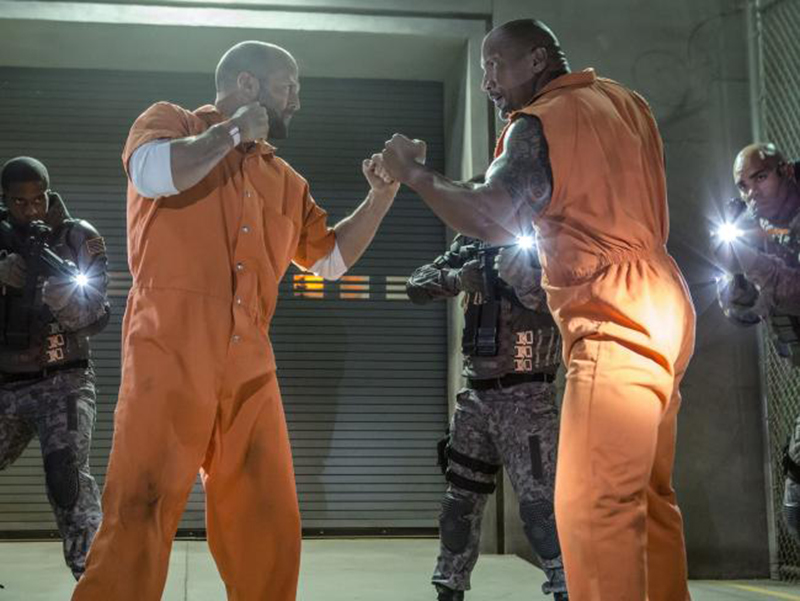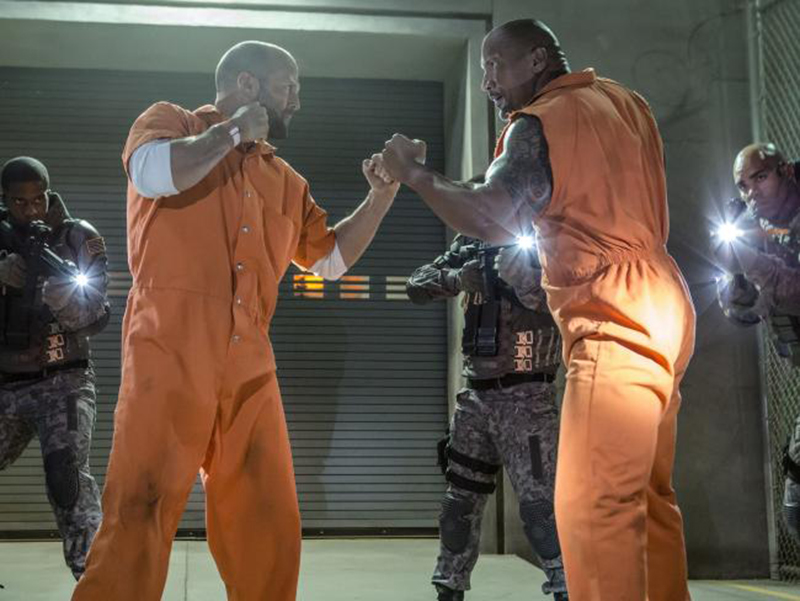 The former acted as franchise viagra in Fast Five with the muscular arrival of his Special Agent Luke Hobbs, while the latter gave the entire series its first truly great villain in Furious 7's Deckard Shaw. This time around though, after meeting up with Hobbs in prison in a story beat I'll let you discover for yourself, Shaw is kinda-sorta on the side of the good guys. This recruitment is at the hands of government spook Mr. Nobody (Kurt Russell) and his new sidekick, affectionately nicknamed Li'l Nobody (Scott Eastwood). The Nobodys need to add the martial firepower of Shaw to the rest of the familia to allow them to take down the toughest opponent they've ever faced: Dom Toretto himself.
The "Why?" of Dom going rogue is the mystery fuel that drives Fate of the Furious' early half. Its reveal is, unfortunately, a lot more mundane than I was expecting but it is definitely in keeping with this character and world. As for the "Who?" behind Dom's flip-flopping, that would be Charlize Theron's Cipher, a super-hacker with a nefarious master plan who can cripple/control anything with a remote signal as easily as you search for cat videos on Youtube (And really that's about all there is to the character. Sorry, Furiosa fans). She can even turn an entire city's cars into her own personal remote controlled tsunami of automotive death with a couple of keystrokes.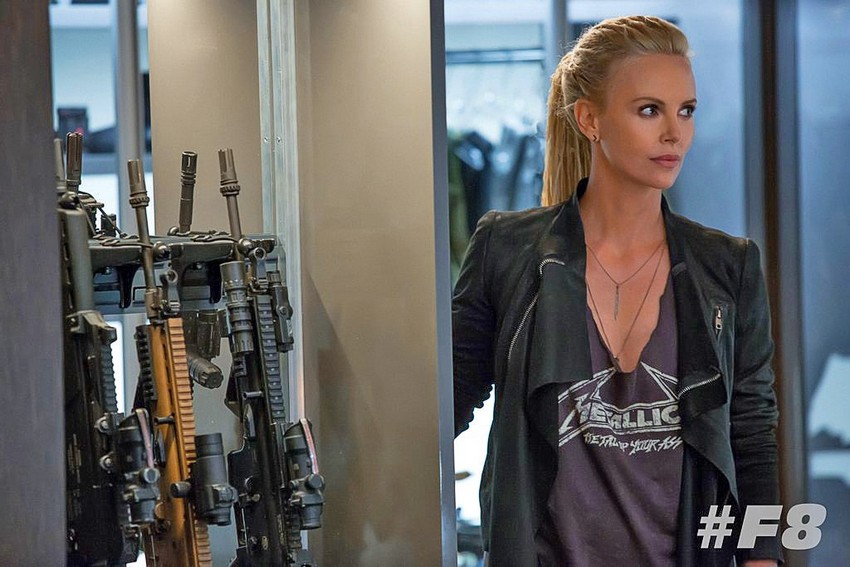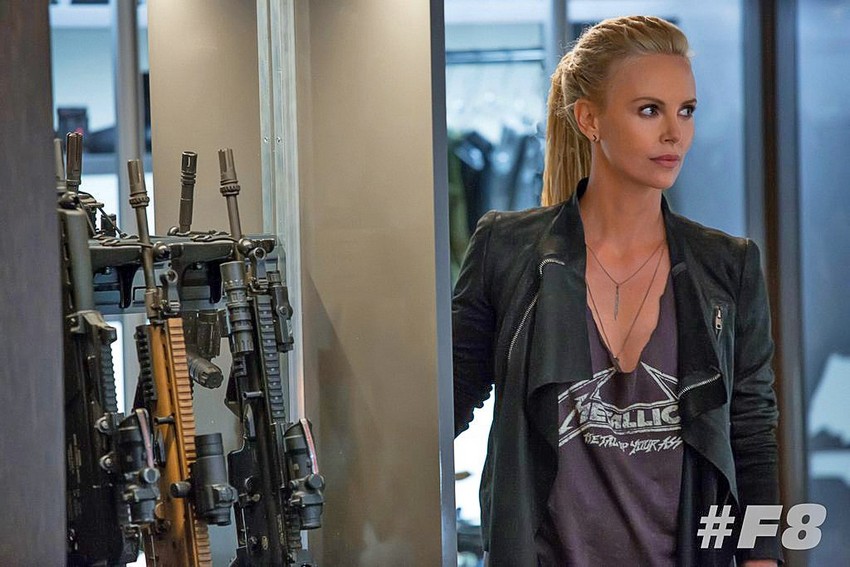 That last bit is just one of the many bonkers action sequences new director F. Gary Gray has to somehow engineer to life in Fate of the Furious. Gray is coming off the decidedly more terrestrial Oscar-nominated biopic Straight Outta Compton, but is not unfamiliar with vehicular hijinx having also directed the Italian Job remake. And for the most part he acquits himself well here, imbuing most of the real-world vehicular mayhem with a crunchy physicality that is much appreciated. It's when things start heading into that previously mentioned cartoonish abandonment area where the cracks start to show. His action direction is most definitely not terrible, but it lacks some of the bombastic visual flair that longtime franchise helmer Justin Lin employed to make you buy into the ridiculousness more readily.
Ironically though, when the action moves away from four wheels to four limbs, he then takes things just a tad too far. This is nowhere more apparent than whenever Hobbs gets involved in the fisticuffs. The running gag from franchise critics about how these characters have essentially turned into superheroes is for all intents and purposes realized here by Johnson playing an only slightly less angry Hulk. Luckily for Fate of the Furious though, Dwayne Johnson is a walking man-mountain of charisma. Even luckier: So is Jason Statham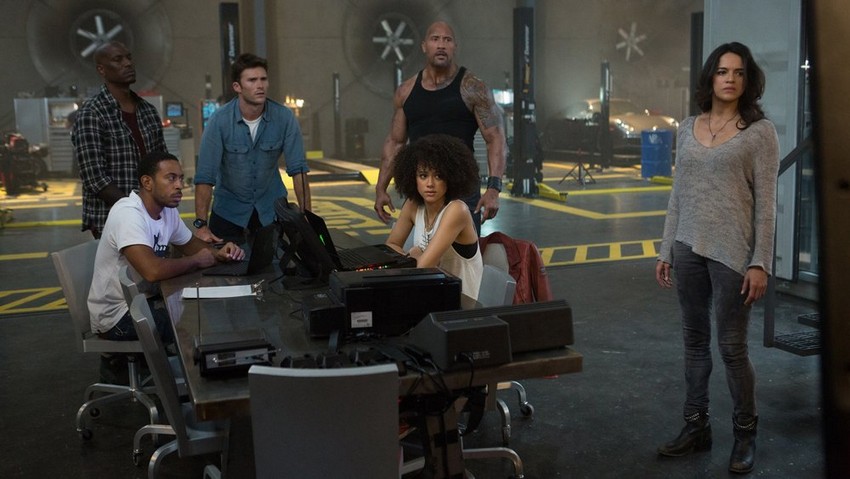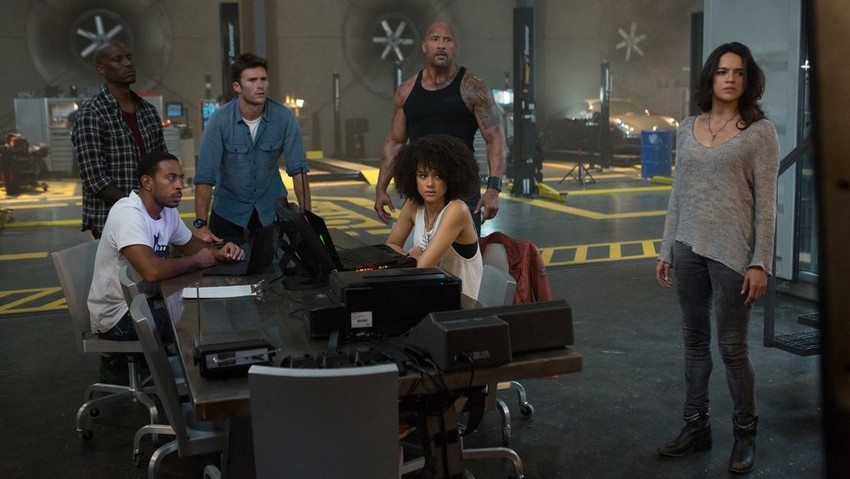 The duo's back-and-forth love-hate relationship results in endless scene-stealing and the movie's biggest guffaws. While the rest of the cast – Dom's betrayed new wife Letty (Michelle Rodriguez), tech whiz Tej (Chris "Ludacris" Bridges), hacktivist Ramzey (Nathalie Emmanuel), and clueless motormouth Roman (Tyrese Gibson) – all get their own time to shine, its Johnson and Statham who most definitely make up the bulk of the highlight reel with their enervating chemistry, imposing physical skills and effortless comic timing. I would happily watch an entire spinoff movie centered around this odd couple, hilariously bickering as they break skulls.
As for main man Diesel, Gray actually manages to wrangle up some bouts of honest-to-goodness effective emotion from him. This should come as no surprise though, as it was also Gray who directed the carbon fuel monikered actor in his most dramatic role in A Man Apart. These moments in Fate of the Furious are fleeting though, and it's regrettably actually Diesel that is the weakest link on this team. This franchise has always been stuffed with cheesy dialogue, but when coming from on-screen charisma superchargers like Johnson or Statham – or even the magnificent Helen Mirren showing up for a brief but brilliant Cockney turn – it works. With Diesel, with his delivery like a slow-motion rock slide, it's just cringe-worthy.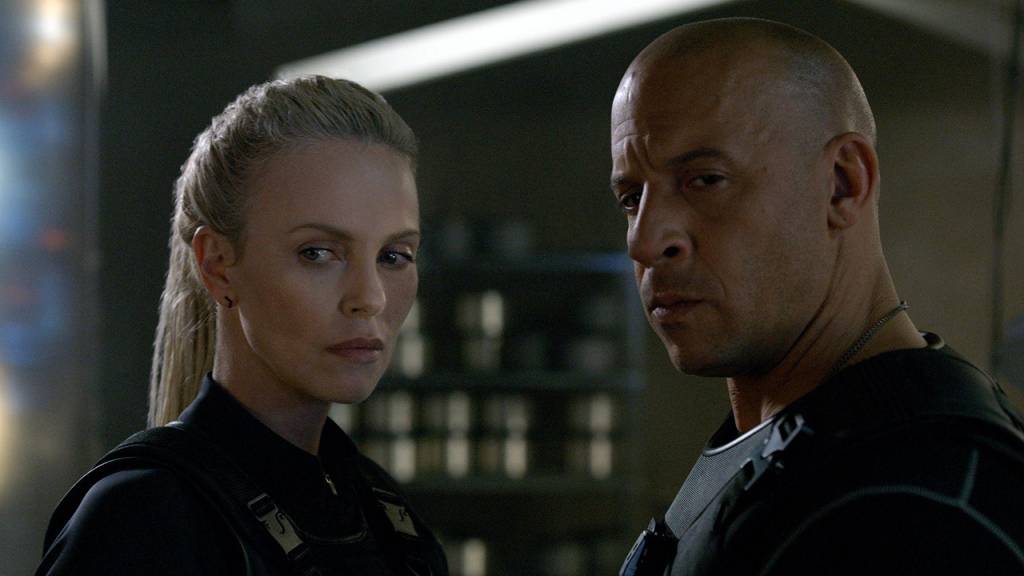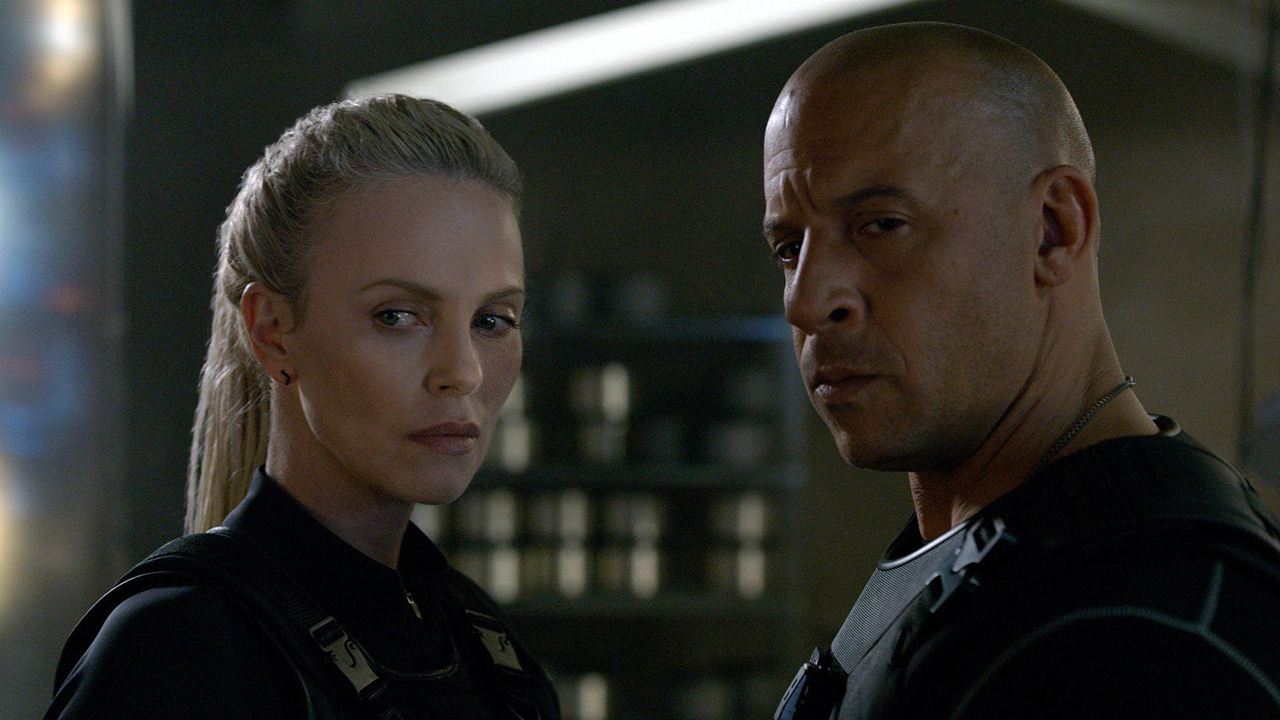 All of this is actually par for the course though. This is very much a Fast and Furious movie, for better or worse. It's about as subtle as using a nuclear submarine to chase down and sideswipe a group of supercars on a vast iced over lake in front of a secret Russian military base – that is an actual thing that happens here – but it's also a cartoon blast. You may roll your eyes but you'll just as often distend them at the levels of ridiculous action display here. Overall this may not be the best of the recent entries in the Fast and Furious franchise, but it definitely is a fun one.
Last Updated: April 13, 2017
The Fate of the Furious

New director F. Gary Gray undoubtedly delivers everything you've come to expect from a Fast and Furious movie, irrespective of whether those expectations were of good things or not. The result is a gloriously ridiculous cartoon of a movie, anchored by habitual scene-stealing from Dwayne Johnson and Jason Statham, that may not measure up to some of its predecessors, but is still a fun ride.