I am not a creator. I'm no good at conceptualising things and even worse at putting them together, so on the surface, Super Mario Maker 2 doesn't seem like something I'd enjoy. And, if we're honest, when it comes to the game's creation suite, it's not. I've tried my hand at using the game's ridiculously robust, easy-to-use toolset, but I'm so creatively lacking that the height of my prowess has been in poorly recreating Super Mario Bros World 1-1, possibly the most overused level in the history of videogames.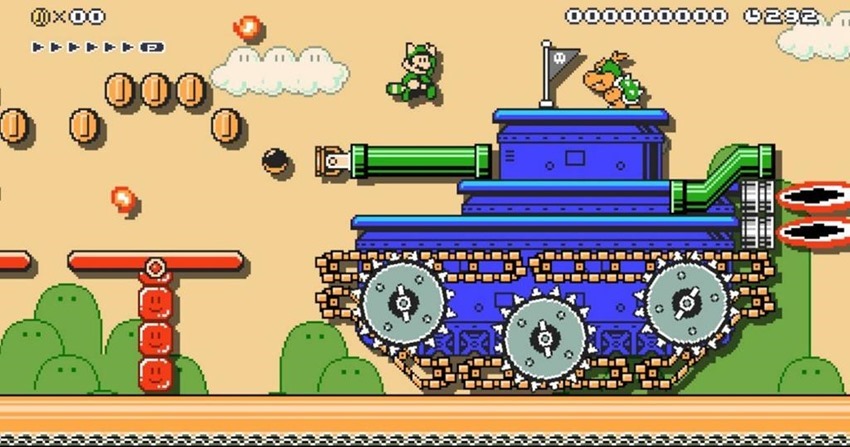 Using that tool is relatively easy, provided you're using the touch screen and not relying on the compromised, but necessary button controls. Even so, it's probably worth investing in a stylus, because my own stubby fingers just aren't up to the task of accurately placing, replacing and moving blocks on the Switch's little touchscreen. The resistive touch-screen on the Wii U and even the 3DS, with their pointy little styluses are far better suited to making things in Mario Maker, so it's worth investing in a capacitive one to use on the Switch.
Creating levels in Super Mario Maker 2 really is as simple as selecting things and placing them on the screen. As with the first game, the more you use the creation tools the more you unlock, but it's a little less restrictive in what it offers you from the onset. While that game was stingy with the tools offered to beginners, doling them out slowly, Super Mario Maker 2 gives creators nearly everything they need to fashion incredible levels from the start. There are even new features and tools to not only make designing levels easier, but more engaging and interesting too.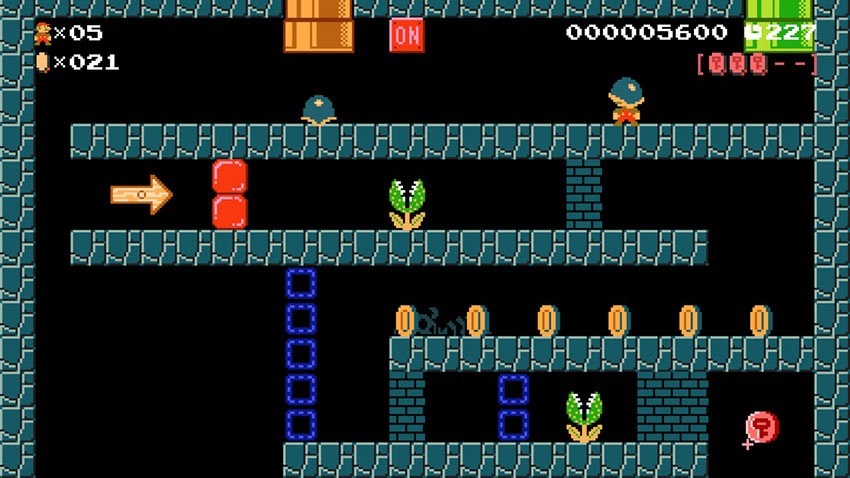 For starters, players can effectively reskin and theme their levels with just a few taps. Creators can switch between any of the game's styles with ease, replacing the aesthetic from Super Mario Bros and restyling it to look like a Super Mario Bros 3 level with ease. These levels don't just nab the requisite aesthetics, but the mechanics too. Levels can be made to look like they're yanked from Super Mario Bros, Super Mario Bros 3, Super Mario World, New Super Mario Bros U and the newly added Super Mario 3D World. While the last one takes its aesthetic cues from a 3D game, they're transformed into a 2D plane, though these levels can only be made in isolation. Each theme takes on the mechanics of it host game, so Mario 3 levels have transformative super leaves, changing Mario (or his toady pals) into Raccoons, Super Mario World ones have capes, and Super Mario 3D world ones give you the bells that give players catsuits.
There are new clear conditions too, allowing levels designers to unleash their creativity. Levels can be set so that players are only able to clear levels if they've collected enough coins, not taken damage, or reach the goal with a fire flower, for example. It opens the creatives possibilities to level creators even more – and the sort of stuff that I've seen already has me convinced that we'll see new, incredibly clever levels for years to come. And thank god, because I really suck at making levels myself.
Super Mario Maker 2 though, is a game of two halves. In addition to the creation suite, there's a delightful campaign available.
Instead of the usual trope of Bowser kidnapping the princess and Mario heading off to save the perpetual damsel in distress, here, Mario (in his builder guise) is helping to maintain Princess Peach's castle, with the help of an array of coloured Toads. As work completes, a hilarious mishap occurs and the castle is completely eradicated. It's up to Mario and the Toads to rebuild, but to do that they'll need to come up with the cash to fund the repairs. It's a paper-thin narrative device from a series that already has little in the way of storytelling. Really, it's just an excuse to showcase an array of inventive courses.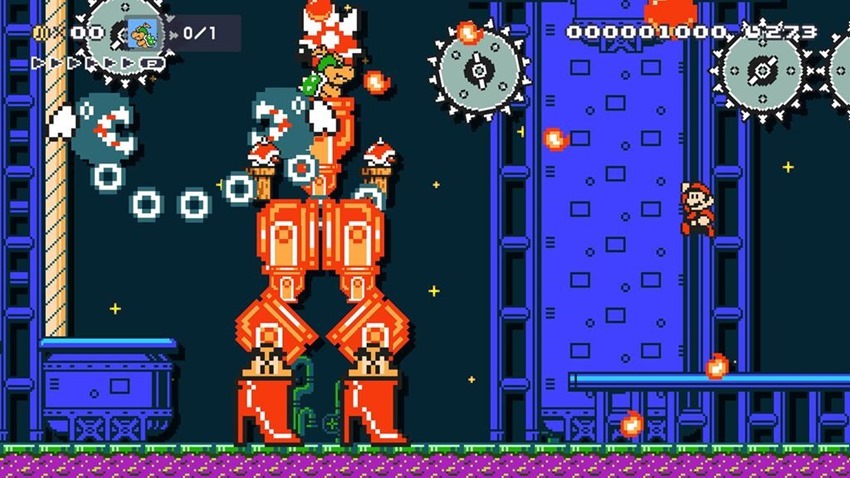 To earn cash, Mario gets jobs from the Taskmaster – and those jobs are, effectively, just Mario courses of varying difficulty. The more difficult the course, the more cash you'll get for completing them. You'll also get to keep the coins you collect through each course. They're courses as you'd get made through the game's creation tools, so they have different themes, gimmicks and win-states.
What makes the dozens and dozens of bespoke levels you'll play through as you earn enough coin so damned good though, is that Nintendo's levels designers get to take the shackles off. Because levels have no overarching worlds, level designers need not stick to any sort of template. You might play a level that's a clever little puzzle that looks like it's yanked from Super Mario Bros 3, and in the very next it'll look like it's a horizontal shoot-em-up made from assets pulled from 1980s Super Mario Bros games. There are countless times while playing through the game where I had to stop, put the Switch down, and remark, out loud to nobody in particular, that "that was damned clever." There's also some new remixed music from Nintendo's Koji Kondo – sound designer on the original Super Mario Bros – and let me tell you, it's pretty magical.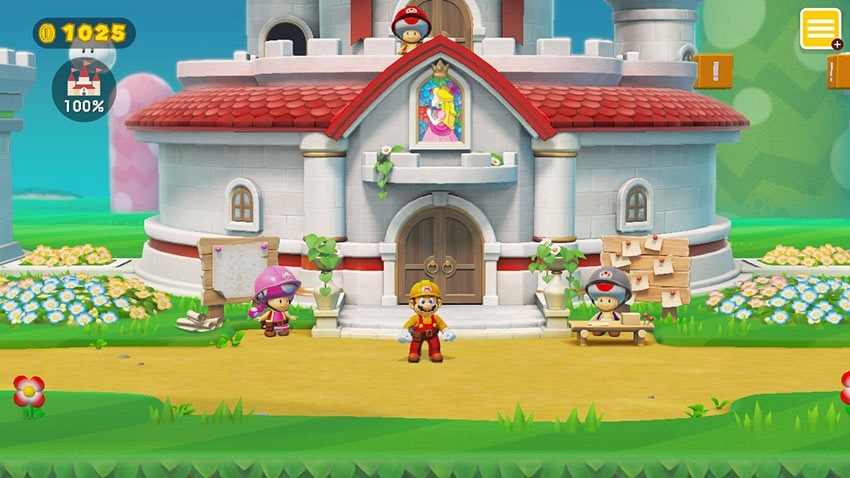 The levels are a masterclass in level design – and even when you think you're all done, there's new post-completion levels and mechanics that change things. If you're struggling on any of these courses (and you might, because some of them can be frighteningly, maddeningly difficult) there are a few tools at your disposal. For starters, once you've died in a level you're able to remix a level, adding from a set number of power-ups, blocks and other items or abilities that could make your journey on a single course easier. If you really, really can't finish a level, you can call in Luigi to finish the level for you, earning you that completion coins, but netting you zero for the coins you might've collected if you played through the level properly. It makes the whole thing terribly accessible, with even the game's toughest levels made manageable.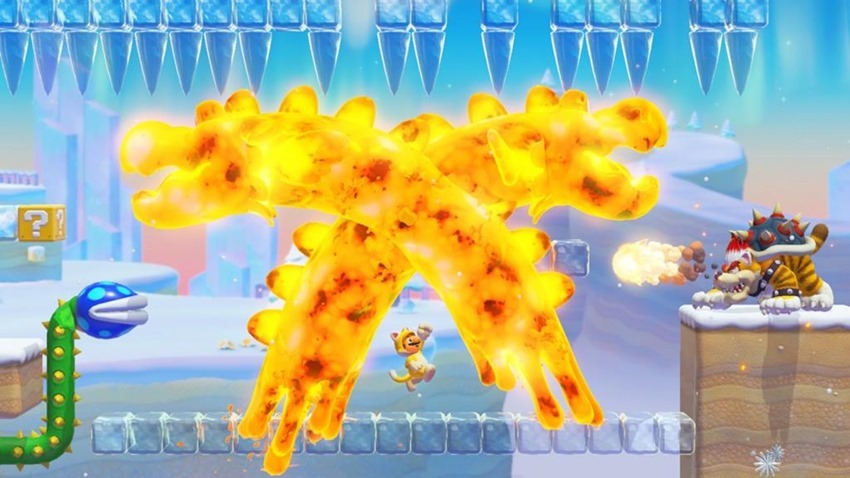 And then there's something else that could just end up being my new addiction. You can jump into online vs or co-op multiplayer courses with random people on the internet. It'll cycle through courses tagged with either, pitting you against or pairing you with strangers as you race towards the goal or try to finish the completion objectives. When it works right, it's a frantic bit of fun, but it does seem that it works on proximity. That means those in the US or Europe will readily and easily find others to play with, while those of us in quieter regions like South Africa may have to arrange for playdates just to find games. While you can only play with strangers right now, Nintendo has said it'll patch in support for playing with friends – and honestly, that patch can't come soon enough. Curiously – and it could just be me – but I couldn't get local co-op on joy-cons working, leaving playing the game a decidedly single-player affair except online.
Last Updated: June 26, 2019
Super Mario Maker 2

The original Super Mario Maker is an enduring bit of software, but this makes up for just about every one of the original's transgressions and adds a full-fat campaign to boot. It's lovely stuff, offering a world of infinite Mario that has a little something for everyone.

Super Mario Maker 2 was reviewed on Nintendo Switch