Every sport has a legend. A superstar who completely dominated on and off the field, track or ring. Boxing had Muhammed Ali, Formula 1 racing had Michael Schumacher and the Olympics had…shit, I don't know? The Flash? I'm certain he's real but whatever. Point is, none of these guys can compare to the success of Valentino Rossi. Easily the most dominant Italian on two wheels , Rossi is the legend of the MotoGP circuit, having claimed seven championships over the years.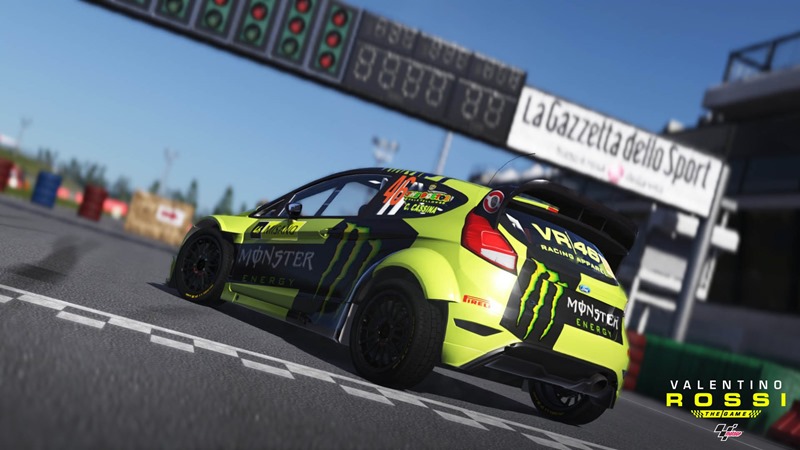 Number 46 is forever linked to Rossi. When you talk about VR, it's not Virtual Reality that you're discussing. It's Rossi and his many victories, his track rivalries with the best of the best such as Max Biaggi and Casey Stoner. Any developer who wants to create a game bearing VR 46 on the label, has a lot of work cut out for them in digitally transferring that legacy to an interactive experience. Something that developer Milestone has managed to both achieve and fail at.
Sounds confusing? Not really.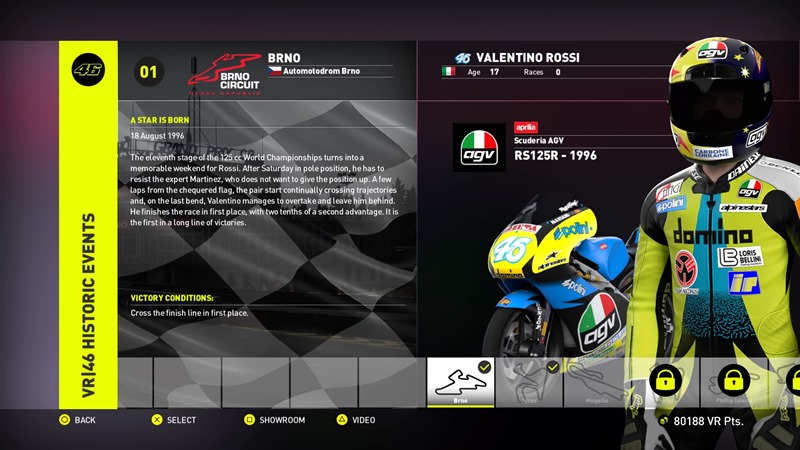 Here's the good: Valentino Rossi The Game is an absolutely solid and capable tribute to the man himself. Anyone who buys this game, is most likely the kind of person who can't wait to turn 46, owns a Yamaha motorcycle and wishes that they had a curly mop of hair. The core appeal of Valentino Rossi: The Game, is a legacy mode that looks back at Rossi's best moments on the track.
Spread across 20 distinct races that stretches from Rossi's first victory at the BRNO circuit in the Czech Republic to his first win on a Yamaha at the Phakisa Freeway circuit right here in good ol' South Africa, the actual history behind each race is magnificent. There's something special about the attention to detail, Rossi describing the race itself and offering tips for the track while archive footage plays out. Wonderful fan service, as players attempt to emulate the exact conditions that made Rossi a legend on the track.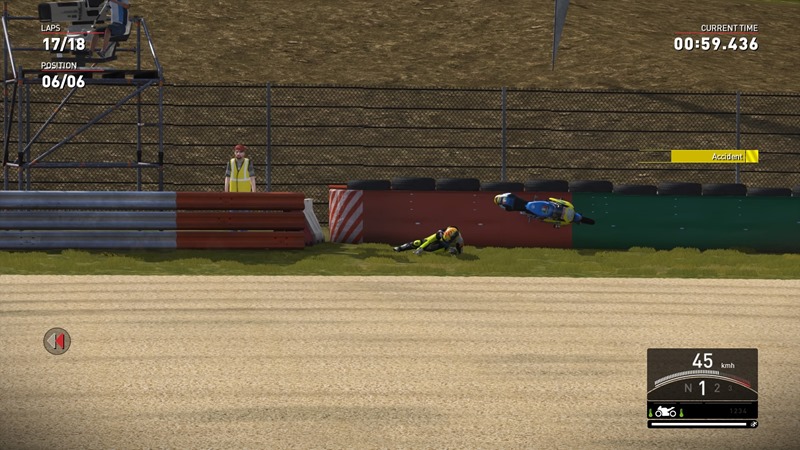 A Rossipedia and a chance to "challenge the doctor" adds to the adoration, although the rather sudden availability of extra Rossi DLC stings a bit. On the surface, Valentino Rossi: The Game is the ultimate expression of 46 fandom. And then you look at the engine, where is where the game starts to become sluggish.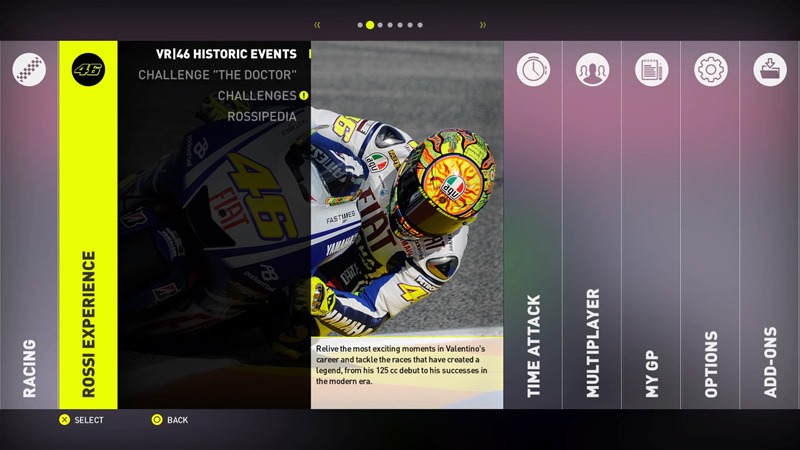 When it comes to gameplay, I'm not a big fan of Milestone. Whether it be Rally or MotoGP, their games feel like the product of minimum effort, of squandered potential. There's a more than capable engine that powers the entire experience of Valentino Rossi: The Game, pulled from Ride and their MotoGP licensed games. But there's no actual push behind those revs to deliver anything more than capable at best.
I've detailed this before, how their previous motorcycle games just lack the excitement and exhilaration of having a jet engine on two wheels screaming at your crotch as you take a corner. That's what makes the MotoGP so exciting to watch, as a broadcast of a symphony of knees scraping the tarmac plays out every weekend. Glorious, brilliant stuff that does the sport and the legend of Rossi a disservice by being somewhat bland to play.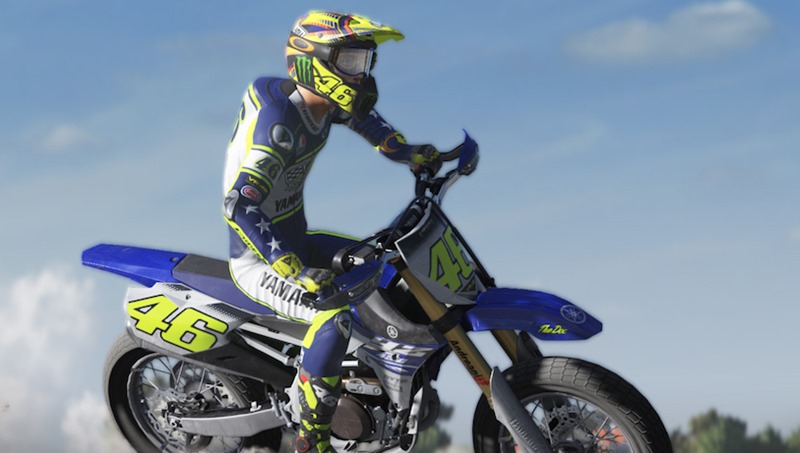 You can throw as many modes as you like at players  (Something which VR: The Game does with vanilla racing, time attack and multiplayer options), but if the end result doesn't result in goosebumps, then something is missing. It's a feeling that is punctuated by the career mode, a sloppy copy of what previous Codemasters efforts at best as you level up rider Skills and custom visuals for your racer in his academy efforts.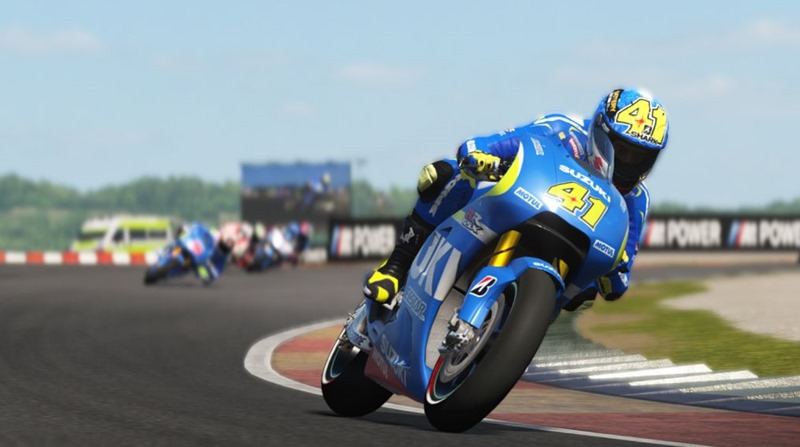 And honestly, I'm not in a mood to repeat myself yet again when it comes to Milestone. If you've picked up any of their motorcycle titles before, you know exactly what to expect here, as the DNA is shockingly similar. Sort of like a two-wheeled version of The Hills Have Eyes.
Last Updated: June 20, 2016
Valentino Rossi: The Game

Valentino Rossi: The Game knows everything there is to know about the man behind the number 46. I just wish it knew a little bit more about crafting an exciting MotoGP game.

Valentino Rossi: The Game was reviewed on PlayStation 4