When Ava DuVernay was tasked with directing duties for Disney's A Wrinkle in Time, it was a ground-breaking moment for cinema as this would represent the first time that a black woman would be handed a project of this scale and budget (reportedly around $130 million). It's an incredible step up for diversity from the studio and showed immense faith in DuVernay's storytelling abilities. There were concerns with the director mostly only known for smaller budget dramatic fair and not with a big VFX-driven blockbuster. So just how did DuVernay rise up to the challenge of this massive film?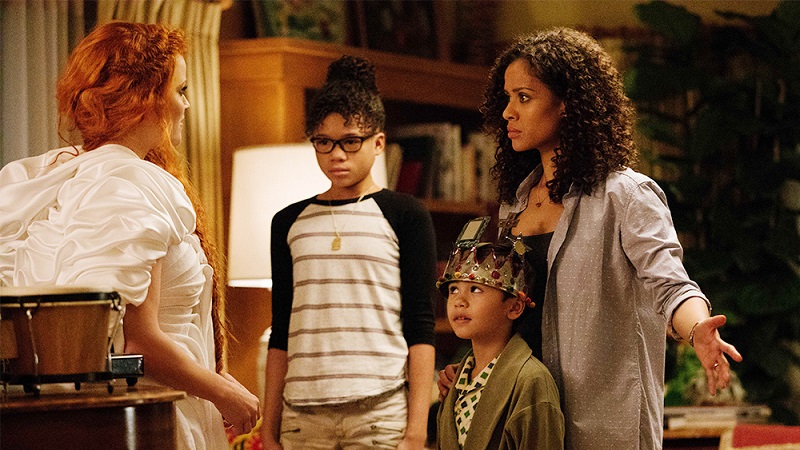 Well oddly enough the concerns handing big scale visual effects were completely unfounded as the film is at its best when it is showcasing its big set pieces and grandiose visual effects, but in all the visual splendour, there's a lot of purpose and thrill in the story that seems missing.
To be fair, the scope of the movie was always going to be a difficult one to get right. Making a big sci-fi film that is going to appeal to both older and younger audiences and meet the needs of both was unlikely to ever happen. However, based on the movie I would say that are not going to meet the needs of either audience unfortunately.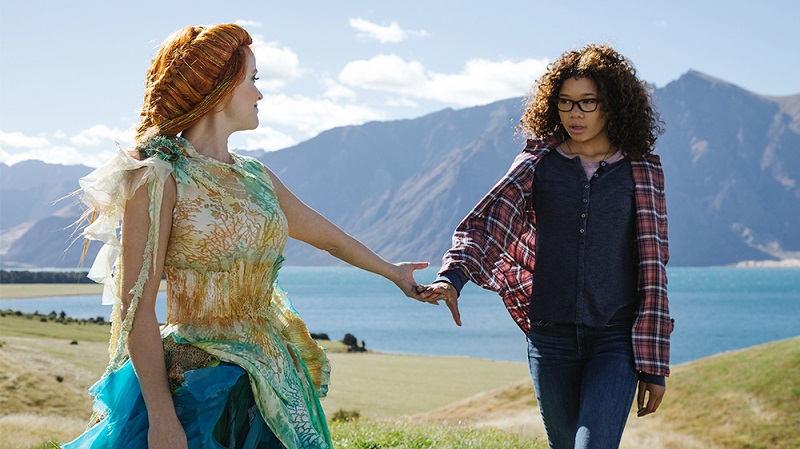 The film starts off with a lot promise setting up the character of Meg Murry (Storm Reid), whose father Dr Alexander Murry (Chris Pine) has gone missing for several years after experimenting with the concept of teleportation and tesseracts, which allows for instantaneous travel through the Universe. Without a father figure around, Dr Kate Murry (Gugu Mbatha-Raw)) has difficulty raising Meg and her brother Charles (Deric McCabe) and in helping the former deal with the loss of her father. Everything changes when it is revealed that their father is still alive and the two siblings, along with a neighbourhood kid Calvin (Levi Miller), set off on a journey that crosses the Universe to find him. – with the help of Mrs Which (Oprah Winfrey), Mrs Whatsit (Reese Witherspoon) and Mrs Who (Mindy Kaling).
The story tries to hit a lot of emotional family themes, but unfortunately, none of the young actors can pull these emotions off.  As a result, these issues are dealt with very lightly and without much focus. DuVernay is definitely trying to pander to the younger market here by keeping the film lightweight in every way, but its lack of depth actually ruins a potentially good family story here. The film might have quite an impressive adult cast to support the younger actors here, though they aren't given much to work with and pretty much all collectively disappoint.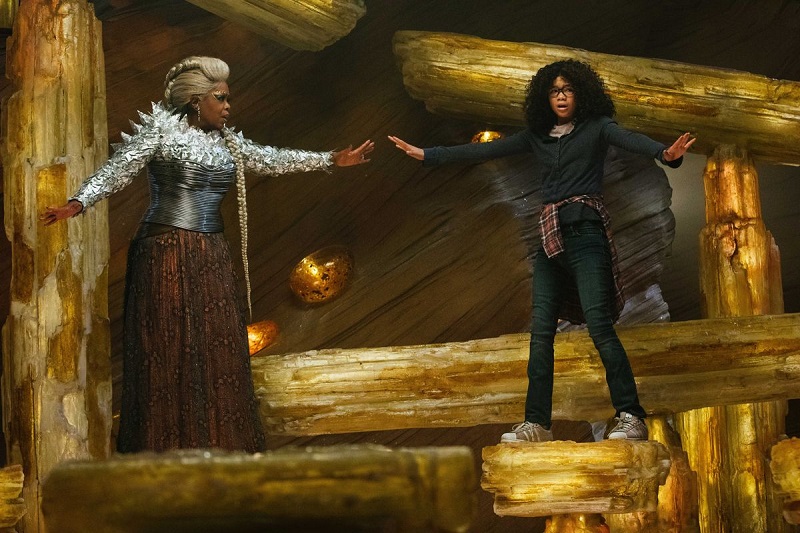 That family story is only a smaller part of the bigger sci-fi story, and unfortunately, it's this part of the story which the film gets most criminally wrong. It's not just the dodgy science that I'm talking about here – though it is bad and full of inconsistencies and loopholes that make no sense. For a grand adventure that crosses the Universe and is supposed to save the world from potential demise, it lacks a lot of the thought-provoking wonderment you would want from the genre. There's very little tension or dread, and you never feel that the lives of its characters are truly at stake.
The journey is also a little too easy for the kids, and the ending feels far too rushed and anticlimactic. While it's understandable they couldn't fit everything into the movie, adding an extra 20 minutes' worth of content wouldn't have made it uncomfortable to sit in and potentially allowed for so much more opportunity to display and explore a bigger universe and narrative.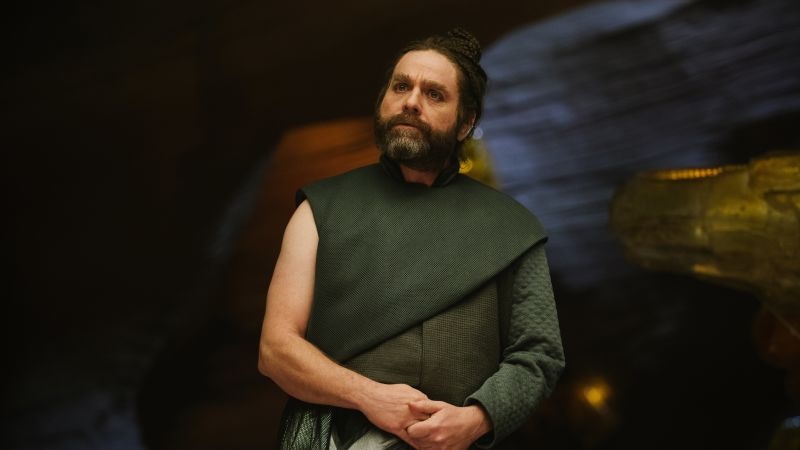 Where you might expect them to have difficulty finding the father, there is just too much that lands up in their favour all the time and despite travelling across a vast galaxy, they are easily able to make it through unscathed. I'm not sure if Disney was worried about making the film too intense for children, but the Harry Potter movies proved that you can go dark and bring moments of extreme peril to its characters and still appeal to kids. This movie is just too light in any of this to make it exciting.
There are also significant issues with the writing. Calvin is really an unnecessary character that apart from an awkward romance which the child actors clearly can't pull off, doesn't actually do anything of significance in the plot. Similarly, many details of the characters and how they get their abilities is just left out in the open and even kids are going to likely be confused by it. That's especially true of the ending which is not handled particularly well. There is also a lot of dialogue that is rather cheesy and likely to infuriate adults who are hoping for something a little more meaningful.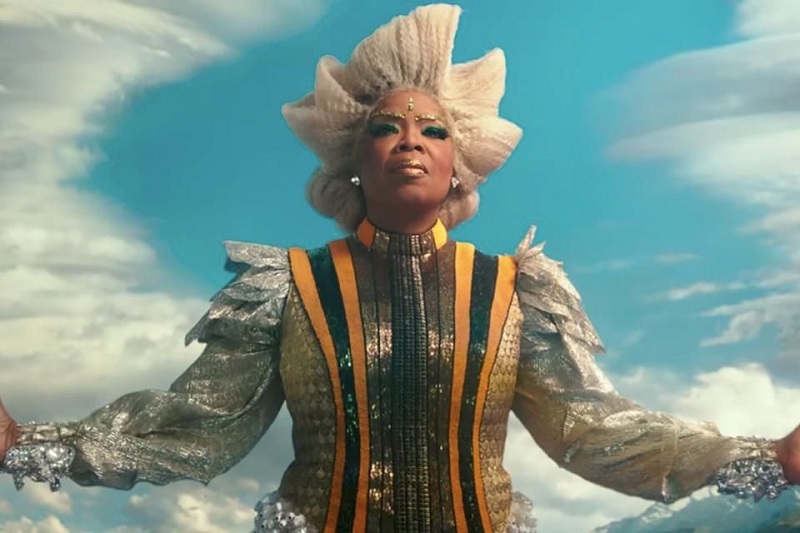 DuVernay also made some odd choices along the way, like on occasion featuring a regular pop-song in a scene. It feels disjointed because the score by Ramin Djawadi is actually already very good and probably more in tune with the spirit and feeling of the movie than any of the songs are. The same analogy I guess which can be applied to much of the movie, which for large parts carries the spirit of the original story and its underlying themes, but then ruins it through some terrible dialogue and story beats.
Disney has had a string of success with their big budget films of late but sadly the incredible run has come to an end. While the film is certainly pretty to look at and features some amazing visual effects and beautiful moments there is just not much else that makes watching it worthwhile. If you are really that desperate to watch a sci-fi movies with your kids, rather just go see Avengers: Infinity War for the twelfth time.  In fact, it almost feels as if Disney was aware that this movie is not going to be successful which is why they've positioned it for release in direct competition to that other, far superior behemoth.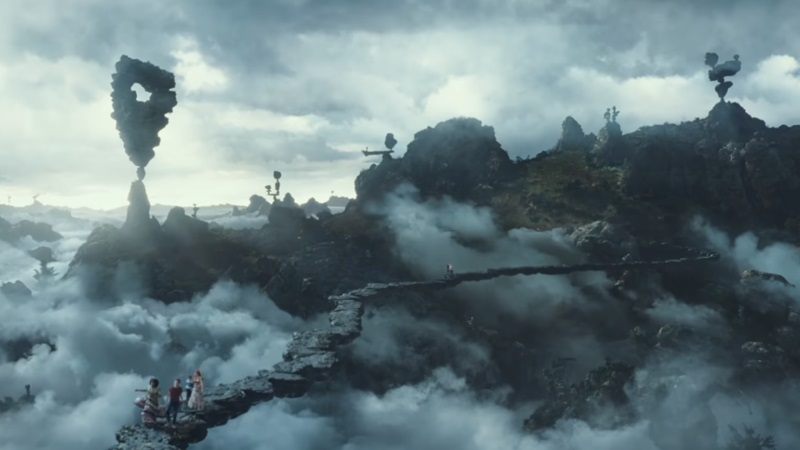 It's a pity that a film that is a shining light for diversity in Hollywood is such a disappointing one. Hopefully, Disney doesn't use this as an excuse to stop taking risks and continues to support up and coming female directors. As for DuVernay, she has a bright future ahead of her and while this film does not showcase the best of her skills, she has enough talent to rise above it and make better stuff in the future.
Last Updated: April 30, 2018
A Wrinkle in Time

A Wrinkle in Time looks every bit the blockbuster that you would expect from Disney. Sadly, its story falls apart and its stellar cast just can't quite hold it together, leaving the film extremely underwhelming and unlikely to appeal to either kids or parents.