With the propagation of digital streaming services locally – as well as the steady rollout of fibre – there's never been a better time to cut the cord and use those services. While the current consoles and smaller HTPCs are great for use as media centres and hubs for these things, sometimes you want something smaller, simpler, and fit for the purpose.
This is where devices like the Apple TV, Roku, and Nvidia's own Shield TV come in. There has also been a glut of Chinese manufacturers making their own Android-based TV boxes, but so few of them have the sort of sleek sophistication a discerning viewer might appreciate. This is where Xiaomi's Mi TV comes in.
I've been looking for a smaller streaming box for my bedroom, and the folks at Gearbest.com sent through a Mi Box for review.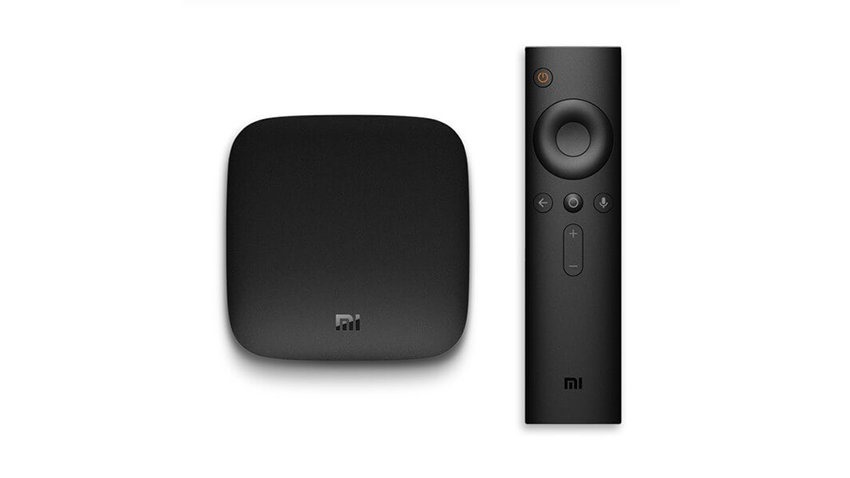 It's a small, unassuming box – a bit like a black puck – that runs on Google's own Android TV operating system. As the OS's name implies, it's a version of Android that's made to look and run best on a TV. The Mi TV box is small, measuring in at just 101mm, with nice rounded edges. There's really not too much else to it, beyond plugs for power, an HDMI port, a mini Toslink out for connection to older audio systems, and a single USB 2.0 port that can be used to increase the device's storage or for plugging in accessories. It uses Wi-Fi only, so there's no ethernet port. There's a subtle bit of "Mi" branding on the front, along with a very faint white LED on the front that lets you know that the device is awake.
That's all fine, because it's unlikely that you'll have any physical interaction with the box itself after setting it up by lugging in the included (albeit very short) cables. The bit you will actually touch is the included remote, which is compact, connects via Bluetooth and does its job. It has very few buttons, with just a set of four directional buttons accompanied by an enter key, a home button and a back button. I'd honestly have preferred it had physical rewind and fast forward buttons, but they're hardly a glaring omission. What it does have is a button for Google Assistant, along with a microphone on the remote so you can ask it for recommendations – like the latest action movie – or specific things – like the latest Arcade Fire album – and if they're available in your services or library, they'll start playing.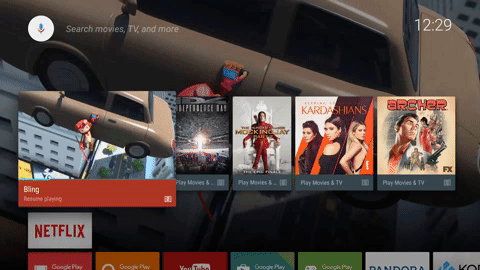 configuring the device is unbelievably easy
That's a feature of Android TV more than it is of the Mi Box itself, but that's because it hews so closely to the Android TV specification, which is all about supplying a seamless experience regardless of manufacturer.
Beyond the physical set-up, configuring the device is unbelievably easy, especially if you're already tied into Google's ecosystem. By running the Google app on your phone during the initial setup, it'll beam your Wi-Fi settings and Google account info to the device without you having to type in a thing. From there, setting up accounts within different streaming services is a doddle, and you can use your phone not only as a secondary remote, but also as a keyboard, to make text input easier.
Because I was sent the International version of the thing, it came preloaded with a bunch of apps that can't really be used here in South Africa without a bit of DNS shenanigans through services like Getflix or SmartDNS. Once you have those set up though, you can access things like Spotify, Pandora, Pluto Tv and Sling TV and a host of other services that use geofencing. Updating those services is a bit more of a pain because the Google Play Store itself is geofenced, so you'll have to sideload apps to keep them updated.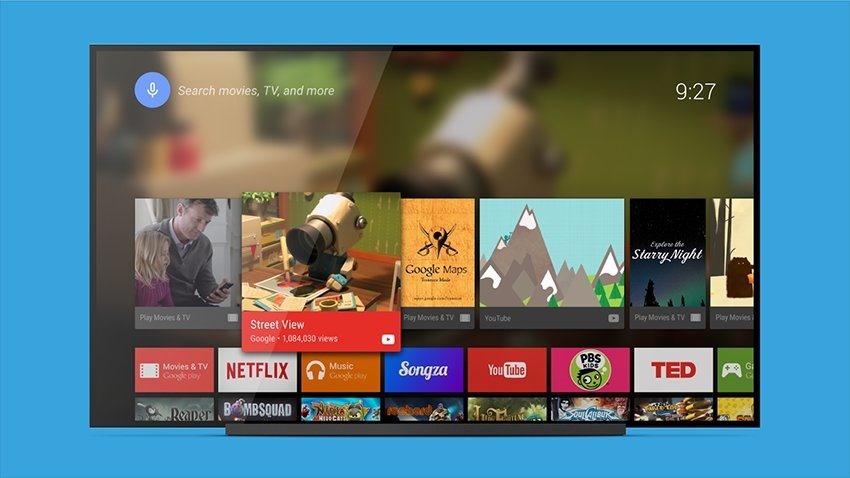 It's a slick, smooth TV box and it serves my purposes exquisitely
On that note, it must be said that Android TV's app store – regardless of where you're using it – is a little sparse, missing many of the apps you might take for granted, like Amazon Prime. Everything else is available though including Netflix, and locally, Showmax and DSTV Now. Thanks to a loaned subscription, I was able to test out DSTV Now, and it works far better than I was expecting, effectively giving me full live streaming of everything DSTV has to offer. If you plan on using it to play media from your existing servers, both Plex and Kodi run spectacularly. Kodi, of course, allows for installation of those other channels for people who don't really care about copyright theft. For apps that aren't available, there's always the option of using its built-in Chromecast functionality, which I used to get my BBC iPlayer and All 4 fixes. You can beam stuff straight from your phone to the big screen.
It's a slick, smooth TV box and it serves my purposes exquisitely. Thankfully, for me, my purposes don't include running it on a 4K TV. Though the packaging says that the Mi Box has full 4K support including HDR, it struggles to run acceptably at that resolution. Oddly, its specs should be capable. The Mi Box runs on a 2GHz quad-core (Cortex-A53) processor, which is supplemented by 2GB of RAM and 8GB of storage. When set to 4K output, the smooth, streamlined interface becomes laden with judder, making it an unpleasant experience. Playing 4K content itself proves to be a little better, but the Mi box just can't keep a consistent frame rate at that resolution, unlike the Shield TV can. Admittedly, the shield TV is roughly three times the price of this thing, so if you plan on sticking to 1080p, you'll be well served with the Mi Box.
There is more you can do with it, of course. There are a few native games on the Play Store, like Crossy Road, as well as other Android-based heavy hitters. There are also numerous emulators available, and easy pairing with a Bluetooth controller means you can do some simple gaming on it too.
I didn't.
For my needs, it's pretty much perfect. A cheap, HD streaming box that runs the services I use well. You can get a Mi Box from Gearbest, where it's currently available for R907.73 ($69.90), which is considerably less than its price elsewhere in the country.
Dimensions
Model No: MDZ-16-AB
Length: 101mm
Width: 101mm
Thickness: 19.5mm
Weight: 176.5g (+/- 1g)
Color: Black
Basic specs
Output Resolution: Up to 4K 60fps
Processor: Quad-core Cortex-A53 2.0GHz
GPU: Mali 450 750MHz
RAM: 2GB DDR3
Flash: 8GB eMMC
System: Android TV 6.0
Security: Widevine L1 + PlayReady 3.0
Wireless connectivity
Wi-Fi: 802.11a/b/g/n/ac, Dual-band Wi-Fi 2.4GHz/5GHz
Bluetooth: Bluetooth 4.0/3.0
Video
VP9 Profile-2 up to 4K x 2K @ 60fps
H.265 HEVC MP-10 at L5.1, up to 4K x 2K at 60fps
H.264 AVC HPat L5.1, up to 4K x 2K at 30fps
H.264 MVC, up to 1080P at 60fps
Supports HDR10/HLG HDR processing (software upgrade required)
Sound
DTS 2.0+ Digital Out, Dolby Digital Plus
Up to 7.1 pass through
Ports
HDMI: HDMI 2.0a x 1 port (HDCP 2.2)
USB: USB 2.0 x 1 port
AV: SPDIF Out / 3.5mm audio output x 1 port
Power: 1 port
Other specs
Remote: Bluetooth voice remote control, powered by 2 AAA batteries (Not Included)
Included accessories: Bluetooth voice remote control, HDMI cable, Power Adapter, user guide.
Power input: 100~240V 50/60Hz input, 5.2V, 2.1A output
Last Updated: January 23, 2018
Xiaomi Mi Box

Looking for an Android TV box to get your Netflix, DSTV Now and Showmax fix? The Xiaomi Mi box is great, as long as you don't try to run it at 4K.