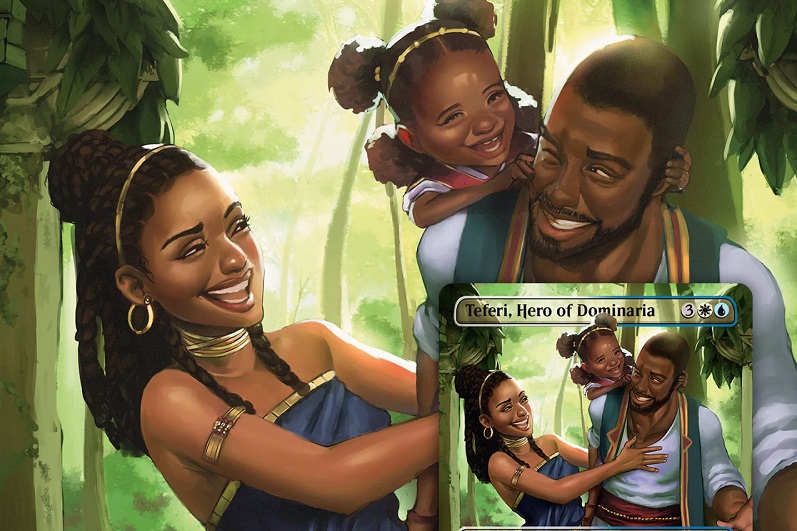 Magic the Gathering is more than just a highly strategic and competitive card game that has been around for three decades. Various sets of cards across five different planes that allow plays to cast a variety of magic spells is just part of its charm, but the game became a cultural phenomenon over the years. Each card told a rich story that was expanded on in many tie-in novels, with the source material card art being a rich font of inspiration.
Magic the Gathering is set to arguably tell its biggest story yet through a new set of cards titled Black is Magic. These seven new cards, which are all drawn by different black artists, are designed to be a celebration of black life and culture, as told through different Magic: The Gathering characters. Each card has a message that aims to fight stereotypes.
Sydney Adams, the lead designer of the set for Wizards of the Coast, shared details with Kasu about the importance of telling these news stories in this set, to create something a lot more real and relatable to its many players, while at the same time making an important cultural statement in a racially divided world and foster positive discussions around its vast player base:
Black stories are human stories, and human stories deserve to be told… There is only so much you can convey on a standard playing card, so every single word matters.
Magic: The Gathering has featured several black characters in the past, including Teferi the first black Planeswalker and Kaya, the game's first Black female Planeswalker, in 2016. Both of these characters are featured in powerful ways, like with Teferi – who is one of the most powerful wizards in the game with the ability to bend time at will – laughing with his family and representing fatherhood and the importance it plays in his culture:
There are ways that you can relate to the product that aren't necessarily racial because Black stories are human stories. But when you do see the race, I need you to understand that it is encouraging a group who needs to feel that support and needs to feel that inclusivity.
The Black is Magic set is only set to be printed once in celebration of Black History Month in the US and so these cards are set to become massive collector items in the future. Something which might only add to their appeal and make them even more discussed and sought after in years to come.
Last Updated: March 3, 2021