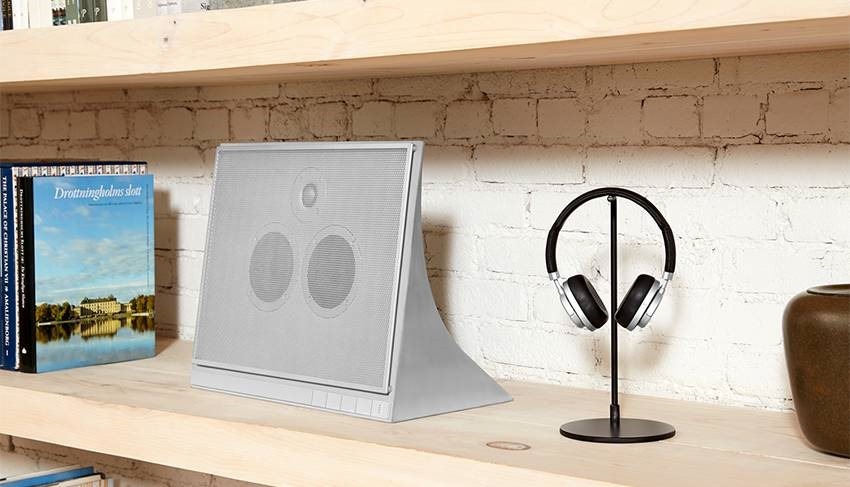 High-end wireless speakers are becoming increasingly popular – and for good reason. They offer incredible sound and unparalleled ease of use, letting music become an ingrained part of life. Usually, they are designed to look like the sorts of things you'd happily have on a bookshelf, a kitchen counter or a corner of a room – without necessarily looking like a boxy speaker.
It is, however, becoming increasingly difficult to stand out in a market awash with HEOS, Sonos and MusicCast. Here is one way: Make the speaker out of concrete.
That's exactly what Master & Dynamic – a company usually associated with high-end headphones – have done with their very first speaker. According to the company, they've "rethought the home speaker, reinventing it with an elegant design that draws upon the distinctive use of materials and sensory-focused craftsmanship."
Sir David Adjaye, the architect behind Washington D.C.'s new Smithsonian museum, the National Museum of African American History and Culture, designed the new MA770. And yes, it really is made out of concrete.
Says Adjaye:
"This speaker is not about the traditional idea of making boxes, but about a directional form. I became fascinated with the idea of using triangles to break down the mass of the box, and to see if we could dissolve the sense of volume through sculptural detail. We created a new geometry for this speaker. A new geometry of sound."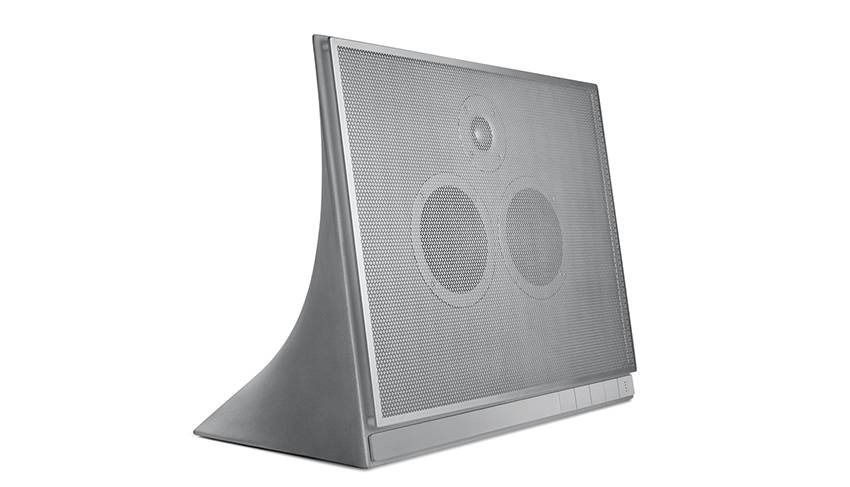 Concrete is hardly the ideal material to build a speaker out of, as its acoustic properties aren't conducive to good sound. Instead of dampening – which you'd want for clarity, concrete tends to produce echo. So why make a speaker out of it?
According to Master & Dynamic, they've made a concrete and polymer mix that is not only superbly rigid enough to eliminate vibration, it's also able to absorb echo- producing crystal clear audio.
"As the industry ebbs towards smaller and more disposable pieces, we continue to defy convention," says M&D founder and CEO Jonathan Levine. "The MA770 reinforces scale and prominence. Its luxurious design and use of premium materials further enhance its beauty."
It's not just about the material it's made from, but also the quality of its components.
To that end, within its concrete housing you'll find dual 4" woven Kevlar long throw woofers, a 1 ½" titanium tweeter powered by 100 watts of Class D amplification and diamond-cut anodized aluminium controls.
Interestingly, it has built-in Chromecast support and can be paired with another speaker for improved stereo imaging. Doing that won't be cheap though. The MA770 Wireless Speaker is available for an eye-watering $1,800. For a stereo pair, that's $3600 – or very nearly R50 000.
Read our coaxial speaker cable guide – https://www.criticalhit.net/technology/coaxial-speaker-cable/
Last Updated: June 14, 2022