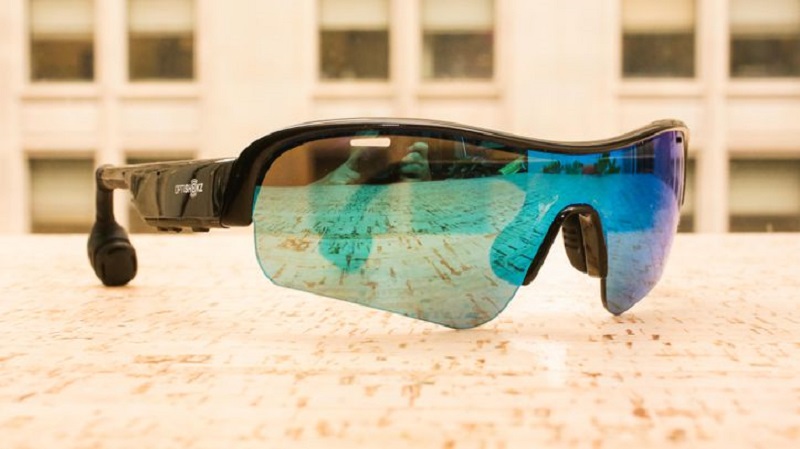 Over the past few years we've seen the growth of bone-conduction technology which allows people to hear music without needing to block their ears from the best of the world around them. Something which is vital for those that want to listen to music while walking, running or cycling but are unable to do with conventional headphones in the fear of not being able to respond to the events of the traffic around them.
Now AfterShokz wants to add something extra into the mix by not just having a separate hearing device, but integrating their patented bone conduit technology into a set of pair of sunglasses. It ticks another critical component of sports activity off the list in being able to block out the blinding sun too.
The company has just launched this new product, titled the OptiShokz Revvez in a new Indiegogo campaign that has already seen its funding goal reached in the space of 12 hours. As the company themselves share, the Revvez range of sunglasses are designed to allow cyclists, runners, hikers, golfers, skiers and others to listen to their favourite music, podcasts or audiobooks and make/take calls on their adventures while safely maintaining complete ambient sound awareness.
The glasses are made out of a plastic frame, designed with impact resistance and flexibility in mind with two-position titanium temple arms to allow for the bone conduction transducers, The company, which claims to hold over 200 patents with regards to bone conduction, will also be introducing several new features into the market for the first time including PremiumPitch+™ technology that delivers dynamic sound and deep bass and LeakSlayer™ technology that solves the issue of natural sound leakage and ensures that other people cannot hear a user's music or personal conversations. Additionally, the Revvez' features dual noise-cancelling microphones that will eliminate external noise to enhance speech volume, ensuring that all calls come in loud and clear for both participants.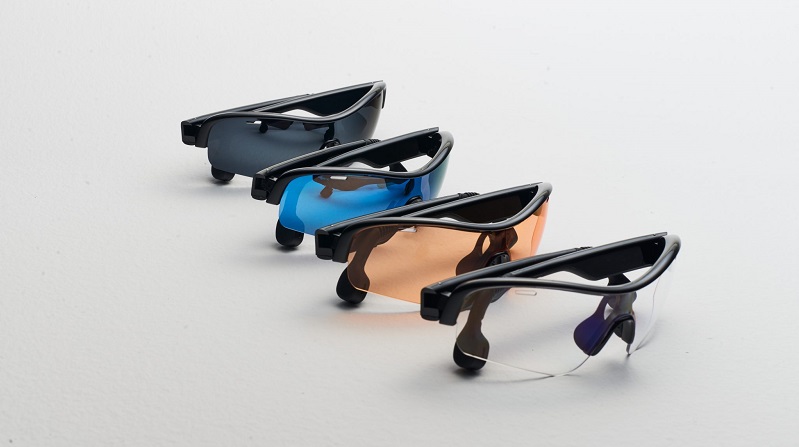 While these devices are have not been officially launched in South Africa, they will be available for around $200 (R3400) for fully polarised lenses when released in May. For now, the devices can be picked up for early bird adopters for just $99 (R1400) though. It's still a lot of money, but if you consider a pair of sunglasses and a decent pair of wireless headphones separately could easily cost this much, it's not a bad price. Especially if you are someone who loves to keep listening to their favourite tunes even when active.
The full OptiShokz Revvez Technical Specifications are below:
| | |
| --- | --- |
| Lens | Interchangeable Teijin® polycarbonate lens |
| Frame | TR-90 Rubber, Ni-Ti Alloy |
| Temple Arm | Bendable two-position titanium |
| Battery | Rechargeable Lithium-Ion |
| Speaker type | Bone Conduction Transducers |
| Frequency range | 20-20000Hz |
| Sensitivity | 100±3dB |
| Microphone | MEMS |
| Battery Life | 6-hour continuous play; up to 10 days standby |
| Color (s) | REVO Blue, Gradient Grey, Yellow Bright, Transparent and Polarized Grey |
| Sweatproof | IP55 |
| Bluetooth Version | Bluetooth V5.0; Support: HSP, HFP, A2DP and ARVCP |
| Wireless Range | 33 feet |
| Charge in | < 2 hours |
| Weight | 45.0±0.5g |
| Warranty | Two year |
Last Updated: March 6, 2019